Reiwa 5rd year award winner
Reiwa 5rd year Kagawa Prefecture product contest
The 21th "Kagawa Prefectural Product Contest" has produced a number of popular hit products.
We are looking for attractive prefectural products to be exhibited this year as well!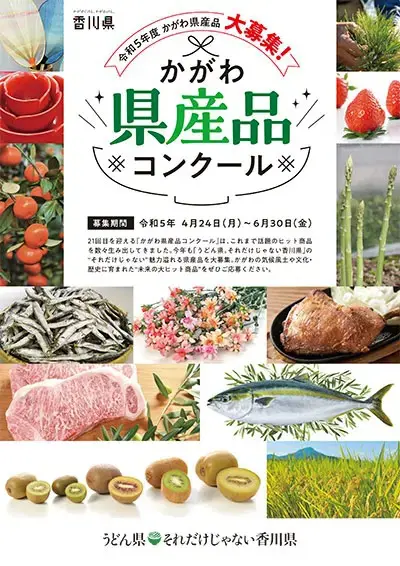 Sponsorship

Kagawa
the purpose

We will promote the development of "Udon prefecture. Not only that" Kagawa prefecture's "not only that" appealing prefecture products, while also discovering Kagawa prefecture's representative prefecture products to support expansion of sales channels inside and outside the prefecture.
Planned number of prizes

From the applied products that passed the first screening (1 products by department, about 5 products in total)

"Udon Prefecture. Not only that, Kagawa Prefecture Governor's Award" (Best Award) 1 item or less in each category, 4 items or less in total
"Udon prefecture. Not only that, Kagawa prefecture excellence award" Within 1 item in each category, 4 items in total
Hiring Departments

Food sector (excluding confectionery and sweets)
Confectionery / Sweets category (Japanese and Western confectionery / sweets)
General department (non-food)
Olive division (food, confectionery / sweets, non-food)
Application requirements

[Matters common to all departments]

Applicant must be a producer / manufacturer located in Kagawa prefecture, having production capacity, and operating as a business.
The applied products are products for general consumers that take advantage of Kagawa's regional characteristics, and target "foods, alcoholic beverages and beverages (processed agricultural and livestock products)", "traditional crafts", and "local industrial products".
The submitted product must have been manufactured or processed in the final stage in Kagawa Prefecture. (9 items in total)

[Olive Division] In addition to the items common to all divisions, those that meet the following requirements

Non-food products such as processed foods, crafts, and miscellaneous goods produced or manufactured using olives cultivated in Kagawa prefecture directly or indirectly. (However, olive oil is excluded.)
The product can be expected to contribute to strengthening the brand power of olive-related products and improving the overall brand image.
Wanted period

From Monday, April 5, 4 to Friday, June 24(*Applications for this year have closed.)
Contact

Prefectural Product Promotion Division Person in charge: Hayama
TEL: 087-832-3383
Mail:ga7135@pref.kagawa.lg.jp
The "Kagawa Prefectural Goods Competition", launched in 15, promotes product development by businesses and manufacturers in the prefecture who are eager to cultivate sales channels, and can be deployed nationwide as well as within the prefecture, making it more marketable. We dig up rich prefecture products. We will publicize the award-winning products in the media and at events held both inside and outside the prefecture, widely promote awareness, and support the expansion of sales channels.
Click here for award-winning products
Reiwa 5rd year award winner
The 5th year of Reiwa Kagawa Prefectural Product Competition held the first screening on July 8th and the final screening on September 17th.
As a result of the examination, the winning products of the 5 Kagawa Prefectural Product Contest were decided as follows.
List of products that won the Kagawa Prefecture Product Contest in the 5rd year of Reiwa (2023)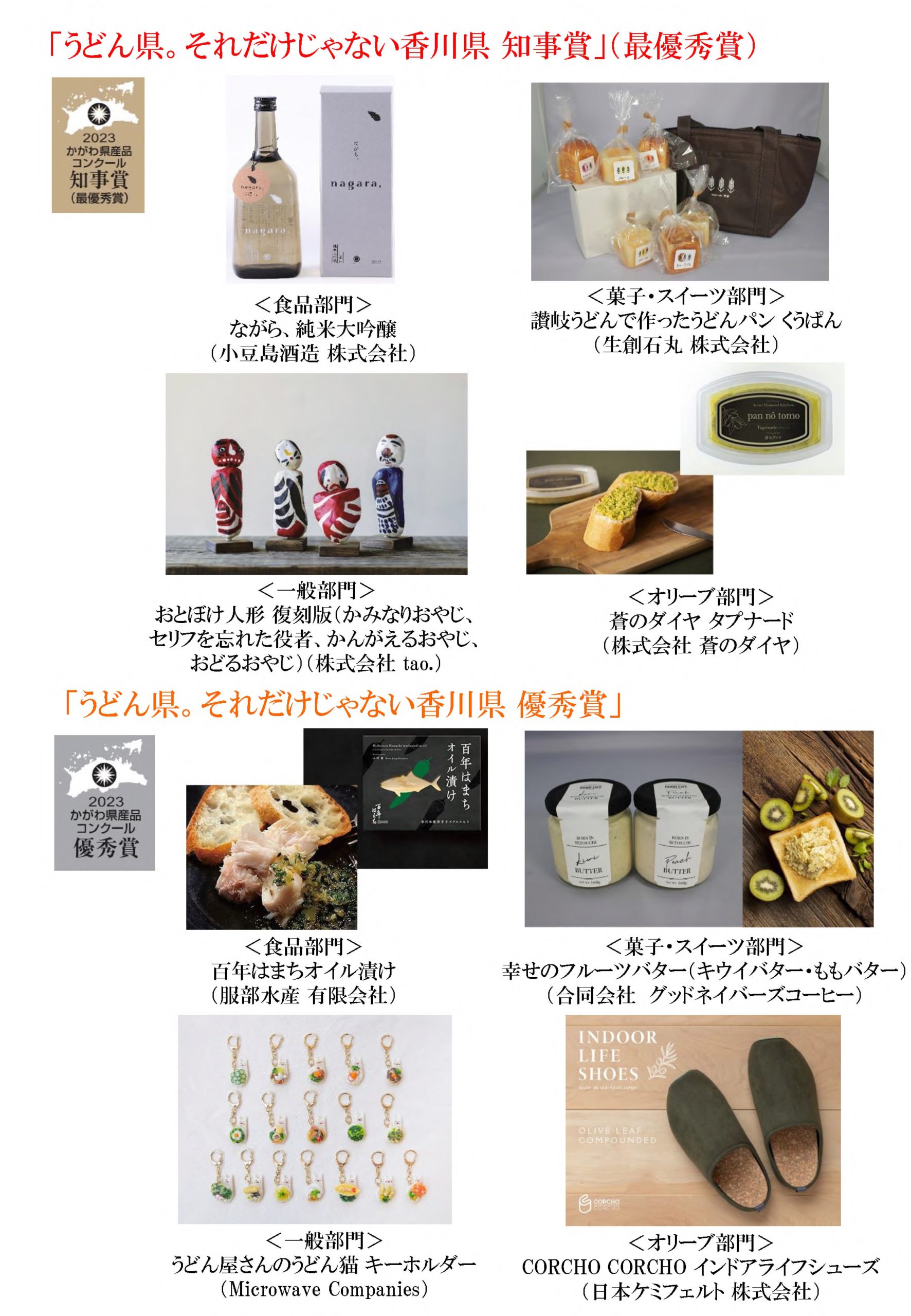 ---
Introducing the products selected by the Kagawa Prefecture Product Contest (passing the first screening)
令和5年度かがわ県産品コンクールは、4月24日から6月30日まで応募品の募集を行い、食品、菓子・スイーツ、一般、オリーブの4部門合計で103品の応募がありました。このたび、県庁にて審査委員9名による一次審査会を行い、次のとおり、20品(4部門×5品)を「令和5年度かがわ県産品コンクール」入選として選出しましたのでお知らせします。
In the future, after the final screening, one point will be selected as the highest award and one award for each category.
Food sector
Confectionery / Sweets
General department
Olive department
List of products selected for the Kagawa Prefecture Product Contest (passing the first screening)
Download
Reiwa 5th year Kagawa prefecture product contest winning 20 products (press release PDF)