Here is an overview of olives in Kagawa prefecture, which are warm and dry in Japan, suitable for olive cultivation and produce over 96% of domestic olive fruits.
Changes in olive fruit production in Kagawa (t)

Changes in olive cultivation area in Kagawa Prefecture (ha)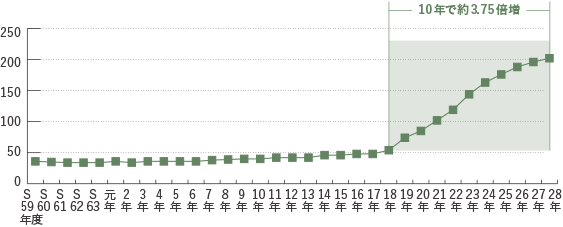 The health benefits of olive oil have begun to attract attention, and in 2003, the first special zone for structural reform was designated as the `` Olive Promotion Special Zone for Shodoshima Utsumi Town, '' allowing businesses to enter olive cultivation, Production has increased. In addition, olive cultivation, which has been conducted mainly in Shodoshima, has recently increased on the mainland of Kagawa Prefecture, and its area is increasing. Reference: Survey results on the production dynamics of special fruit trees produced in 26 (Ministry of Agriculture, Forestry and Fisheries)
Main cultivars
There are over 1600 olive varieties worldwide.
In Kagawa Prefecture, approximately 60 varieties and strains have been introduced, of which four varieties are mainly cultivated.
All can be classified into fruit processing (table olives), oil, and dual-purpose seeds according to application.

A Spanish variety found in California, USA. Introduced to Japan at the start of the test specified by the Ministry of Agriculture and Commerce in 40, and planted in 41. The main variety for both olive cultivation in Japan and fruit processing and oil. The average weight of the fruit is 2.5-3.0g and the oil content is 15-19%. The leaves are white.

Varieties for oil. It was introduced from the United States in 17. The oil content is about 2.0%. The average weight of the fruit is 2.5-1g. Even one can achieve some results. Resistant to anthrax, high in oil content and good in quality. It grows quickly and is a tall tree. The leaves are white and twisted when they become true leaves.

It is a fruit processing variety native to Spain and is widely cultivated worldwide. Oil content is as low as 9-14%. Cultivation is easy, yield is stable, fruit is large, and it is popular for processing. The average weight of the fruit is 3.0-3.5g. The leaves are small and the edges are caught outside.

Oil varieties native to Spain. The oil content is about 17%. The fruit is too soft and difficult to process. It has a high value as a pollinated tree because it has a large amount of pollen. Seedling production is the highest for ornamental trees. The average weight of the fruit is 2.0-2.5g. The leaves are relatively thin and the back is green.
Recommended time to enjoy olives
5 late month - 6 early month

Olive flowering

Early October ~

Started sales of new pickles

Mid-January to Mid-March

Oil sales started

110 years of history
The history of olives in Kagawa Prefecture began with the trial cultivation of the prefecture in 1908 (Meiji 41). Tests have been conducted in several prefectures, but only in the case of Shodoshima. However, the olive began to attract attention in Japan in recent years, and the course of 110 years is just twists and turns. It is the result of the efforts of our predecessors that we have been able to produce high-quality products over the centuries. Let's look at the background.
【Meiji period】
1908,

The Ministry of Agriculture and Commerce has conducted trial cultivation on a 1.2 hectare scale in each of the three prefectures of Kagawa, Mie and Kagoshima.

1910,

Olives bloom and bear fruit in Kagawa Prefecture (Shodoshima).
[Taisho era]
1913,

Olive fruit drying station, grinder and oil extractor installed in Nishimura, Shodoshima.

Taisho era

Released domestic olive oil as hair oil. Also manufactures and sells domestic green olives.
【Showa Era】
1942,

An olive oil extraction facility and an experimental park were completed at the upland farming test site in Ikeda, Shodoshima.

1950,

Olive oil prices soar and growing heat.

1954,

Olives are selected as prefecture flowers.

1955,

The cosmetic olive oil boom begins.

1959,

Import liberalization of olives (agricultural products).

1964,

The olive cultivation area and fruit production in the prefecture both peak.

1965,

Continued weather disasters and the entry of cheaper imported olive oil into the market begin to reduce cultivated area and fruit production.

1966,

Olives are selected as prefectural trees.

1971,

"Kagawa Prefecture Olive Production Association" is established.

1985,

Imported olive oil begins to increase.

1988,

Toyo Olive Co., Ltd. introduces Japan's first centrifugal olive oil extraction device.
Opened Olive Park in Kagawa Prefecture.
[Heisei period]
1992,

Second olive oil boom.

1996,

The Shodoshima Olive Association is launched by a food manufacturing and sales company.

1998,

Olive Orchard Co., Ltd. introduces a small oil crusher for the first time in Japan.

2002,

Began catador training.

2003,

The Shodoshima Utsumi Town Olive Promotion Special Zone is recognized as the first special zone for structural reform.

2007,

"Olive Hamachi" is born.

2008,

Kagawa Prefectural Olive Fair, oil section and garden section started. Olive section established at Shodoshima Town Hall.

2011,

Agricultural Experiment Station Azuki Branch was renamed to Azuki Olive Research Institute "Olive Beef" was born.

2014,

The "Kagawa Olive Oil Quality Labeling System" begins.

2015,

"Olive dream pig" and "Olive pig" are born. "Shodoshima Olive Oil" is registered as a regional collective trademark.

Health, beauty, delicious! Stuff
The perception that "olives are somehow good" is expanding as more and more information is communicated about the goodness of olives and the market for olive-related products increases.
Please use olives in your daily life for your reference.


Olives from Kagawa Prefecture are harvested by hand. Therefore, it is possible to visually check ripeness, wounds, and the presence of sickness one by one, so that only selected ones can be picked. In addition, facilities are in place so that oil can be collected immediately after harvesting. The result is a high-quality oil that producers envision.


Virgin olive oil is not a so-called chemical process. It is rich in polyphenols, vitamin E and β-carotene, which are good for health and beauty. It also contains a lot of oleic acid, which is said to be effective in controlling bad cholesterol (LDL).


Extra virgin olive oil has different taste and aroma for each product. It has a wide range of flavors, such as those with a refreshing sweetness like apples, thick and bittersweet like nuts, and spicy like pepper. Olive oil is selected as one of the seasonings, and the best match is achieved when the taste is exceptional.