Olive Related Products
Olives from Kagawa Prefecture are mainly processed into oil and fresh pickles.
The quality of the olive oil and fresh pickles produced here is notable, but it is also popular in beauty, as it contains a lot of antioxidants.
But what I want to focus on is how to make the most of it. It will introduce a part of.

fruit
New pickles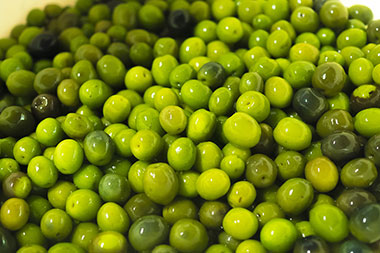 New pickled olives are made by removing the astringent after harvesting the olives and pickling them in salt water. I want you to taste the freshest olives in their most delicious state. Autumn-only special flavor created by such farmers' thoughts.
A fresh scent spreads like a fruit when put in your mouth. It is not only eaten as a snack, but also has a deep flavor for salads and tempura.
オ イ ル
Edible olive oil
A delicious and healthy all-purpose seasoning.
Cosmetics
Body care and hair care products.
Sweets and processed foods
Various processed foods using oil.
Leather
Leather products tanned with olive oil.
fruit juice
"Polyphenol", a health component that represents olives, is water-soluble. Therefore, the juice remaining after oiling is rich in polyphenols. The polyphenols are extracted and used for health and beauty effects.
Beverage
A drink made in syrup.
Sweets and sweets
Sweets and sweets with juice syrup.
noodles
Noodles such as light noodles mixed with fruit juice.
Serum
Beauty products made from concentrated juice extract.
Pulp after oiling
feed
Dry the pulp after olive oil extraction. Oleic acid and antioxidant components remaining in the pulp increase the flavor and refresh the back. In addition, oxidation and discoloration are difficult.
Olive beef
Sanagawa beef from Kagawa prefecture x Japanese feed
Olive pork
Pork from Kagawa Prefecture x this feed
Olive dream pig
"Sanuki Yume Pork" developed from Berkshire breed x this feed
Olive chicken
Local chicken in Kagawa Prefecture "Sanuki Cochin" or "Seto Akadori" x this feed
Olive prawns
Prawns grown in Nio Town, Kagawa Prefecture x this feed
Photo courtesy of Nio Sansho (Olive prawns)
pollen
Olive flower yeast fermented soy sauce and miso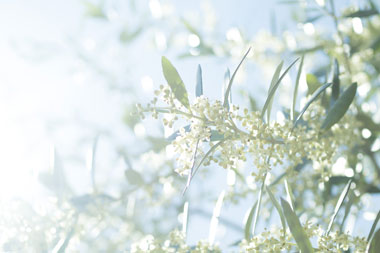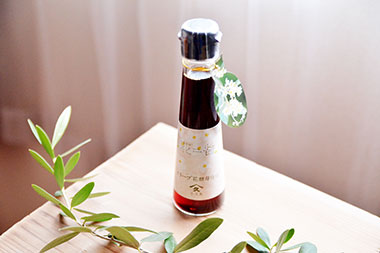 Yeasts suitable for soy sauce and miso were selected from olive flowers and fermented and matured in soy sauce and miso.
The soy sauce and miso prepared with olive blossom yeast have a mellow aroma and a mellow yet firm taste.
leaf
feed
Olive leaves are processed into powder for feed. Oleuropein, a polyphenol with strong antioxidant properties contained in leaves, is resistant to oxidation and discoloration.
Olive Yellowtail
Hamachi cultivated in Kagawa Prefecture x this feed
Olive red sea bream
Thailand x this feed cultivated in Kagawa Prefecture
---
Olive tea extract
Green tea and roasted tea for everyday health.
Olive Iriko
Boil in hot water with leaves and dry.
Olive dyeing
We make use of technique of plant dyeing and dye.
Photo courtesy of Yamahisa (olive tea)
Tree / branch
Misc & Amenities
Goods utilizing the texture of olive.
Furniture
Furniture utilizing the texture of olive.
Olive smoked
Food smoked with dry pruned branches.
compost
Compost made by fermenting crushed pruned branches.
Photo courtesy of Yamashita (smoked olive)