Kagawa prefecture products
Kagawa lacquerware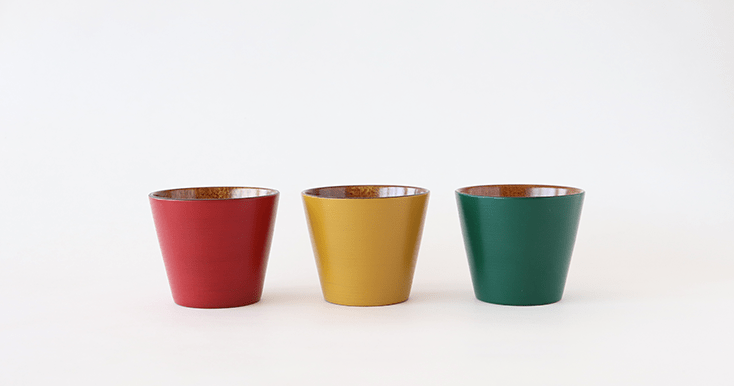 The taste of lacquer for everyday life.
Kagawa lacquer art cultivated in a long history is a gem that has been carefully selected and nurtured traditional techniques
Seasonal season

Time to go around Peak season (seasonal season)
Main production area

Takamatsu City, etc.
Lacquerware charm

Moist and calm taste in gorgeousness. Transparent brilliance and glossy luster oozing from the back enhances the flavor as you use it. And a certain touch when you hold it in your hand. It fits comfortably in your hands and you can feel its tension and volume. A lacquer ware that has such various charms. In addition, lacquer ware has a major feature that it is difficult to transmit heat and is not easily damaged. It can be enjoyed by holding a container with hot juice or soup in your hand, and is highly resistant to shock and abrasion.
In addition, lacquer ware can be enjoyed in any combination, even if it is lined up with glassware or pottery, so that it can be harmonized without discomfort. You can enjoy your favorite lacquer ware every day just because you can use it with the feeling of everyday use. The lacquer flavor can be incorporated into everyday life. Why don't you try a first-class tasteful living with Kagawa lacquer ware?

Kagawa lacquer art

Kagawa's lacquerware developed under the protection and understanding of the feudal lords during the Edo period, and has produced many master craftsmen and masters. In 24, it was designated as an important lacquer industrial park by the Ministry of Industry and Industry. Has been designated as a traditional craft. Approximately 51 companies are involved in Kagawa's lacquerware and lacquered furniture, with Takamatsu as the center, and the market is literally proud of the lacquerware kingdom, from Hokkaido to Okinawa.

Konny 醤 (Kinma)

Konkon is said to be the name of the fruit of a Thai plant. This is a technique in which a pattern is carved with ken on lacquer that has been painted many times, and the indentations are inlaid with colored lacquer. The work of carving and filling each color is repeated, and when all the filling is completed, a unique technique of sharpening the surface flat is used to create a unique and delicious lacquerware.

Goto Nuri

Goto Nuri was originally a technique applied to engraving trays and tea utensils, but it has been widely used because of its robustness and elegance, and has also been applied to low tables, small boxes and trays. Goto Nuri's astringent patterns, the more you use them, the more astringency and taste increase, and you can enjoy the taste forever.

Seisei

It is said that the technique of Seiyo was introduced from China about 700 years ago. The technique that adds the technique unique to Japan to that technique is Seiyo. On the black, red, and yellow backgrounds, a pattern is drawn with colored lacquer, and the outline is carved with Ken or shaded with gold mud. This lacquer ware was once exported to Europe and the United States and became popular around the world.
Related Links
Prefectural products company
RERATED PRODUCTS