Kagawa prefecture products
Sanukite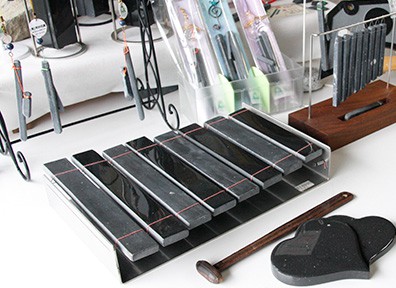 Seasonal season

none

Main production area

Sakaide City, Takamatsu City, etc.
A stone that makes a "kern, kern" sound when struck. Sanuki's famous stone "Sanukite", which has been called "Kan Kan Stone" since ancient times. This black stone (andesite) was formed about 1,500 million years ago when lava from a volcano hardened. It was mainly used as a blade material until the Yayoi period (about 2,000 years ago), when iron was introduced to Japan. The name Sanukite was given by the famous German geologist Weinschenk, who visited Kagawa Prefecture in 1891 to investigate. The name Sanukite was widely introduced to the world. The best thing about sanukites is their sound. The pleasant sound that sanukites make has been used in many different places since ancient times. It was generally used as a signal to announce a visit by hanging it at the entrance, reception room or tea room. It is also famous as the world's only "music instrument of stone" including a stone xylophone that can play two octaves. Recently, there is a movement to utilize the pleasant sound of sanukite itself as a music therapy, and the effect is drawing attention.
The beautiful sound of the sanukite signaled the beginning of the opening ceremony of the 1964 Tokyo Olympics all over the world. It is said that the sanukite was adopted after being moved by the pleasant sound of the sanukite which a person related to the convention heard by chance. Sanukite is also used to signal the opening of a concert at Beethoven Hall at Musashino Music University. When we listen to its beautiful and ephemeral sounds, we feel a sense of peace and ancient romance. Sanukite is loved by many. It is a precious tone of Sanuki that will continue to be handed down carefully in Kagawa Prefecture.
Related Links
Prefectural products company
(Sanukit product sales)

1504-40 Nakayamacho, Takamatsu City, Kagawa Prefecture

TEL.090-2640-8059 FAX.087-881-5901

(Sanukit product sales)

509-3 Takayacho, Sakaide-shi, Kagawa

TEL.0877-47-2765 FAX.0877-35-7002
RERATED PRODUCTS