Kagawa prefecture products
gloves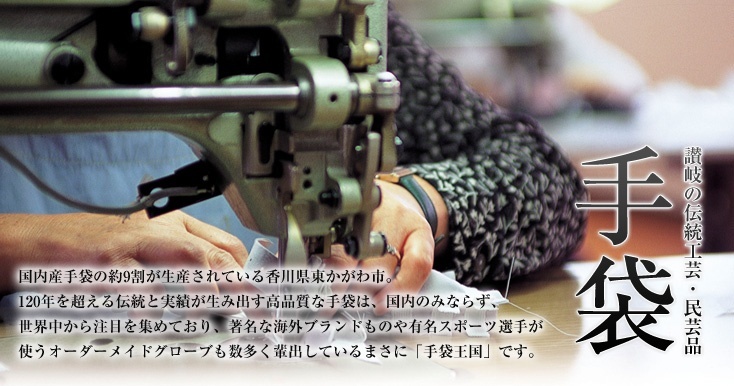 Higashi-Kagawa City, Kagawa Prefecture, where about 9% of domestic gloves are produced.
High-quality gloves produced by over 120 years of tradition and achievements are attracting attention not only from Japan but also from all over the world, and many famous overseas brands and custom-made gloves used by famous athletes are being produced. It is "Glove Kingdom".
Seasonal season

Time to go around Peak season (seasonal season)

1
2
3
4
5
6
7
8
9
10
11
12
Main production area

Higashikagawa
History of the "glove kingdom"

In 21, Futago Shinrei, a vice priest of Shiratori Village Senkoji, manufactured knitted hand shoes in Osaka, where he lived at the time. This was the beginning of the glove industry in Japan. Later, glove traders praised the achievements of Sunshun and built the Ryoko Sunshun Monument. The statue can still be seen in the glove park at the Swan in Higashikagawa City. After the death of Sunnyi, cousin Tatsuyoshi Tanatsu returns home and establishes a glove factory. Since then, Tatsuyoshi has greatly contributed to the development of the glove industry in Kagawa Prefecture, and is now called the "parent of glove industry". For more than 120 years, gloves have become a major local industry in Kagawa Prefecture, thanks to the efforts of many local people.

Glove town, Higashikagawa city

As facilities that are exposed to the glove industry in Higashikagawa, there are the Kagawa Glove Museum and the only glove shrine in Japan.
The Kagawa no Teburo Museum exhibits old glove manufacturing tools and gloves of top athletes such as baseball and golf, which have been registered as a `` tangible folk cultural property of the country '' as well as history, and is a walk from JR Sanuki Shirotori Station. It is located very close to Higashi-Kagawa City Hall for about 10 minutes. In addition to introducing the history of the glove industry, gloves of famous athletes, gloves of various materials, and old sewing machines are on display. The Kagawa no Glove Museum, which was opened to commemorate the 120th anniversary of glove birth, is attached to the office of the Japan Glove Industry Association. Gloves utilizing the latest technology such as gloves are also on display. Behind Shiratori Shrine is the only glove shrine in Japan. Here, a monument to Sunny Ryoji, the parent of the glove industry, and a bronze statue of Tanitsu Tanayoshi, a parent of the glove industry, watch the long-term development of the glove industry in Higashi-Kagawa. Higashi-Kagawa City, a symbol of the town of gloves, is a major base in the glove industry in Japan. There are more than 80 glove manufacturers in and around Higashikagawa City, and about 90% of domestic gloves are made. With the technology and trust built over 130 years, many overseas brands have commissioned glove manufacturing. Famous golf and baseball players also use sports gloves from Kagawa Prefecture.

Regional brand gloves that combine tradition and newness

Kagawa gloves was launched in 2014 with the aim of creating a creative proposal that opens up the future of hands and gloves. This is a glove brand by "1888 Glove Lab" formed by volunteers of glove companies centered on Higashi Kagawa City, which is known as a glove production center in Japan since 1888.
Based on the technology cultivated in the history that has continued since 1888, we refine our sensibility and challenge experimental and innovative manufacturing.
In addition to events at department stores in the Tokyo metropolitan area and the Osaka metropolitan area, we have exhibited at exhibitions in London as well as in Japan, and are actively promoting the "Kagawa Gloves" brand outside the prefecture and overseas.
Related Links
Prefectural products company
(Glove sales)

7-474, Higashikimachi, Marugame City, Kagawa Prefecture

TEL.0877-89-3341 Fax.0877-89-3342

(Glove sales)

78-1 Shiratori, Higashikagawa City, Kagawa Prefecture

TEL.0879-25-2285 Fax.0879-24-1070

(Glove sales)

41 Sanbonmatsu, Higashikagawa City, Kagawa Prefecture

TEL.0879-25-3126 Fax.0879-25-3127
RERATED PRODUCTS