Kagawa prefecture products
Oidemai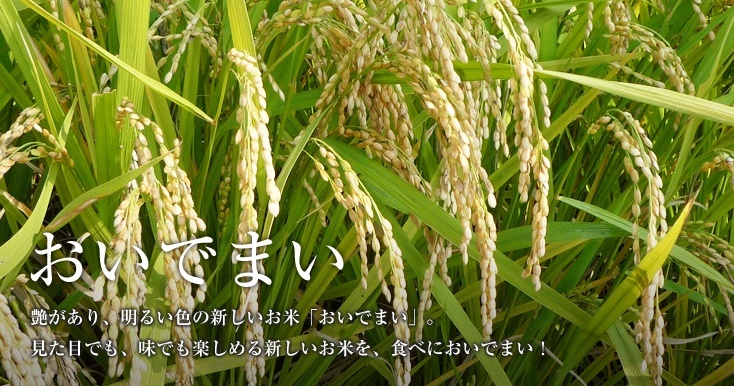 Seasonal season

November

December

Main production area

ー
Shiny and brightly colored rice "Oidemai".
Come and eat rice that you can enjoy both in appearance and taste!
Realizes the same consistency and taste as Koshihikari

Rice born in Kagawa Prefecture is also called "Oidemai". "Oidemai" is Sanuki dialect and means "welcome". I want many people to come and eat the rice born in Kagawa. It was named with such a wish. "Oidemai" has various features, but the most remarkable is the beauty of rice grains. Compared to "Hinohikari", which is currently cultivated in many parts of the prefecture, there is less occurrence of white and turbid rice grains due to high temperature damage, and the brown rice grains are rounded and uniform. The taste and appearance are also distinctive, and when cooked, the color of the rice is bright, glossy and stimulates appetite. There is no habit in taste, it goes with any dish, and its stickiness and taste are close to "Koshihikari". Another characteristic is that it is relatively easy to grow. Plant height is short and it is hard to fall down. There is little ripe unevenness of rice and it ripens beautifully. It is expected to be the main cultivar in Kagawa prefecture because it can grow higher quality rice.

Rice that matches the climate and climate of Kagawa

One of the most serious developments of Oidemai was the global warming issue. At the time of development, "Hinohikari", which occupied nearly half of the rice cultivation area in the prefecture, had good taste, but had the drawback that when it was hot and hot when the ears were ripe, white turbid grains tended to appear. Paddy fields in the prefecture are often located in plains, so they tend to be relatively hot, and as global warming progresses, it has become difficult to harvest high-quality rice. Therefore, since 2002, the prefecture has been developing new varieties that can respond to global warming at the Agricultural Experiment Station. "Oidemai" was born by artificially mating with "Awami nori", which has good taste and quality, and "Hohoemi", which has good taste, as his father. Through various researches, Oidemai was decided to adopt recommended varieties in Kagawa Prefecture in November 22, as it was able to harvest rice with better quality and better taste than Hinohikari. "Oidemai" produced in 11, when full-scale cultivation has begun, has received the highest rank of "Special A" in the "Rice Taste Ranking" conducted annually by the Japan Grain Inspection Association. This is the first time that Shikoku's local varieties have received a "Special A" rating.
関連 リンク
Prefectural products company
(Japanese/Western confectionery store/confectionery sales)

214 Kasuga-cho, Takamatsu City, Kagawa Prefecture

TEL.087-844-8801 FAX.087-844-8802

(Sale of dairy products/Sale of confectionery)

585 Kamishiri Otsu, Shioe Town, Takamatsu City, Kagawa Prefecture

TEL.087-893-0235 FAX.087-893-0237
RERATED PRODUCTS