Kagawa prefecture products
Sanukihime Strawberries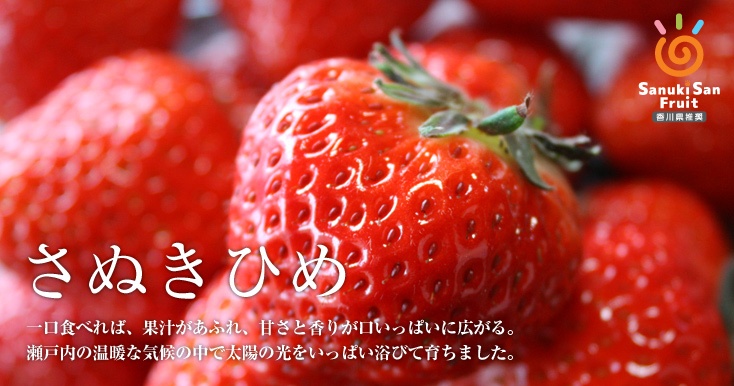 Take one bite and the juice will overflow, filling your muth with the sweetness and aroma of strawberries.
These stawberries have been raised in the warm climate of the Setouchi region, basking in the sun.
Seasonal season

Time to go around Peak season (seasonal season)
Main production area

Takamatsu, Marugame, Kannonji, Sanuki, Higashikagawa, Mitoyo, Miki, Ayagawa
Original Varieties Produced in Kagawa, Home to a Flourishing Strawberry Industry

Strawberry cultivation in Kagawa began in the late Taisho period (1912-1926). "Quality over quantity" is fundamental to Kagawa's agricultural industry. Following this basic philosophy, Kagawa was the first in Japan to widely adopt an elevated hydroponic system. Thanks to this system, each plant is uniformly exposed to the light of the sun, making it possible to produce high quality strawberries. In Kagawa, the elevated hydroponic system is utilized at a much higher rate than other prefectures. The main varieties of strawberries produced in Kagawa are Nyoho and Sachinoka. Nyoho is well-shaped with a vivid red color, making it a popular choice for cakes and sweets. In fact, Kagawa produces about 90 percent of the Nyoho Strawberries grown in Japan. Although the strawberry industry in Kagawa is thriving, for a long time no original varieties were produced. At long last, in 2005 the Kagawa Prefectural Agricultural Experiment Station developed and cultivated an original strawberry variety based on the keywords "excellent taste", "large fruit" and "adaptability to the elevated hydroponic system". The result was a high quality, cute strawberry produced in the Sanuki region. This strawberry was named "Sanukihime", meaning "Sanuki's Princess", with the hope that many people would fall in love with it.

Exquisite Balance of Texture, Sweetness and Acidity

Soft-textured Sanukihime Strawberries overflow with juice when you take a bite. Intensely fragrant, their sweet aroma fills your mouth. Another feature of Sanukihime Strawberries is their large size. Their slightly rounded, conical shape is adorable, and the vivid red color of their glossy skin makes them look delicious. Sold between November and June, normal strawberries tend to become sour in April and May, but Sanukihime Strawberries maintain a stable sugar level throughout the year, making it possible to enjoy them for a longer period. Premium quality Sanukihime Strawberries weighing over 11grams (L Size) are sold as "Sanuki San Fruits".

Attentive Growers are the Secret to Delicious Strawberries

Compared to Nyoho Strawberries, which are also used for cakes and sweets, large-sized Sanukihime Strawberries are primarily eaten fresh. Careful thinning of the fruit is necessary to meet the needs of consumers looking for large, sweet strawberries. In order to grow strawberries to a large size, great care is taken to observe the condition of the fruit and adjust the numbers of strawberries as necessary. Because Sanukihime Strawberries are soft, it is also important to be extremely careful how they are handled when packing. Growers work very hard every day to ensure that their strawberries are delivered to consumers fresh and free of blemishes. Also, by using natural enemies to control pests such as aphids or mites, growers practice reduced pesticide cultivation, producing high quality strawberries that are safe to eat. Additionally, the organization of growers is steadily improving. Because there is a strawberry cultivation manual available, the number of new farmers and young successors is increasing, rejuvenating the farming population.
Related Links
Prefectural products company
(Japanese/Western confectionery store/confectionery sales)

214 Kasuga-cho, Takamatsu City, Kagawa Prefecture

TEL.087-844-8801 FAX.087-844-8802

Sanukihime StrawberriesOidemai RiceSanshu O-guro (boiled beans)

(Western confectionery store)

8-463-1, Higashi Hachimachi, Marugame City, Kagawa Prefecture

TEL.0877-35-8439 FAX.0877-35-8439
RERATED PRODUCTS