Kagawa prefecture products
Ko-ryoku(Kiwi Fruits)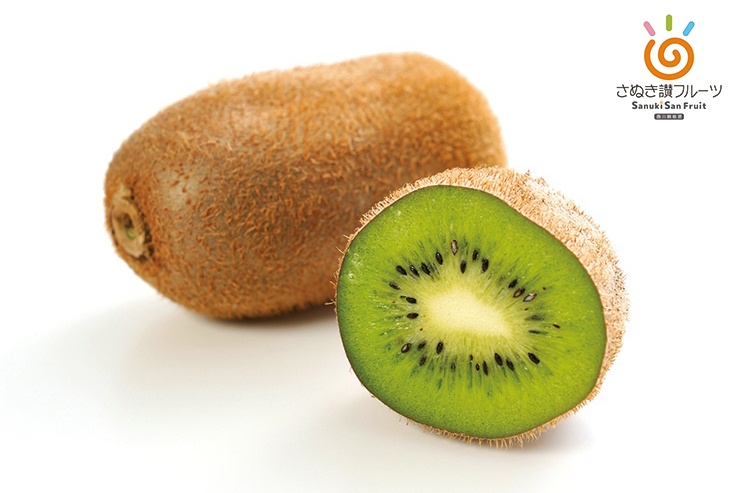 Seasonal season

January

December

Main production area

Takamatsu, Zentsuji, Mitoyo, Tonosho
High sugar content, refreshing flavor. The dark green pulp makes you feel delicious just by looking at it.
Please try the gem that can discover the sweetness of the new kiwi.
Kiwi fruit with beautiful green

"Ko-ryoku", a kiwi fruit of Kagawa Prefecture's original variety, was registered in 62. It has a higher sugar content and a brighter dark green pulp than the general variety "Hayward" circulated nationwide. The name "Ko-ryoku" is the name given to the natural beauty of Kagawa Prefecture and the green flesh of the kiwifruit. Another characteristic is that it has little acidity. It is a kiwi fruit that can fully enjoy the refreshing flavor and juicy flavor in the rich sweetness. Those with an average sugar content of 14.5 degrees or more in excellent and excellent grades are sold as "Sanuki Sun Fruit". In addition, the highest quality products with high sugar content are sold as a specialty brand "Suite 16".
関連 リンク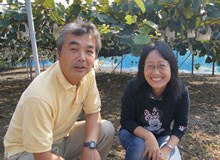 Kinashicho, Takamatsu City
Yasuki Hachimura
Yumi Hachimura
| | |
| --- | --- |
| Organization name | Daiichi Takamatsu Fruits and Vegetables Co., Ltd. |
| Group location | 40-12, Setouchi-cho, Takamatsu-shi |
| Recommended way of eating | According to raw food, yogurt and ice |
| Prefecture retail store | Prefecture supermarket |
Kiwi fruit is popular for its refreshing sweetness and fruity aroma. Hachimura of Onashi-machi grows kiwi fruit in a field using the slopes of the mountain where the sun plays. The cultivation is very nervous, such as careful pruning and strict selection of flowers, carefully selecting only the best fruits from the fruits that have been grown, and bagging the selected fruits. Yamura's kiwi fruit boasts a high sugar content of 15-18 degrees. The emerald green fruit has a lot of black groves that tell the sweetness of the fruit. Why not try a juicy kiwifruit that enjoys the blessings of the sun?
Prefectural products company
RERATED PRODUCTS