Kagawa prefecture products
Fast digging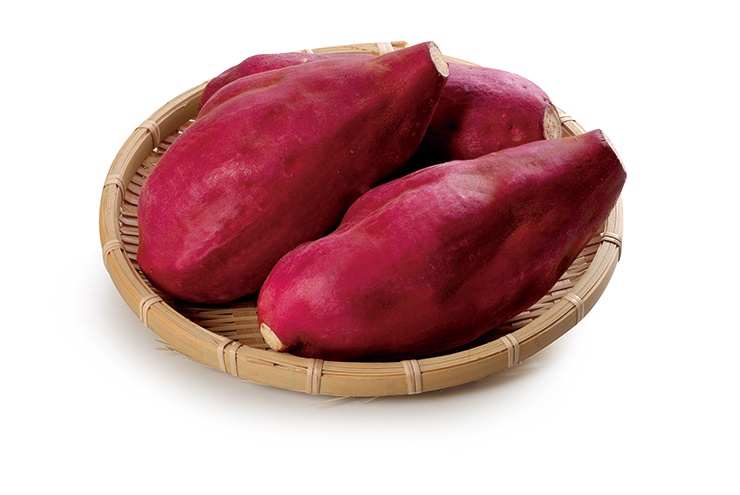 Seasonal season

July

August

September

Main production area

Sakaide
The sweet potato season is from September to November, but early digging is shipped from late June. It is characterized by the vivid red color of the skin and its good shape. The main production area is Sakaide City. The warm, low-rainfall climate of Setouchi, and the once-popular sandy land of salt fields for salt production, are suitable for potato cultivation.
Sweet potato has long been useful as an energy source comparable to staple food. It is also rich in nutrients such as vitamin C and beta carotene. It is said that a good thing with a beautifully thick and thick skin, and a small one with a small unevenness. If you raise the temperature little by little like a roasted sweet potato, a strong sweetness will be drawn out, and if it is heated in a microwave oven, the sweetness will be hard to come out, but the moisture will evaporate and it will be finished. Recently, sweet potatoes have been introduced into dishes that were generally made with potatoes, such as salads, croquettes, and chips. Utilizing its sweetness, it can be used for sweets such as kintsuba and pies.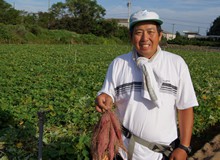 Ohara Farm Inc. Katsuhiro Ohara
| | |
| --- | --- |
| Organization name | Kagawa Prefectural Agricultural Cooperative Ayasaka Agricultural Center Horticulture Division |
| Group location | 1086 3 Takayacho, Sakaide-shi |
| Recommended way of eating | Grilled sweet potato, tempura, college sweet potato, miso soup, boiled food, sweet potato |
| Prefecture retail store | Prefectural retail stores such as Marunaka, Youmetown, Hellos |
Sweet potatoes, often called sweet potatoes, are used as ingredients in snacks such as potatoes and sweets, and in Japanese dishes such as kinton and stewed dishes. Sakaide-shi is famous for the production of Kansho in the prefecture, and was used as a salt field in the past. It seems that the coarse sand found on the former site of Shioda in Sakaide is very suitable for potato cultivation. It is dug up early in early July in early July, so it is called "early excavation". In Sakaide, it is cultivated by tunnel mulching. Mr. Ohara's cultivation of "Hayari Kansho" uses low pesticides and low synthetic fertilizers. It is used as a safe and secure ingredient for school lunches and sold at supermarkets in the prefecture. Mr. Ohara's "Hayari Kansho" is delighted to be sweet and delicious.