Kagawa prefecture products
Japanese red Kintoki carrot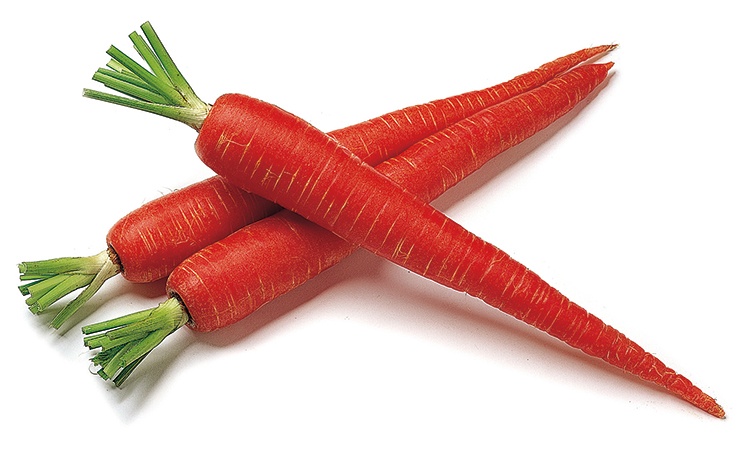 Seasonal season

January

December

Main production area

Sakaide City, Kanonji City
The golden red carrots with bright red are the best in Japan. It is said that it was an Oriental species that came from China during the Edo period. The red color is prized in New Year's dishes and Kyoto dishes, and it is also characterized by being sweeter and softer than the orange western carrots that are widely distributed. The main production areas are the sandy areas of Sakaide and Kanonji. At the end of the year when demand is high, farmers are forced to ship.
The red color is dark and the overall gloss is fresh.

It is an indispensable part of Kagawa's local dish, "Anmochi Zoni," and is generally sliced ​​in the image of the sunrise. There is also a "carrot rice" that cooks rice with peeled and grated food as a way of eating other than glasse, boiled and eggplant.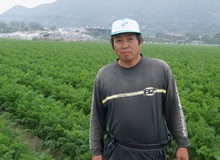 Ohara Farm Inc. Katsuhiro Ohara
| | |
| --- | --- |
| Organization name | Kagawa Prefectural Agricultural Cooperative Ayasaka Agricultural Center Horticulture Division |
| Group location | 1086 3 Takayacho, Sakaide-shi |
| Recommended way of eating | Carrot juice, Kinpira, etc. at Kinki |
| Prefecture retail store | Prefectural supermarket, JA direct market |
Kinki carrots are often used in Japanese foods as well as boiled and simmered New Year dishes. Kagawa Prefecture boasts the highest production volume in Japan. Ohara is cultivated on a sandy land rich in minerals, using the former site of Shioda in Sakaide City. The carrots, which are well drained and grew up on the blessed geology, boast not only the deep vermilion beauty, but also the strong sweetness, soft flesh, freshness, and a straight, elongated shape. It contains many nutrients essential for modern people, such as vitamin A, linolenic acid, and lycopene, which has been attracting attention for its antioxidant effect. It has a good taste and is rich in nutrition, and is very popular with health-conscious people and women. The winter taste of Sanuki is December. Why not incorporate it into warm stews, curries, and everyday dishes, as well as new year dishes?