Kagawa prefecture products
Garlic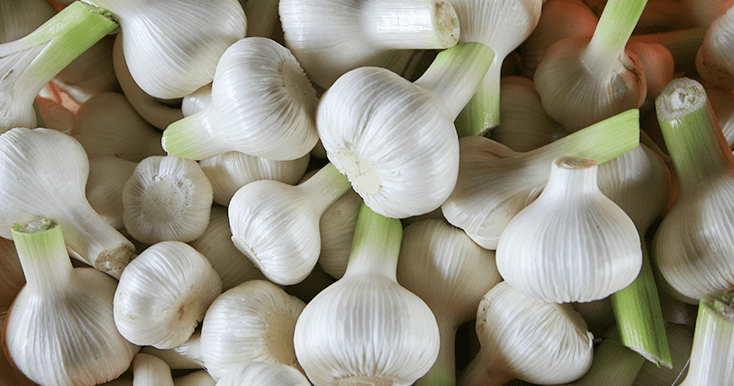 Thick and rich aroma.
It boasts the third highest production volume in the country, and does not rely on large-scale cultivation.
If you eat, please try Kagawa's garlic once you can clearly see the difference in taste.
Seasonal season

Time to go around Peak season (seasonal season)

1
2
3
4
5
6
7
8
9
10
11
12
Main production area

Kotohira Town, Sanuki City, Zentsuji City, Kannonji City, Mitoyo City, Manno Town, Takamatsu City
Garlic from Kagawa Prefecture spread throughout the country

Although it is not well known, Kagawa Prefecture has the second highest production of garlic in Japan. (Statistics on production and shipment of vegetables produced in Reiwa 2)
Kotohira Town, which is famous for Konpira, is the most produced in the prefecture, and it is also produced in Zentsuji City, Kanonji City, Sanuki City, etc.In Kagawa prefecture, both dried garlic and raw garlic are produced.Although there are many cheap garlic produced overseas, domestic garlic is attracting attention now that food safety is important, and garlic produced in Kagawa Prefecture is more popular than ever.Garlic from Kagawa prefecture is packed tightly, and is characterized by its thick meat and rich aroma.The rich taste will surely be addictive once you eat it.

High quality garlic grown over time

Growing garlic requires a lot of time and effort. Garlic seeds are fixed up and down, so you have to plant each one by hand so that the buds come out upward. Also, soil creation is very important for garlic. We need to make a layer of soft soil and grow it while keeping the soil moisture. It is also important to bury garlic every time the buds grow so that it can grow easily. To deliver high-quality garlic to many homes, it has been carefully cultivated with a lot of time and effort.
Prefectural products company
(Processed product sales)

677-1 Shimokatsuma, Takase-cho, Mitoyo-shi, Kagawa

TEL.0875-23-7009 FAX.0875-23-7039

(Processed product sales)

3681 Kamiasa, Takase-cho, Mitoyo-shi

TEL.0875-74-6720 FAX.0875-74-6725
RERATED PRODUCTS