Kagawa prefecture products
olivePork/oliveDream Pork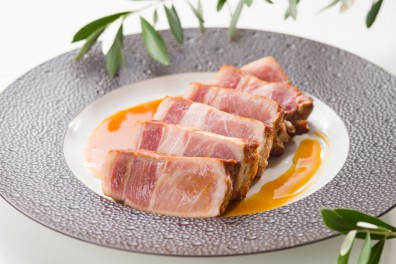 Olives from Kagawa Prefecture have a history of more than 100 years of cultivation, and have been carefully grown by hand-picking. "olivePork""oliveDream PorkBoth are livestock products grown by mixing olives with feed, but "Olive Dream Pigs" are Sanuki Yume Pigs, which were developed based on the Berkshire breed in the UK, which is said to have good meat quality. A brand born from pigs produced in Kagawa Prefecture. Olives produced in Kagawa Prefecture contain many antioxidants such as oleic acid, which is said to be useful for preventing and improving lifestyle-related diseases, and polyphenol, which is said to be useful for preventing cancer. Heating and drying the fruits after oiling the olives gives them a feed, which changes the meat quality, melts sweetly in the mouth, and gives a light taste. The quality of the meat grown healthy with the power of olives can be enjoyed with a unique taste that is different from conventional pork.
Seasonal season

Time to go around Peak season (seasonal season)

1
2
3
4
5
6
7
8
9
10
11
12
Main production area

Kagawa prefecture whole area
"Olive dream pork" and "olive pork" which have high water retention and rich in gravy. Rich in sweetness and flavor, it can be widely used as a food ingredient in cooking. Especially recommended is steak tonteki. Roast thick roasted meat and season with salt and pepper. Along with the juicy gravy, light taste spreads in the mouth. In addition, Tonpo low, which has been carefully boiled with rose meat, and roast pork, which is roasted with red meat, are recommended.

In each of the four trials with the conditions adjusted, it was confirmed that feeding the olive feed increased the umami and sweetness components. In particular, fructose, which is characterized by a fruity sweetness, showed a high measurement in common in each test.
Fructose has the highest sweetness among sugars, and is known to enhance the taste by synergistic effects with other ingredients.
Related Links
Prefectural products company
RERATED PRODUCTS