Kagawa prefecture products
Bird with bone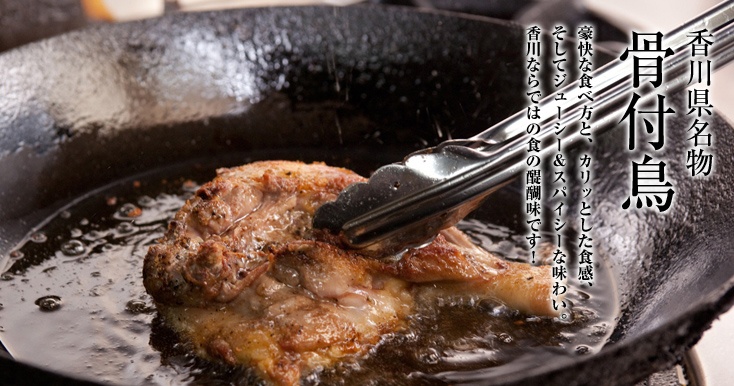 A specialty of Kagawa Prefecture, "Bone with bone".
Exciting eating style, crisp texture, and juicy & spicy taste.
It is the real pleasure of Kagawa's unique food!
Seasonal season

Time to go around Peak season (seasonal season)
The skin is crisp and the inside is juicy.

The birthplace of the bird with bones is Marugame. It began in 27 when a couple of founders at an izakaya opened near a train station and saw a scene in an American movie that clings to a bone-in bird. It is said that the bold, daring boned bird scene has shocked the couple and thought, "I want everyone to eat such a treat!" With plenty of spices, the crispy skin and the juicy baked inside, the taste quickly became popular with Marugame, and shops and specialty stores that incorporated it into the menu one after another were born. At present, a shop that offers bone-in birds has been created not only in Marugame City but throughout the prefecture, and has grown into a representative gourmet of Kagawa. When Christmas comes, a gourmet is deeply rooted in Kagawa Prefecture, as a procession occurs at a specialty store for bone-attached birds.

"Oya", a popular favorite, "Hina" that everyone can enjoy.

There are two major types of birds with bones. "Odori" or "Wakadori". Odori, which has been carefully aging for a long time, has a strong texture. The more you chew, the richer the flavor begins to seep out. On the other hand, Hitotori is attractive because it is plump and soft and easy to eat. Anyone can enjoy the taste of juicy gravy with no worries. The real pleasure of each of them is to be bold without being shy. It is a specialty of Kagawa that can be enjoyed lively.

How to enjoy each person.
A full side menu.

There are many other ways to enjoy boned birds. One of them is the side menu where you can enjoy the taste of birds in various flavors. You can enjoy the charm of birds, such as "bird vinegar", which is made from chicken skin with vinegar, "bird sashimi", which enjoys the taste of fresh ingredients, and "motu stew," which is a sweet and boiled chicken. And as a way of enjoying only with boned birds, there is an effective use of the sauce left on the plate. If you are a specialty store for bone-in birds, be sure to check out the onigiri and cabbage on the menu. These two simple menus without any seasoning are served with the sauce left on the plate. The sauce, which is soaked with the taste of birds, is exquisite, and simple onigiri and cabbage will delight its charm.
Prefectural products company
RERATED PRODUCTS