Kagawa prefecture products
Soy sauce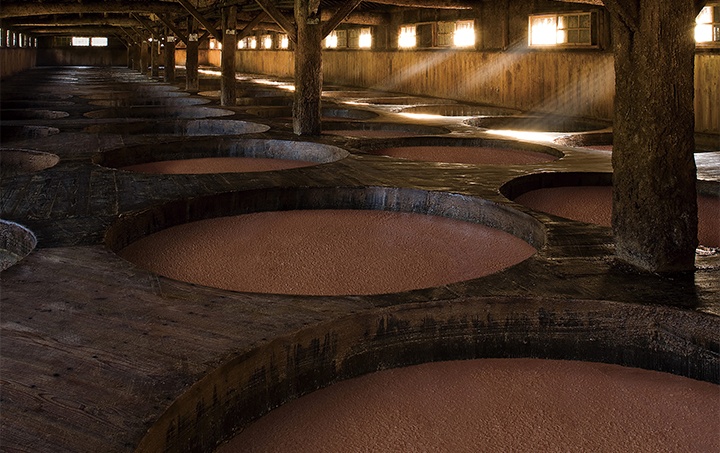 Making soy sauce in Kagawa Prefecture with a history of more than 400 years.
The taste and fragrance that creates rich time is something that Mr. Soy Sauce has been particular about, searching for, and arriving at.
Sanuki's soy sauce has grown over centuries. Please enjoy the rich and plump soy sauce until you like it.
Seasonal season

Time to go around Peak season (seasonal season)
Main production area

Shodoshima, Sakaide, Takamatsu, Higashi Kagawa
Traditional flavor

In the old days of Shodoshima, where salt making utilizing the mild and rainy climate was popular, soy sauce making with salt began 400 years ago.
Since then, we have continued to protect the soy sauce making process using a unique method called tub preparation. From 4 to 5 months to more than a year, it is grown naturally without artificial temperature control, resulting in a mellow, rich taste and a rich aroma. Such a traditional taste that took time and effort is rooted in Kagawa prefecture soy sauce.

Land blessed with making soy sauce

Kagawa Prefecture has long been rich in salt, which is a raw material for soy sauce, and is blessed with good-quality soybeans and wheat. Against this background, soy sauce is now being manufactured in Shodoshima, Sakaide, Higashikagawa, Takamatsu, and other countries, and boasts one of the highest production volumes in Japan. In addition, the streets where soy sauce production has been practiced since ancient times are also valuable as tourism resources. Depending on the brewing company, you can visit a natural brewery that has been around for more than 100 years. Soy sauce, made in a blessed land and cherished by traditional techniques, complements a variety of dishes and creates a smile in the dining area.
Prefectural products company
RERATED PRODUCTS