Kagawa prefecture products
Wine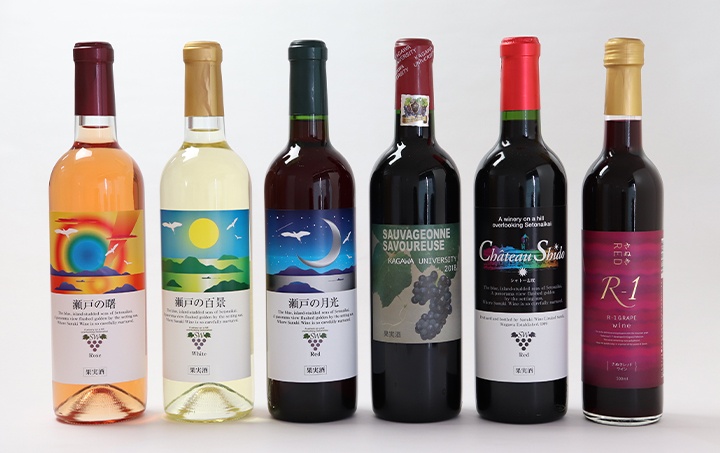 Shikoku's only winery is located in the Shido district of Sanuki City on the scenic Ogushi Peninsula, which stretches out into the Seto Inland Sea. The grapes used to produce Kagawa's wines are grown locally in Sanuki City's Shido district and in the town of Tadotsu. Kagawa produces a wide variety of wines, including fresh white wine made with Delaware grapes, authentic red wine using grapes cultivated by contract farmers, easy-to-drink rosé wines and sparkling wines as well. In addition to grapes, wine is also produced with locally grown Kagawa fruits, such as olives, plums and kiwi fruit.
Seasonal season

Time to go around Peak season (seasonal season)

1
2
3
4
5
6
7
8
9
10
11
12
Main production area

Sanuki City
"Bihaku", a strawberry wine produced in limited quantities since 2009, has been gaining popularity as a new specialty product of Kagawa. This wine is made using Kagawa's original strawberry variety, "Sanukihime", which was developed in 2007 as a successor to the "Nyoho" variety. This wine, characterized by its pale pink color, is full of the flavor and aroma of strawberries.
Prefectural products company
(Wine sales)

939-1, Tsuruha, Tsuda-machi, Sanuki-shi

TEL.087-895-1133 FAX.087-895-1134

(Sales of cosmetics)

2566-1 Omi, Mino-cho, Mitoyo-shi, Kagawa

TEL.0875-24-8228 FAX.0875-24-8227
RERATED PRODUCTS