Kagawa prefecture products
Iriko (dried sardines)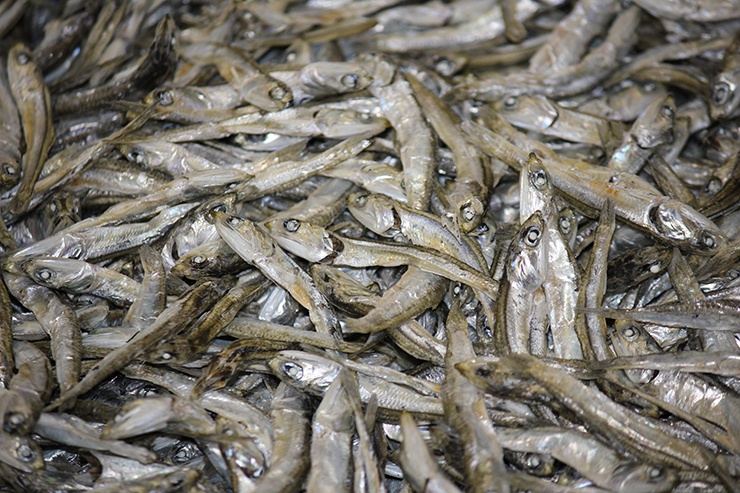 Made from sardines from the calm waters of the Seto Inland Sea, Kagawa's iriko is characterized by its rich, strong umami flavor. It is also used in the broth of authentic Sanuki udon noodles and appears in many home dishes.
Seasonal season

Time to go around Peak season (seasonal season)

1
2
3
4
5
6
7
8
9
10
11
12
Main production area

Hitanada
Exquisite Kagawa-made Iriko, the Pride of Japan

The most common type of sardine in Kagawa is the Japanese anchovy, which is made into iriko (anchovies that have been boiled and then dried). In Hiuchinada Sea, a major fishing ground in Kagawa's western region, two large nets up to 300 meters in length are pulled between two boats, and the fishermen drive schools of fish into these nets. Kagawa Prefecture is one of the leading producers of iriko in Japan, and the iriko of Ibukijima Island is particularly famous. So much so that in 2, the name "Ibuki Iriko" was registered as a regional collective trademark, and efforts are being made to further raise its profile and branding.

Freshness is Key 

Anchovies only remain fresh for a short time, so the speed in which they are processed is key. After being caught, the anchovies are boiled and dried to make iriko, but the time frame in which this is done is said to determine the quality of the final product. Ibukijima Island is located in the middle of the fishing grounds, so no matter where the fish is caught, it can immediately be transported to the island for processing, resulting in high quality iriko. Another feature of Kagawa's iriko is that the entire process, from catching to processing, is carried out by fishermen called "amimoto" who have their own nets and fishing boats, which results in less time loss. After boiling, the fish is dried for 10 to 20 hours, and 1 to 3 days after being caught, it's sold to specialized trading companies and appears on store shelves. Thanks to the blessed environment of the Seto Inland Sea, as well as the skilled hands of the people involved from catching to processing, the resulting iriko is excellent.

The People of Kagawa love Iriko 

Broth is an essential part of Japanese food and is also a main ingredient in Sanuki udon noodles. Iriko is, of course, used in this broth. The iriko is used to make a thick broth with a strong umami flavor that can also be used in miso soup in homecooking. In fact, the annual per capita consumption of iriko in Takamatsu City is one of the highest in Japan, and the people of Kagawa consider it an irreplacable part of their culture.

Another interesting feature of the region is that in addition to broth, iriko appears as its own dish. It can be easily prepared as tempura, lightly roasted in a pan, fried with vegetables, or added to fried rice or simmered dishes. It is also a rich source of calcium, and plays a leading role on the tables of Kagawa locals.

Local Iriko Cuisine 

At <i>ryokan</i> (Japanese-style inns) located in the western region of Kagawa Prefecture, where iriko is produced, you can enjoy a wide variety of dishes in which iriko is used. In addition to this, breweries of local sake in the region offer "Aburi Iriko Sake", which is made by adding seared iriko to sake to give it an umami and savory taste, and "Iriko Sake no Moto" (instant iriko sake), which can be made at home.
Prefectural products company
(Sale of processed marine products)

185-1 Niokko, Nio-cho, Mitoyo-shi, Kagawa

TEL.0875-82-2837 FAX.0875-82-6557

(Processed seafood sales/Some noodle sales)

3-5, Torimachi, Takamatsu-shi

TEL.087-851-2310 FAX.087-822-8107

(Sale of processed marine products/Sale of confectionery)

487-14 Nitta-cho, Takamatsu-shi, Kagawa

TEL.087-816-3003 FAX.050-3488-8046
Recipe using this prefecture product
RERATED PRODUCTS