Kagawa prefecture products
Seaweed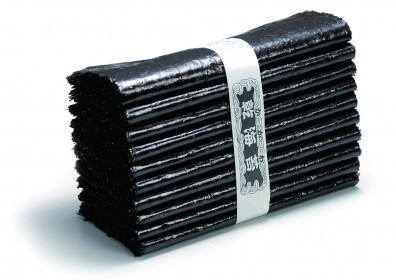 Nori, which contains plenty of minerals from the Seto Inland Sea, is nutritious enough to be called "sea vegetables." Among them, the first picked glue first picked from November to December in each production area has a soft texture and fragrant flavor. Most of the glue currently on the market is produced by aquaculture. Kagawa Prefecture is one of the important industries that support the prefecture's fishery, along with hamachi aquaculture.
Seasonal season

Time to go around Peak season (seasonal season)

1
2
3
4
5
6
7
8
9
10
11
12
In Kagawa Prefecture, products such as grilled seaweed and seasoned seaweed made from "first picked Nori from Kagawa Prefecture" that have cleared the standards are given a certification certificate "First picked Nori from Kagawa Prefecture" and are local specialties. It is spreading as.At the time of the first picking, processed products with this mark are lined up at supermarkets, etc., making it easy to taste at home.
A comedian who lives in Kagawa, "Tsuyoshi Kaji" reports on local products
17th Nori
Prefectural products company
(Sale of processed marine products)

2175-4 Tsuruha, Tsudacho, Sanuki City

TEL.0879-42-5105 Fax.0879-42-5571

(Processed seafood sales/Some noodle sales)

3-5, Torimachi, Takamatsu-shi

TEL.087-851-2310 Fax.087-822-8107
Recipe using this prefecture product
RERATED PRODUCTS