Kagawa prefecture products
Madako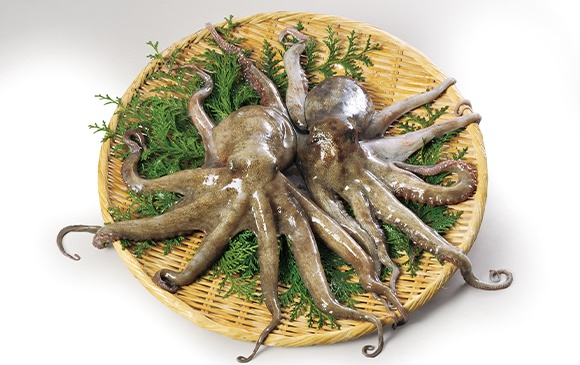 Among the octopuses, "Madako" has thick legs (arms). The characteristic of Bisan Seto is that its legs are so thick that it can be said to "stand and walk". Also, Seto Inland Sea octopus is slightly sweet because it eats blue crab and shrimp, and you can enjoy it with a chewy texture. The octopus is caught all year round, but the peak season is from summer to autumn. Octopus tsubo fishing that sinks more than 1 octopus eels at one time is actively carried out in the Bisan Seto area. It has high quality protein and is rich in taurine, so it is said to be effective in relieving fatigue.
Seasonal season

Time to go around Peak season (seasonal season)
Main production area

Bisan Seto
Traditionally, farmers in Kagawa Prefecture have used the custom of eating octopus, which has a strong power to absorb with suction cups, as "the rooting of seedlings and branching of rice" on the first day of rice planting and the day of rice planting. It is used as an ingredient in a wide variety of Japanese, Western and Chinese cuisines such as sashimi, vinegar, tempura, carpaccio, as well as local dishes that represent Kagawa, such as "imo octopus" and "octopus rice". Kagawa prefecture is not only one of the nation's leading octopus production areas, but Kagawa prefecture is actually one of the most octopus-loving prefectures in Japan, boasting one of the largest octopus purchases.