Kagawa prefecture products
Shrimp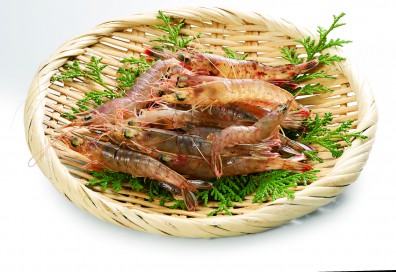 There are many types of shrimp that can be caught in Kagawa Prefecture, but those that grow only up to about 10 cm are called "shrimp". You can fish throughout the year, but you can catch a lot of Shinko, which was born during the year from summer to early autumn. In Kagawa Prefecture you can enjoy the taste of fresh local shrimp.
Seasonal season

Time to go around Peak season (seasonal season)
Main production area

Prefecture
The red miso on the head has a particularly delicious taste, and if it is lively, it can be used as a secret taste for other dishes, such as cooking with vegetables, because the peeled shell and the head can get a delicious dashi. . Large dishes are salt boiled and sashimi, and small ones are widely used as Kagawa souvenirs, such as dried shrimp and shrimp crackers, such as kakiage tempura.
Prefectural products company
(Sale of processed marine products)

185-1 Niokko, Nio-cho, Mitoyo-shi, Kagawa

TEL.0875-82-2837 FAX.0875-82-6557

(Rice cracker sale)

1-9-7 Fujitsukacho, Takamatsu

TEL.087-861-2530 FAX.087-861-2505
Recipe using this prefecture product
RERATED PRODUCTS