Kagawa prefecture products
Pheasant grouper (Akou)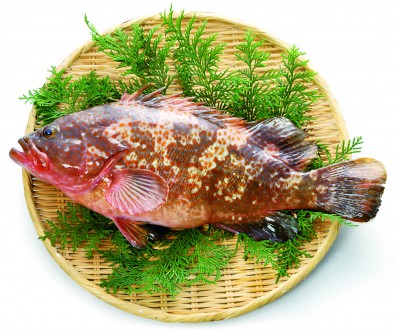 It is the only grouper of groupers caught in the waters of Kagawa Prefecture, with a beautiful figure and delicious taste. In Kagawa Prefecture, it is called "Akou" because of its red body color, and it is the most expensive fish caught in the prefecture. They inhabit the rocky reefs, eat shrimp and crabs, etc., and grow up to about 50 cm in length, but because they grow only in the summer, it takes time to reach the storefront. In addition, large fish are rarely lined up in general fishmongers, and it was said that they were `` direct to high-end restaurants '', but catching increased due to release, and recently they have been found in stores such as supermarkets I have come.
Seasonal season

Time to go around Peak season (seasonal season)

1
2
3
4
5
6
7
8
9
10
11
12
Main production area

Bisan Seto
It is a summer when many fish are caught if it is said that the season of akou is a fish which does not lose taste at any time. If you eat it as sashimi or boiled, you will find a rich, moist, odor-free flavor, and a deep, white flavor that spreads throughout your mouth. Ako can be enjoyed in soups such as ushio soup, up to the head and midbone. It is a unique feature of luxury fish that can be enjoyed without excess.