Kagawa prefecture products
Olive Yellowtail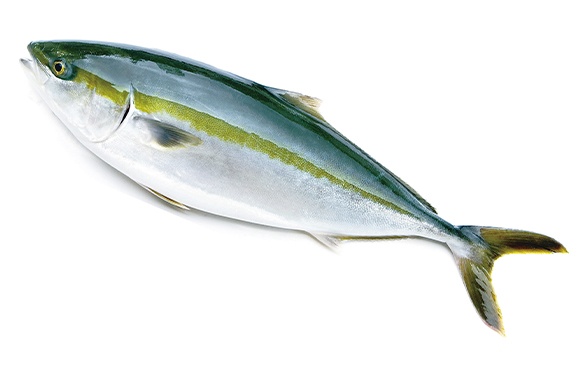 "Olive Hamachi" is a collaboration between prefectural fish yellowtail and prefectural flower / prefectural tree olives.
I grew up in a fluffy body with a meal mixed with olive leaves.
Olive Hamachi is a special yellowtail that you can enjoy a refreshing taste.

Seasonal season

Time to go around Peak season (seasonal season)

1
2
3
4
5
6
7
8
9
10
11
12
Main production area

Aji / Mure / Hikita / Naoshima / Kamosho
About Olive Hamachi

Olive yellowtail is a farmed yellowtail that has been fed a diet containing olive leaf powder, which is mainly produced in Kagawa prefecture, for a certain period of time.Yellowtail aquaculture that originated in Kagawa prefecture and spread all over the country.In 20, we celebrated the 100th anniversary of the birth of Mr. Kazusaburo Noami, who succeeded in commercializing yellowtail farming for the first time in the world, and the 80th anniversary of yellowtail farming.In that year, a commemorative project was carried out by the prefecture and related organizations, and a product improvement study group was established with the aim of creating branded yellowtail, and research on olive yellowtail was promoted."Olive Hamachi" is a brand hamachi only for Kagawa that was finally born after various researches and tests were repeated.

With a refreshing taste
Yellowtail with moderate chewy texture

Olive leaves are rich in "oleuropein," a type of polyphenol that has a strong antioxidant effect.It was found that breeding yellowtail on a diet containing olive leaf powder improves the meat quality to prevent oxidation and discoloration.In addition, recent research has revealed that the amount of collagen in the muscle is increased compared to normal cultured yellowtail, which makes it chewy and less likely to soften the meat even when refrigerated.A yellowtail with a refreshing taste and moderate texture.

Kagawa Brand Hamachi Three Brothers

The eldest son "Hiketa Yellowtail" who grew up freely in a large cage, the second son "Naoshima Hamachi" who grew up vigorously in the sea where the tide flows fast, and the collaboration of prefectural fish hamachi and prefectural flowers and prefectural tree olives were born. The third son "Olive Hamachi".The Kagawa brand, which has a long history and is full of individuality, is unique to Kagawa, the birthplace of yellowtail aquaculture.That is the "Three Brothers of Hamachi".

Kagawa's hamachi is a treasure trove of nutrients

Essential amino acids contained in abundant proteins in a well-balanced manner.An EPA that works to reduce bad cholesterol and fat that impede blood flow.Calcium that Japanese people tend to lack.It also contains plenty of taurine, various vitamins, DHA, etc., and is truly a treasure trove of nutrients.These well-balanced nutrients are the appeal of yellowtail from Kagawa prefecture, which is grown without stress and with attention to health.
A comedian who lives in Kagawa, "Tsuyoshi Kaji" reports on local products
The second olive hamachi