Kagawa prefecture products
Red seabream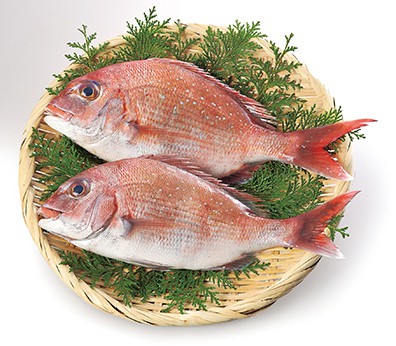 The king of fish, "Thailand", emits a brilliant color with pink stars studded in pink. It is said that what is caught when the cherry blossoms bloom has a good fat paste and is the most delicious. Also, at this time, it enters the Seto Inland Sea for spawning, so it is also called "Sakuradai". At one time, catches were decreasing, but recently catches have increased and prices at stores have become much more affordable.
Seasonal season

Time to go around Peak season (seasonal season)
Main production area

Bisan Seto
The chewy body has a pale taste, and Hama-yaki, which is steamed with salt, is one of Kagawa's specialty products. It is a traditional taste that has been handed down to modern times. Other fish that have been loved in Kagawa for a long time, such as "Taimeshi", which is cooked with a lively Thai whole, and "Satsuma", which is grilled with salt and miso.
Prefectural products company
(Sale of processed marine products)

1402-23 Tsuda, Tsuda Town, Sanuki City, Kagawa Prefecture

TEL.0879-42-3037 FAX.0879-42-2595
RERATED PRODUCTS