Kagawa prefecture products
Pear puffer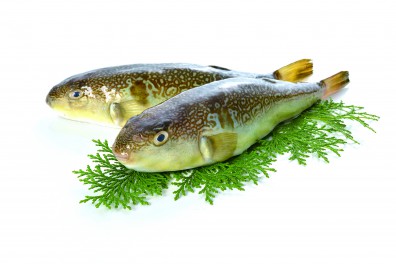 Among the puffer fish called "Nagoyafugu" caught in Kagawa Prefecture, "Nashifugu" has a smooth body surface and a chrysanthemum-shaped crest beside the pectoral fin. Fugu poison has been feared for a long time since it was sung "Fugu eaten, life will be missed", but now there are strict regulations, and only those that have been properly processed by qualified people are on the market. You. In particular, Nashifugu is caught in limited sea areas nationwide, and is restricted to two production areas: Kagawa and Okayama prefectures, and the Ariake and Tachibana bays. Nashifugu, which was said to be an illusionary hidden blowfish due to its limited catch, has been sold safely and safely under the familiar name of Sanuki Denbuku.
Seasonal season

Time to go around Peak season (seasonal season)
Main production area

Bisan Seto
Nashifugu is said to be as good as the high-quality fish, Torafugu. Because it is not as expensive as troughfish, it can be enjoyed at home in a wide range of winter classics, hot pot dishes, as well as sashimi, soups, and fried chicken. Because the body is softer than torafugu, it is perfect for nigiri sushi and tastes exquisite. You can enjoy the deep taste of puffer fish.