Kagawa prefecture products
Somen Noodles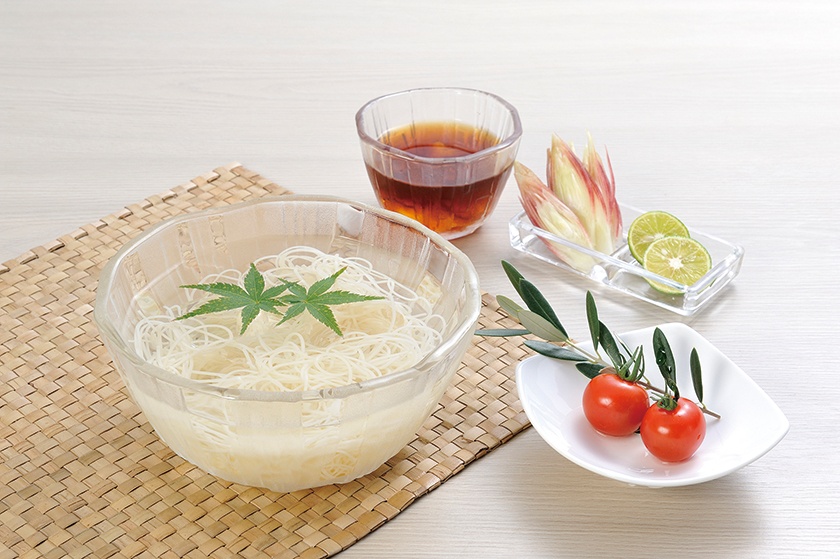 These somen noodles feature a flavor and firm texture that could only be produced on Shodoshima, an island in the Sanuki region blessed with plenty of sun and fresh morning tide.
Fully enjoy the quality of this exquisite product with every bite.
Seasonal season

Time to go around Peak season (seasonal season)

1
2
3
4
5
6
7
8
9
10
11
12
Main production area

Shodoshima
Flavor of the island built upon tradition

Hand-Stretched Somen Noodles are a specialty product of Shodoshima Island, which floats in the Seto Inland Sea. This tradition is said to have started at the beginning of the Edo period in 1598. The island's residents at the time learned how to make somen noodles in the Miwa region of Nara Prefecture during their pilgrimage to Ise Shrine, and brought this knowledge back with them to Shodoshima. Since then, somen noodles have become a specialty product of Shodoshima, where producers have perfected noodle making techniques based on over 400 years of tradition. Shodoshima Hand-Stretched Somen Noodles Association's very own brand, "Shima no Hikari", is produced with a unique technique that stays true to tradition. This somen is created by hanging the noodles out to dry in a cool breeze, which is ideal for somen making. Here the noodles are slowly dried while they bask in the warmth of the sun. It is the ideal climate of Shodoshima and the time and effort required by traditional techniques that produce the taste and firm texture of Hand-Stretched Somen Noodles.

Always striving to be "more delicious"

In order to deliver even thinner, more delicious noodles to customers throughout Japan, the "Shima no Hikari" to be sold for the year is all produced within a limited period of time. The surface of the noodles are coated with pure sesame oil, a technique rarely used in Japan. Sesame oil is known for being resistant to oxidation, and helps to protect the flavor of noodles from changing over time. Furthermore, high quality and uniformity are assured by a skilled product inspector, who thoroughly tests all the noodles. This rigorous inspection process is another reason "Shima no Hikari" is said to be the most delicious brand of somen noodles in Japan. While producers of somen noodles value tradition, they are also excited about developing new products. For example, "Hand-Stretched Olive Somen Noodles" is a collaboration between somen noodles and olives, which are also a specialty product of Shodoshima. Olive fruit is infused into the noodles, and pure olive oil is coated on the surface, creating green somen noodles unique to Shodoshima. To maintain the title of "Japan's best tasting somen" now and in the future, producers in Shodoshima will continue to perfect Hand-Stretched Somen Noodles.
A comedian who lives in Kagawa, "Tsuyoshi Kaji" reports on local products
23rd Somen
Prefectural products company
Recipe using this prefecture product
RERATED PRODUCTS