The hot summer has passed and the autumn breeze is coming to a pleasant season. The fall of art, the fall of sports, the fall of appetite, and the fall of festivals are coming. This time, we will introduce "Kyononji-Toyohama area", which is famous for "Chosa Festival", which is known nationwide among Kagawa Prefecture's autumn festivals.
Festival fall is coming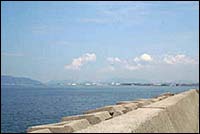 The Toyohama area, located at the southwestern tip of Kagawa Prefecture, faces Hichinada, and has a long coastline extending in an arc. There is a beach that is rich in history, culture and nature.
One of the highlights of this area is the "Chousa Festival", which is held on Friday, Saturday and Sunday, the last day of which is the second Sunday in October. This is a splendid and magnificent festival that has been selected as one of the 10 scenic views of the rural landscape. Many people work hard for one year to work for this festival. The rich beach has long been known as a place where cotton is produced, and recently as a place where delicious pears are produced. Now, let's visit the Toyohama area, which is excited for the "Chousa Festival", along with delicious topics.
West entrance of Kagawa and Ichinomiya Park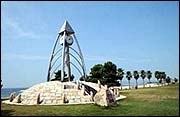 Toyohama is located at Toyohama Station and Minoura Station on the JR Yosan Line. If you use the expressway, get off at the Onohara Interchange (Kawanoe Mishima IC from the Ehime area).
First, head to the rich beach symbol, Ichinomiya Park. Ichinomiya Beach has long been known as the shallow shore of white sand and blue pine and was also a mecca for swimming. It took over eight years and was reborn in 2000 (12). A new beach house, a large lawn plaza, an outdoor stage, etc. have been set up, making it a more comfortable beach. Of course, many people visit here even in the fall. There are campsites and tennis courts, and above all, the lawn square is very comfortable. At the center is a clock tower named Ichinomiya Dream Tower, which has a reputation for the beauty of the setting sun.
Inquiries: Kanonji City Toyohama Community Center (Umi no Ie) Phone 0875-52-6640
Let's meet at "Chousa Hall".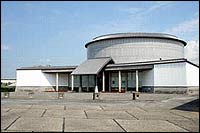 From Ichinomiya Park, take Route 11 and head east. You will immediately see the sign for "Chousa Kaikan" on the left side of the road. Here, you can touch the "Chosa Festival" all year round, and the chosa, mikoshi, lion dance, seat boat, etc. that appear in the festival are presented on real objects, models, panels, and powerful 300-inch screens.
"Chousa" is a so-called taikodai. Large objects are about XNUMX meters high and weigh about XNUMX tons. It has a gorgeous embroidery, and the golden shining dragon and the shining dragon are shining on the side of the sevenfold (Shijo) that the rugs of God are piled up. On top of that is a dragonfly with a bow that expresses clouds. Each time the eight tresses move, there is a quilt beneath it that is beautifully embroidered with gold and silver thread and tiger and dragon patterns, which is exactly God's bedding.
"Chousa" is a crush that can be seen just by looking at the artworks of history. On the day of the festival, there are more than 20 of them, and they are expanding and kneading the oysters, so they are overwhelmed by their attractiveness and power.
Inquiry: Chosa Hall Phone 0875-52-5500 (same for the museum)
I get drunk for three days in autumn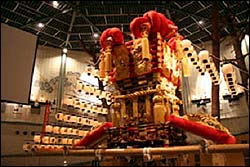 The impressive butterfly festival will be held on Friday, Saturday, and Sunday for the last day of the second Sunday in October. On the first Friday, we visit the town at Toyohama Hachiman Shrine from the afternoon. On the following Saturday, a parade of sound and light will be held by over 10 lanterns. The light of the butterfly floating in the dusk of autumn falls fantastically, and the plaza is surrounded by pleasant excitement. On the last day of the festival, the highlight of the Chosa Festival, "Kakikurabe," will be held at Ichinomiya Ground. And from 2 o'clock, the last show of the Chosa Festival "Oiri" is held at Toyohama Hachiman Shrine, and the finale of the Chosa Festival is decorated.
There are traffic regulations and detailed maps.http://www.chohsa.jp/index.htmPlease look into it.
Inquiries: Sanuki Toyohama Chosa Festival Executive Committee Telephone 0875-52-1205
Communicating the history of making cotton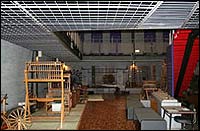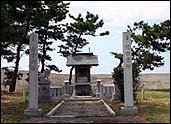 There is a small museum next to "Chousa Hall". Here at the Toyohama Folk Museum, you can find tools made from cotton (cotton), the history of making cotton, and old-fashioned folk tools. Cotton was one of the Sanuki Sanpaku along with salt and sugar in the Edo period. The history of cotton in Toyohama is old, and it began when Sekiya Bei Kunisada in the Kamakura period reclaimed the current Sekiya area and planted cotton.
It is said that cotton cultivation continued until the early days of the Showa era, and that cotton wielding craftsmen were working. For this reason, on the southern beach of Takasuka Evening Park, there is also a rare "Wata Shrine" nationwide featuring Sekiya Bei Kunisada. Also, beside the museum, actual cotton is cultivated, and white flowers bloom in the season.
Gentle and warm cotton bedding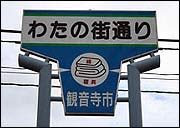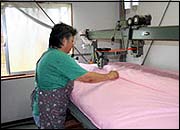 Toyohama boasts the largest production of cotton products in Shikoku, and there are several cotton mills and shops selling cotton products. There is a sign "Wata no Machidori" on National Route 11. So we visited President Matsumura of Toyohama Cotton Bedding Cooperative. Twenty years ago, a dozen or so stores joined the cooperative, but now it has dropped dramatically to 20. "Of course, the total number of futons being made is also decreasing. However, there are many fans who do not sleep well without cotton futons. I'm sorry. " Also, because it is 20% vegetable, some atopic children can sleep only with cotton futons. In addition, futons that have been used for many generations are also brought in because they can be re-run many times.
When I heard it would be difficult to sew a large futon, he prepared in front of a large machine and quickly sewed the futon fabric. Of course, there are some troublesome things such as putting a block, but unlike a large factory, futons are carefully made one by one. The heart and texture of the creator were gentle and warm Toyohama cotton bedding.
Inquiries: Toyohama Cotton Bedding Cooperative Secretariat Phone 0875-52-5487
"Wasteful spirit" over the storm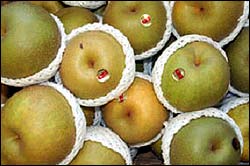 There are other specialty products of Toyohama. "Pear" that cultivation began in 42. In the early spring, pure white pear blossoms spread on the hill, and from August to September there is also a pear selling place, which is full of people who buy good pears. Sweet and fresh pears in Toyohama cannot be enjoyed all year round, but there are things that convey the taste throughout the year. That is the processed product of pears.
The mothers of the "Toyohama-machi Pear Processing Study Group" are making it. We interviewed the first chairman of the study group, Jusae Yokouchi and the current chairman, Fumiko Kawakami. The meeting began in 3, when Yokouchi saw the fruit that fell on the ground after the typhoon, and the sadness and regret that the pears brought up with the spirits became just garbage were inevitable. "It was a waste!" This was a reminder that we shouldn't put it in garbage, so we joined forces together, repeated trial and error, and started making pear pickles. In order to grow delicious fruits, it is necessary to remove fruits. Therefore, there were many fruits that would be thrown away without a typhoon.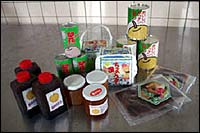 It seems that the mothers who finished the farming and housework every night gathered at the gathering place around 8 o'clock in the evening and talked about pickling while proceeding with the ingredients. When I picked up the pickles on a TV, there was a phone call immediately from the department store, and full-scale commercialization was realized. Pickled pears have the best crunchy texture, and they are used as side dishes and beer snacks. It seems that orders come from afar if it must be this pickle. After that, we will increase the number of products such as canned pears all year round, juice recommended when the throat hurts, mellow and umami grilled meat sauce, refreshing and sweet jams and jellies, dyed goods, pear wine, etc. I went.
This year, the harvest of pear fruits was low due to the continued rain in the early summer, and the pickled pickles "Chosasa pickle" had already sold out on the day of the interview. Actually, the photo is just the package. Some of these products can be purchased at Michi-no-Eki Toyohama, Michi-no-Eki Kotohiki, and Kagawa Toyonan Agricultural Cooperative Wada Branch.
After listening to them, the pear farmers in Toyohama learned that one-third to half of the pear field was lost in the typhoon in 2004. It seems that many husbands muttered, "This is the end." However, moms have been making pears and making pears without loss of brightness. The pears of mothers who have overcome the difficulties seem to be shining more.
Inquiries: Kagawa Honan Agricultural Cooperative Wada Branch Telephone 0875-52-2154
The only sweet in Japan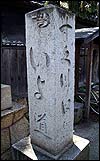 Take the corner of the 11th Bank along National Route 2 toward the mountain, and go right at the first corner. The road is the old Iyo Kaido. At present, it is a narrow road where only one car can pass, but in the Edo era people and pilgrims who came to visit Konpira as the main road were busy. When you enter this road and turn the second corner toward the national highway, you will see Kanmido. Here, there is a confection "Umegae", which is said to be the only taste in Japan. In Dazaifu Tenmangu in Kyushu, there is a baked rice cake called Umegae Mochi, but here Umegae is a confectionery made with glutinous rice, sugar and Nikki.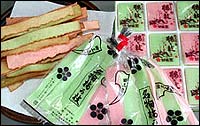 The taste is close to that of Yatsuhashi in Kyoto. It is said that during the Edo period, a famous monk in Kyoto fell ill during a pilgrimage to Shikoku, received extensive nursing care from family members, and passed on the recipe to the thanks. It seems that Takanori Onishi, the third generation, is now telling the manufacturing method to the fourth generation. When the "plum branches" became hard, they could be baked or fried in oil, and the fried ones would not stop after eating. In front of the shop, there is a Konpira lantern, which has been watching the transition of travelers. In the old days, it was called "Umegae", which had a reputation as a souvenir of konpira.
Inquiries: Amamido Phone 0875-52-3496
Overtake the late Prime Minister Ohira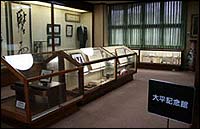 The famous celebrity in Toyohama is Masayoshi Ohira, who became Prime Minister in 53. Ohira was born in 1978 as the third son of Hase, Wadamura and Tokichi Ohira. He developed domestic politics and diplomacy based on "trust and agreement," and made the world famous for Ohira, but suddenly fell ill during the 43 simultaneous election. Even now, many locals long for Mr. Ohira, part of National Route 55 is named "Ohira Memorial Street", and a central public hall next to Toyohama Branch has a room called "Ohira Memorial Hall". Has been done.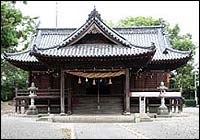 Along the national highway not far from the Ohira Memorial Hall, there is Toyohama Hachiman Shrine, also known as the Chosa Festival. Here is a statue of Prime Minister Ohira. This shrine is a venerable shrine that was founded in the first year of Wado (708), and the greenery of the trees designated as preserved trees in Kagawa Prefecture spreads on the grounds.
A candy store in front of the shrine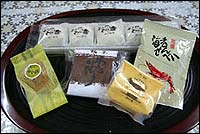 The official approach to Toyohama Hachiman Shrine is on the old road, not on the national highway, and in front of the entrance is Nanshodo. This store opened in the Taisho era and is located along the old road (Iyo Kaido), and in the past it seems to have made sweets for the memorial service and buns for celebration. Since the third generation, he has been creatively working on creative sweets, and there are a variety of sweets unique to Toyohama, such as "Chossa Chu", "Nashi no Sato", "Watashiro", and "Water Manju". You.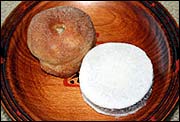 "During Chorusa" is an image of butterfly. "Pear no Sato" is an elegant Western-style confectionery that contains canned pears. Watasho is a confectionery that won the 20th National Confectionery Exposition (Zenka Expo) honorary prize, and is sandwiched between white skin called "Musashi", which is more expensive than the inside skin. "Water bun" is a cute white bun that won the chairman's prize at the 21st Zenka Expo. The famous shrimp senbei made from shrimp taken from the island of Breath is also famous, and won the gold prize at the 32nd Zenka Expo. There are still many delicious sweets in Toyohama. "Oiri", a wedding confectionery, has long been loved here. At Toyohama, look into the alleys and try entering a confectionery store.
Contact: Nanshodo Phone 0875-52-2255
The highest peak of white miso-also on Kagawa prefecture lettuce and sanuki udon-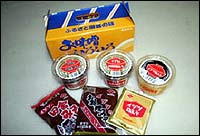 Not far from "Nanshodo" is "Itsu Miso", founded in 6. In Sanuki, delicious white miso that has been devised has been made to use white miso for the New Year's "Anmochi Zoni". The highest peak of white miso, "Itsu Shiramiso", has inherited Sanuki's traditional koji making. Miso, made with high quality domestic rice and carefully selected soybeans, is a sanitary facility that protects food safety, and has the skills of skilled craftsmen.
White miso is a sweet miso with low salt content (less than half of ordinary red miso) and a lot of rice koji. For this reason, it is also recommended for mixed miso soup with red miso, soy sauce such as vinegar miso, and for pickling fish and meat with savory flavor. It is also ideal for dengaku, embankment and pork juice. The dressing that combines white miso and mayonnaise in a ratio of XNUMX: XNUMX is perfect for lettuce from Kagawa Prefecture. In addition, miso stewed udon with radish and fried oil is also the best. Please try. In addition, we sell long-aged wheat (red) miso, countryside (wheat red grains), Hon-zukuri, with yuzu and hatomugi, and Kanayamaji miso.
Inquiries: Itsutsu Miso Telephone 0875-52-3030
Road Station "Toyohama"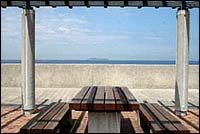 Roadside station "Toyohama" is a must visit for visitors to Toyohama. It is about 10 minutes by car from Onohara IC and about 10 minutes by car from Kawanoe IC, and overlooks Hiuchi Nada. It seems that travelers have taken a break under the big elm trees around here since ancient times, and a modern roadside station has a seaside wooden deck, footbath corner, Sannadaichi, a product corner, and a restaurant, Hamaki Chaya "there is.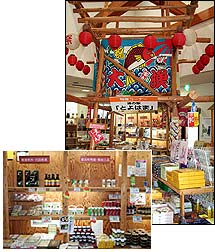 From the seaside deck, you can see the island of Iriko, "Ibukishima", floating off the coast. If you are blowing in the sea breeze here, you will forget the passage of time. The beauty of the setting sun sinking into the sea is well-established, and the footbath corner is very popular with drivers on long journeys. Neighbors also come together with unexpected trips. There is also a fresh produce corner where you can meet marine products such as fresh vegetables and fresh fish. Demonstration sale of freshly fried "Jakoten" is also available. If you learn this taste, you will be addicted. When you enter the hall, there is an object of butterfly in the center, and the specialty and delicious things of Toyohama introduced this time are lined up in various ways. Miniature miniatures are sold as souvenirs.
Delicacy of Sanuki udon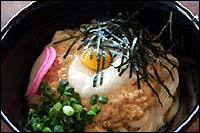 Next, let's enter the restaurant "Hamakko Chaya". Here, there is a udon menu that is rare in Kagawa prefecture. It is "Satsuma Udon". Bake the sea bream and bream, loosen the body, add red miso from the bones and mix. Satsuma, a local dish, is eaten over barley rice. That's why Satsuma Udon has plenty of fish surimi on top of the udon. The taste is great with a healthy udon menu. This is an unforgettable taste of Sanuki "Satsuma Udon". In addition, "Bukkake Anago-Ten" has an egg tempura on Bukkake Udon. This is also a recommended popular menu.
Inquiry: Roadside station "Toyohama" telephone 0875-56-3655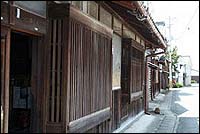 On the western edge of Kagawa Prefecture, autumn Toyohama is filled with sunsets. Toyohama, where the festival mood is growing, has many delicious spots, including fresh fish dishes from the Seto Inland Sea. There are also many shrines and temples unique to historical land. Why don't you walk under the clear autumn sky at Toyohama, where your heart becomes rich.