Under the warm winter of Sanuki, the pond shines under the blue sky, the green mountains are dark, and sometimes the sun is like spring. This is a recommended spot on Sanuki Road, this time in the middle of Kagawa Prefecture, Ayagawa Town that spreads calmly from the mountains to the countryside.
Ayagawa-cho, a place of clear stream related to Michizane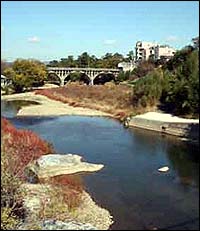 Ayagawa-cho, located in the center of Kagawa Prefecture, was born in March 18 after Ayakami-cho and Ayanami-cho merged. The name of the town is derived from the Ayakawa flowing through the town. The upstream Kashiwara valley is a clear stream land that has been selected as one of the "3 Best Water Source Forests" and "Famous Sanuki Water". In the basin, there are the Nagagara Dam and the Fuchu Dam, which are also important water sources in the area. Takimiya Bridge over the middle stream has beautiful red balustrades, and there are Michi No Eki, Takimiya Park, and Takimiya Tenmangu nearby. Kokubunshi (border stone) that has been left. Here Takimiya is said to have had an annex of Michizane Sugawara, who once served as the priest of Sanuki. Occasionally, Michizane, who walked along the banks of Ayakawa, wrote a poem, saying, "The flower leaves on the side of Iwao, half enters the stream, and the red and green are clean and both are relaxed ..." You.
God of the test "Takimiya Tenmangu"
Takimiya Tenmangu Shrine is visited by many students every year to pray for success, with Michizane Sugawara, known as the god of learning. Hatsumode is visited by many parents and children who are preparing for the examination, and ema with wishes for a flowering spring are scattered around. It is reported that Michizane was 25 days old when he was reborn in Dazaifu on his birthday and anniversary. Therefore, "Ohatsutenjin" is held on January 1, and the lanterns, bills and tangerines are burned with flames to pray for a year-long sickness.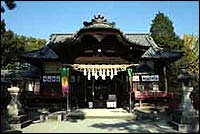 According to one theory, the grounds of the precincts had a government building when Michizane was the priest of Sanuki for four years, and plum blossoms are now planted in connection with Michizane. Approximately 4 plum trees, including "Hibume" given by Dazai Tenmangu Shrine, are fragrant and bloom in early spring. Every year, on the last day of February, there is a "Plum Blossom Festival", and there are entertainments for matcha and Japanese sweets.
In addition, on April 4, the "Lies at the Birthplace (Kenmen)" and the Udon Festival, which are unique to the birthplace of Sanso Udon, will be held to exchange happiness by exchanging wooden carved dolls "Usotori". You.
Roadside station where you can pick strawberries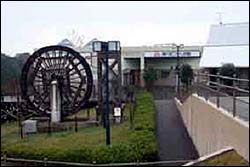 Takimiya is a roadside station along National Route 32 connecting Takamatsu and Kotohira. Located on a hill overlooking Takimiya Park, one of the 5 Sanuki Views, overlooking the flow of Ayagawa, you can walk to Takimiya Shrine and Takimiya Tenmangu Shrine in about 12 minutes. At this roadside station, there are Sansan, Cafeteria, Udon Kaikan, and Udon Restaurant. From December to late June, Strawberry Farm is also open. Flea markets are also held outdoors on the first Saturday and Sunday of even months other than August.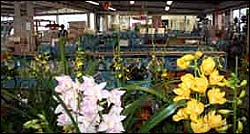 Shops are lined with souvenirs at Shop Ayakawa. There is also a wide selection of famous confections in Kagawa Prefecture, products from the Ayakawa area, and health foods. There are also udon-senbei, udon-karinto and other udon-related snacks, and Kagawa Prefecture wheat "Sanuki no Yume 2000" is also on sale. Of course, there is a line of half-cooked noodle sets using ground flour, and soy sauce that matches udon is also sold. This area is also famous for its udon ice cream.
At the adjacent "Cafeteria 32", there are also menus such as udon noodles, udon de gratin, etc., which are recommended for a short break.
At Sanuki Udon Takimiya, where you can taste handmade udon, there is a full menu of items from "Kake Udon" to "Udon Suki", as well as bowls and set items. This is a certified store that uses 2000% of Sanuki no Yume 100. You can also taste authentic Sanuki udon using wheat from Ayagawa town. If you make a reservation at least 3 days in advance, you can also experience making Sanuki udon at the "handmade udon classroom".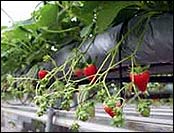 From December to June, the Strawberry Farm, where you can pick strawberries on the spot and eat as much as you want, will also be opened. A ripe strawberry with a fresh and full of juice and a sweet scent. Please taste the best strawberries unique to strawberry picking.
■ Reservation call 087-876-5215
Udon restaurant in the birthplace of Udon Sanuki Udon

Ayagawa-cho was introduced as the birthplace of udon, and it tells such a story. There was one of Kukai's nephew and one of the ten great disciples, Daisen Chisen, who was born here in Ayagawa. In the fall of Datong 2 (807), Chiizumi, who returned to his home due to his father's illness, reportedly made his parents cook and eat noodles under the guidance of Kobo Daishi. And it is said that it may be the first sanuki udon made. Until the 40's, there was a waterwheel along the Aya River, and flour was extracted from wheat produced in the surrounding wheat fields. Therefore, there are many noodle shops and udon shops, and at the end of the Tokugawa period there were 11 udon shops in Takimiya, a post town on the Konpira Kaido.
And there are still many udon shops in town. For example, Yamagoshi is famous for "Kamatama". "Kamatama" means that udon noodles are cooked from a kettle and then dashi. It is said to be the carbonara of the udon world. Tamura is a typical example of a noodle shop that mainly makes noodles. There are two menus, Kake Udon and Shoyu Udon. Noodles are a confident shop, and the goodness of the Sanuki udon is really good. Matsuoka is known for its sincere udon noodle making, and it has an exquisite texture. In the winter, there are also tail udon. A udon shop with a retro building called "Akasaka" uses its own scissors to put green onions made in the garden. In addition, there is also a coffee shop starting with udon such as Tamakichi, Hayuka, Ando Udon, Ikeuchi, Ajakuen, etc. It is a recommended Ayagawa area for visiting Sanuki udon.
Famous confectionery and udon cookie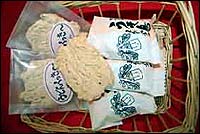 A 5-minute walk from Takimiya Station on the Kotden Train, "Hokuroya Kaho" is located along the old national highway, Konpira Kaido. Close to Tenmangu Shrine, etc., we have been making Japanese sweets such as "Usotori Manju", "Kanko" and "Ume no Sato" related to Ayagawa-cho. In addition, baked goods such as "Matcha Financier" and "Ume Maru" are famous, and they created "Udon Kukki". Born and raised in Takimiya, the second generation Yasufumi Yamada, who once went out of the prefecture and trained in confectionery, decided to create a specialty baked confectionery using his favorite sanuki udon, repeated trial and error, and produced it after research. It is a masterpiece. A new textured cookie made from udon and crepe jamako. Also a souvenir.
Rice from Ayagawa such as the story of main Kisaida and duck rice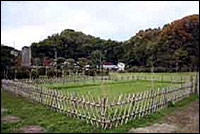 Ayagawa-cho has long been known as a place where you can get delicious rice. The rice cultivation field for the new grain for the Emperor's coronation ceremony, the Daijyosai, is called Saiden. At the time of the Emperor Taisho, two places were selected across the country. One was the main Kisaida that remained in Ayagawa Town. At the site of Saita, there is a monument to the main Kisaida Monument, and the "Rice Planting Festival" is held in June every year by the preservation society in order to pass down the rice planting landscape at that time to future generations.
In Ayagawa of such a local nature, delicious rice is still made. Rice with 100% Koshihikari from Ayagawa town, and limited-selling "Aigamo rice" that is produced by dumping duck into paddy fields. Some of them are also made of "fragrant rice", which has long been known as noble rice, and "red rice" and "black rice" of ancient rice.
Rice power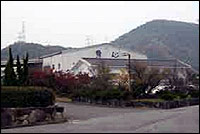 Rice power extract is made by a combination of fermentation methods such as Aspergillus or yeast. Rice power extract with different efficacy can be made by combining microorganisms, and 36 types are currently being developed. Among them, nine types are in practical use. For example, Rice Power Extract NO9 was approved by the Ministry of Health, Labor and Welfare in 11 as a new quasi-drug product and a new active ingredient as the world's first material to improve the ability to retain skin moisture. "Reaging essence" is a skin care base liquid with a high blend of NO2001. It is a base solution used before basic cosmetics such as lotion, and it increases the amount of ceramide that works to keep moisture in the stratum corneum.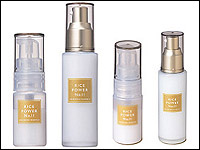 There are companies in Ayagawa town that make use of the power of rice. `` Yusin Sake Brewery '' has been operating for generations since its founding in the first year of Ansei, but since around 43, it has been working on comprehensive utilization research on rice, developing rice power extract, a basic material from rice, in 62. The first rice to be approved by the Ministry of Health (currently the Ministry of Health, Labor and Welfare) as an active ingredient in quasi-drugs
Pottery ground and Sanuki decorative tile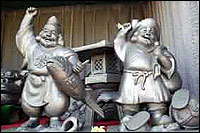 Ayagawa-cho has a place name of "Sue", but it is said that there was one of the oldest Sue ware's major production areas. Until around 30, there were many craftsmen making decorative tiles, but the number of craftsmen seems to have decreased completely in the late 50s. Today, I visited Masao Hosoya, a valuable decorative tile craftsman in Ayakawa.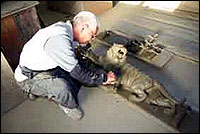 Mr. Hosoya has been making decorative tiles such as oni tiles for 32 years. How many years will it take to be full-fledged? Is a craftsman who is still pursuing that path, answering the question "I'm a lifetime". Decorative roof tiles are becoming far from modern houses, but magnificent shrines and temples and Japanese houses are tiles with magnificent and heavy decorations that can be seen on the roof corner and on the tiled wall. Dragons and tigers, Hotei-sama and Ebisu-sama are made in the hope of safety in the house and happiness of the family.
In addition, the decorative tile called water plate is beautiful as a scene of a story with clouds, water and dragon, bamboo and tiger, pine, crane and hawk, and the design is considered by craftsmen. The decorative tiles that Hosoya creates are, of course, handmade one by one, and are created over days and months from design to completion. In the intermission of such work, we sometimes make small items such as owls, all of which are tile products that hope for no illness and happiness.
Masao Hosoya
Telephone 087-876-2296
Mom's love 100%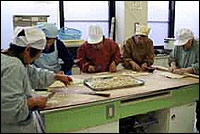 "Mochimugi Karinto", which is also located at the roadside station "Takimiya", is made by members of the Ayagami Branch Ayagami Branch Living Research Group. A young group formed 20 years ago, from the 50s to the 80s, with an average age of 70s. Every Wednesday (changed at the end of the year and at the end of the year) in front of the Ayakami branch, mothers who wake up early, opening a direct production shop from 9:XNUMX to XNUMX in the winter, created Ayami's specialty products. . The crunchy texture is comfortable, and when you chew it, moderate sweetness is transmitted to your mouth. Ayagami's proud sweets, which was also selected as a Grand Prix at the special product contest of the Chugoku and Shikoku Chamber of Commerce.

In addition, "Yakiniku sauce" is made using domestic vegetables and sweet brown sugar. "Honburi" used for udon and stewed dishes. There are also Japanese knotweed and vinegar that are exhibited only at the event. Starting with the preparation from the previous day, the products are supported by a lot of invisible struggles, and have more affection than business.
Representative Sachiko Iwami
Telephone 087-878-1385
Cottage with fireplace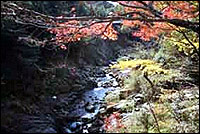 The Kashiwara valley, located in the mountainous area south of Ayagawa Town, is a clear stream with a rich nature of about XNUMX km. A valley where beautiful scenery develops every season, and there are campsites and pensions. A stylish cottage is built along the mountain stream in the Kashiwara Valley Camp Village Tatuta Forest. There are free tent sites and bungalows, and cottages with kitchens, fireplaces and Radon spring baths are very popular in winter.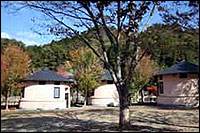 There is a café "Kaede" in the management building that opens on weekends and holidays, and you can enjoy a wonderful lunch time. Kashiwara valley, which is a relaxing time in nature, sometimes a snow scene, seems to clean up your heart.
Children can eat with peace of mind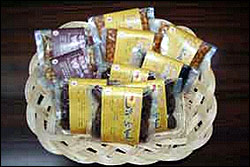 "Yamasei Co., Ltd." is a food company that has built an integrated system from development to manufacturing and sales since its establishment in 13, set in a land surrounded by green mountains and the clear stream Ayagawa. "We talked with the contract farmers about how to grow the raw materials, prioritized a better production system, and scrutinized the raw materials without compromising. For example, the mustard actually went to the farm where it was produced. Crop has been confirmed and the raw materials are limited to those crops that have been certified as organic agricultural products by an overseas accredited organization.In 2001, the Japanese Association of Organic Agricultural Production Organizations certified the JAS method as an organic agricultural processed food manufacturer. In this way, we use not only organic ingredients but also no additives in the manufacturing process, and we thoroughly deliver safe and secure foods. It's not organic like a grilled blade, and unless it's grown organically for years, it can't be said to be a truly safe food. " Has He told me clearly.
The resulting products are Japanese flour such as gold stamped bean paste, demon mustard, and dumpling powder. "Seto Kaiseki Soy Beans" are made by carefully roasting large grains of Kagawa Prefecture broad beans and soaking them in a liquid made with soy sauce, brown sugar, and red pepper. "Seto Kaiseki Organic Soy Soy Beans" uses organic soybeans produced in Japan and is finished with organic soy sauce and organic sugar.
Local sake prepared by modern master craftsmen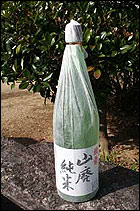 Ayakiku Sake Brewery, which was founded in 2 in the Edo period on the banks of Ayagawa, is dedicated to high-quality locally grown sake rice. I've done my spirit. The sake rice that Ayaku is particular about is "Oseto". We are continuing our efforts to improve quality and focusing on organic cultivation. The National Sake Sake Appraisal has won a total of 1790 Gold Awards. Behind the shadow lies the excellent brewery leading the storehouse. There is also a series of drinks named by Hiroaki Kunishige and Toru Kunishige, which were also selected as "modern masters".
Recently, "Karin-shu" has been aged for a long time using only pesticides, in-house distilled shochu, and sake only. Daishimochi, a real shochu made from bean barley from Zentsuji in Kagawa Prefecture, is a traditional shochu made by lowering the boiling point of distillation compared to normal shochu and spending time using the traditional method. "Kukami no Michi" with turtles, "Kame Shochu", a long-term storage of alcohol at 25 ° C "Kame Shochu", and "Umeshu", which has a high extract of ume pickled with Oshukubume, are all popular and reserved. There is even something sold out at the time. Also, the new product that was initially prepared this term is "Yama Waste Junmai", which regenerates the technology of the Edo period to the present day. It is a recommended sake that has a deep taste with a clear sharpness and richness and umami, a scent that seems to be abandoned, and a better performance than expected.
Sweets house in green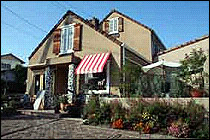 Just like Hansel and Gretel met a sweets house in the woods, a sweet candy store that suddenly appears in a rice field is Showado. The first thing we keep in mind is making sweets that the whole family can enjoy and eat for generations.
We also create seasonal sweets with a sense of season. Many also use local materials, and the Honor Roll uses Wasanbon and Sanuki no Yume 2000. "Soy sauce veil" is made from soy sauce and camembert cheese of Mr. Kamada Shoyu of Sakaide city.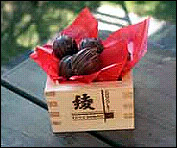 Ayakiku Sake Brewery's Ginjo Sake Chocolate "Sake Chocolat Aya" is also recommended for adult Christmas and Valentine's Day. In the new year of 2007, a new "sake cake" using Ayagiku's Daiginjo sake will be released. This is also a sweet for adults.
There are 15 types of baked goods that are particular about butter, such as brown sugar, coffee, and buckwheat noodles. Showado always has a sweet scent and a happy smile.