In the summer of Kagawa, the fireworks are also powerful, such as the Sanuki Takamatsu Festival (August 8-12), and the "Sakaide Ohashi Festival (August 14-8)" is a place where dancers are dancing. "Marugame Basha Festival (August 3th and 5th)" with a great dance performance, "Cengata Festival (July 8th to 25th)" with a fun treasure hunt, and "Nio" to breathe into a giant dragon There are many summer festivals that you want to see at a glance, such as the "Ryu Festival (August 26)". And "Mure Genpei Akari Road (July 7-September 14)" will be held for two months to enjoy the summer evening with romantic stone lights. Therefore, this time, I will visit the town of Ikari, "Mure-cho, Takamatsu City". (The date is the scheduled date of this year.)
Ancient battlefield carving the history of Aji stone
Mure-cho, Takamatsu City is bordered by Shido Bay in the east and Yajima Bay in the west, and has a unique shape of Mt.Gouken in the middle of the town. A town that has long been known as a source of Aji stone and has a strong stone culture. It is also the setting for the Battle of Genpeiya Island, and historic sites of the old battlefield remain here and there. This Mure Town merged with Takamatsu City in January 2006 and is now Mure Town in Takamatsu City.
Contact for sightseeing
Takamatsu City Tourism Division Phone 087-839-2416
Granite diamond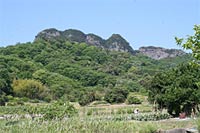 Ajiishi boasts this town of Mure nationwide and nowhere in the world. The crystals are extremely small, dense and hard compared to other granites. Therefore, it is said that the engraved characters do not collapse, do not discolor, and do not lose luster for XNUMX years. The greatest feature is the phenomenon called "spots" or "botan", in which biotite enters the surface of well-polished stones densely, and the mottling of the ground pattern appears. This is said to be the only stone in the world, "Aji stone". Due to their rarity and characteristics, they are said to be the best stone unit price in the world. In other words, it is also known as "granite diamond".
There are many sculptors who are fascinated by this beautiful stone. Isamu Noguchi, a world-class sculptor representing the 20th century, also loved Ajiishi and set up an atelier in this area. It is currently "Isamu Noguchi Garden Museum (open on Tuesday, Thursday and Saturday only. A round-trip postcard must be reserved. Call 087-870-1500)." In addition, stone sculptures of "Aji stone" can be seen here and there. And the stone town where many stone shops line the eaves, Mure-cho.
Tell the history of the millennium Anji stone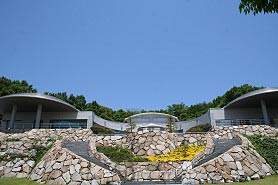 Ishishonosato Park is located on a hill overlooking Yajima and Mure towns. There is the "Ishi no Folk Museum" which conveys the history and skills of Aji stone in this painting. There is a diorama that reproduces the scenery of the choba and the workplace from the late Taisho era to the early Showa era, and you can easily see the history of Aji stone. Also, more than 1000 masonry tools are stored and displayed, making it a great place to learn stone. There are also hands-on classrooms such as "Stone Hunting" where you can remove natural stones and "stone de paint" where you can paint on stones. Please come by all means during summer vacation.
The surrounding area is "Ishishonosato Park" where stone sculptures are also placed. The green turf spreads out, the view is wonderful, and there are playground equipment, so we often see children playing well. The observation deck behind the museum is a superb view overlooking the ancient battlefield of Genpei. I'm also waiting for Yoichi Nasu, drawn by manga artist Masashi Ueda.
Warm cable car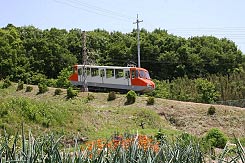 Gokenzan, a landmark of Mure, rises north of Ishishonosato Park. In the old days, as the name suggests, there were five peaks, one of which collapsed in the 1707 (Hoei 4th year) earthquake and is now lined with four peaks. At the foot of this peak is the 85th temple of Shikoku Sacred Ground "Yaguri-ji Temple". As Omotesando heads to this temple, no cars are allowed, so put a car in a large parking lot and walk or go by cable car to Yatsuguri Temple. Except for walking pilgrims, most cable cars run every 15 minutes every hour, and Yamagami Station is only 4 minutes wrapped in seasonal flowers and greenery. You can also enjoy the distant view of Yashima and the city. It's fun to see the two cable cars passing each other along the way, nostalgic for both the car body and the car interior, and it seems that the crush of childhood is coming back. If you look closely at the fare table, you can see that the price of the downhill is cheaper than the uphill.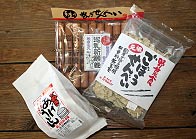 By the way, there are small shops at both Mt. Toyamaguchi Station and Yamagami Station, and they also serve tea at Yamagami Station, so please take a look at Kagawa's products. By the way, the three most popular souvenirs at Tozanguchi Station are "Makisenbei (pilgrimage prayer roll)", "Sanukiage Udon", and "Vegetable food burdock senbei".
Five swords and eight chestnuts?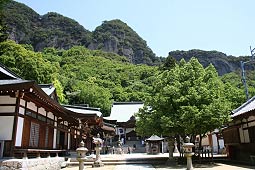 When you arrive at Yamagami Station by cable car, you can see Mt. Just 200m from the station, walk on a flat road and arrive at Yakuri-ji Temple. Founded in 829 (Tencho 6 years). According to the temple biography, Kobo Daishi climbed Mount Goken before going to Tang, buried eight chestnuts and prayed for a safe journey. After returning to Japan, when he returned and practiced, five swords descended from heaven and there was an oracle. Also, the eight chestnuts were growing safely, so the temple was erected and named "Gokenzan Yakuriji". This is a place dedicated to "Kyoten," which is rare among the temples in Shikoku Sacred Ground, and is also called "Shoten of Yakuuri". It is said that business prosperity and marital harmony also benefit, and the 1st and 16th are fairs every month.
Specialty Bukkake Udon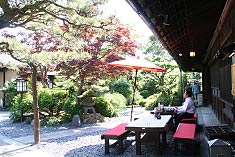 There is Sanuki Udon's famous restaurant "Udon Honjin Yamada Family" just down the approach (prefectural road Route 146) from the cable climbing station. In the past, Oshoya, the brewery of famous sake, welcomes you with the gate and garden of a fine residence. In addition, you can enjoy exquisite sanuki udon at a price of 270 yen for a bukkake udon or 530 yen for a kettle bukkake (photo). There is a variety of seats and flavors in the graceful tempura udon in a parlor, and a udon while loving the garden.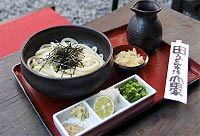 Kunbo Wada is the uncle of Kiyoshi Yamada, the owner. It is based on the guidance of the artist, from brands, designs and store creation to menus. He also named the specialty "Bukkake Udon". Nowadays, "Kama-bukkake", which has been registered as a trademark, and "Zaru-bukkake", recommended in summer, have become signboard menus. In addition to udon, there are also many fans, such as oden, sushi, and tempura that accompanies Tentsu Yumo.
Kuriyamado praying for success
If you go further down the approach from "Udon Honjin Yamada Family", you will find the "Kuriyama Memorial Museum" just a little from the road. Shibano Ritsuzan is a scholar of the Edo period born here. He is counted as one of Dr. Kansei and is revered as the father of Japanese education. A wooden statue is enshrined at the Kuriyamado in the hall, and now it is yearned for the god of the exam, and people who are looking for talismans are not endless.
Kuriyama Memorial Phone 087-845-5996
Cooperatives of stone craftsmen
We went down the approach and came to a town where stone shops lined the eaves. You can also see tombstones, lanterns, Buddha statues and five-storied pagoda just looking up. The union made by all of these stone shops is the Sanuki Stone Processing Cooperative. Starting in 23 as a "Mure Stone Processing Business Association" with a focus on those who operate the stone business in the land of Mure, next year 60 years. At present, 111 stone-related persons have joined. The union's work involves purchasing, receiving orders, and selling jointly. Therefore, we can help you with anything, such as "I want an Aji stone product", "I want to order a tombstone", "I want to make stone objects and furniture with original design", "I want a stone light".
"Not only is it the world's largest source of Aji stone, but it also boasts world-class stone technology, and once stones from all over the world were gathered here in Mure. There are many stone professionals and masters of stone processing.Because the stone is a natural thing, even if it comes from the same place, the pattern and quality are slightly different.The world of stone is wide and deep. Once made, the stone product will remain semi-permanently, so leave it to a trusted professional and see what you've really liked for decades.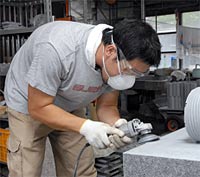 The precious Aji stone has a strong image of being expensive and unobtainable, and flies to the hoax that it is no longer quarried. However, genuine Anji stones are firmly cut out in Mure, Kagawa Prefecture, and processed into various items. Since it is a precious stone, small objects are also made using broken materials. First of all, please put Aji stone close to you, from affordable accessories, and touch the goodness. In addition, we hope that you can experience the fun of stone and the fun of stone with Mure, "said Sasao, Secretary-General.
Healed by stone lights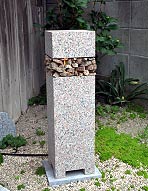 "Mure Genpei Akari Road" started to want you to touch the goodness of the stone. This year, from July 7 (Sun) to September 29 (Sat), various designs of "Ishiakari" will be lit on the old Aji Kaido that continues from Kotoden Yaguri Station. Lighting is from dusk to around 9:22 pm The faint "stone light" becomes a signpost, and a romantic time flows.
A variety of events are held on Saturday during the period. A concert, flamenco and live-action films will also be scheduled as "Ishikari Akari Tsukikari Live". In addition, there are delicious stores such as "Ishiakari Cafe" and "Genpei Yatai". This summer, it is "Mure Genpei Akari Road" which is the best choice.
Morning that is kind to your body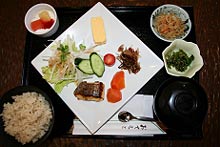 There is a coffee shop that uses the fish of "Yaguri Co., Ltd." to serve morning food. "Kafuka" along National Route 11. The Japanese-style morning uses rice such as organic rice, radish and other vegetables, and comes with a sea bream fillet from "Yaguri Co., Ltd." Morning until 2 pm, including this healthy menu. In other words, it can be enjoyed as a lunch. It is a gallery specializing in photography, and on the day of the interview, I was able to see photos of the best spots in Kagawa Prefecture, such as Seto Bridge and Zentsuji Temple.
Coffee Fuka Telephone 087-845-2579
Measuring history created new technology
After that, I went a little further and visited "Kamacho Seiko Co., Ltd." located south of National Route 11.
Established in 1880 and established Kamanaga Seiko Co., Ltd. in 1947, it has consistently been a specialized manufacturer of scales and measuring systems. In Kagawa prefecture, "scale" has been called "Kamacho-san". What kind of things are you making now?
Even if you say "scale" in a word, there are things with various functions now. Of course, the old "Fungo (Weight)" is also made from 10mg to XNUMXt, but this is only a small part. For example, in industrial scales, truck scales that can be weighed while loading cargo on trucks, hopper scales that are used for receiving feed and compounding food, and raw materials such as powder and liquid are used. We produce a variety of products that are active in all industries, such as the "Packer Scale" that weighs to a predetermined weight and fills containers.
In particular, the next-generation digital load cell truck scale, which has sparked a new era in the industry with the "digital revolution," has been well received, and is constantly leading the industry with the development of products that incorporate new technologies.
Utilizing these technologies, there are many products with over 20% share in special niche markets. By the way, we have beer hop compounding equipment for the first time in the world, and now have more than XNUMX types. In addition, "Momizuri-kun", which compresses and packs rice husks to make bedding for livestock, is also attracting attention as an effective use of resources.
Related products related to environmental equipment are also involved in recycling equipment and recycling plants such as PET bottles, can compressors, and glass crushers. It was selected as a Kagawa Prefecture Environmentally Friendly Model Office because it is a product that reduces load. We have also acquired ISO9001 and 14001 and supply unique products with high performance and high quality that are environmentally friendly to society and play a part in ensuring proper measurement and forming a recycling-oriented society.
Making the most of its long-term know-how and creating new technologies and systems that anticipate the times, Mr. Kamanaga is now delivering products to countries around the world.
Furniture that makes the most of wood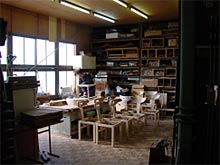 If you go east along Route 11, you will find the Sakura Seisakusho in Omachi, Mure-cho, famous for its high-quality furniture. "Sakura Seisakusho" started out as a modern original furniture company in 1948 and met sculptor Masayuki Nagare and participated in "Sanuki Minguren". Under the guidance of world-class woodworker George Nakashima, he worked on making furniture by hand that reads the heart of wood. And he began to work on licensed production of George Nakashima furniture. After that, we opened a shop in Takamatsu city in 2002 and in Ginza, Tokyo in 2004.
What Sakura Mfg. Specializes in is making custom-made furniture and built-in furniture using solid wood with outstanding technology. We also handle total space design, design, and construction, including interior decoration of stores, condominiums, and houses, and also accept special orders such as large fittings. Furniture requested by Sakura Seisakusho can be repaired, so it can be used for generations, not just for a lifetime. Furniture that makes use of the essence of wood that is loved by VIPs around the world is born here in Murye.
Udon and kaiseki in the powerhouse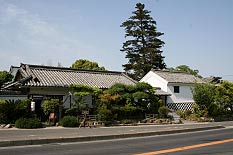 Visit the "Goyashiki" where you can get "Sanuki udon" at the powerhouse of country-designated tangible cultural property. A magnificent mansion can be seen along the prefectural road 11 (Takamatsu Shido Line) passing south of National Route 272. The buildings and gardens, which have a history of about XNUMX years, have the atmosphere of a restaurant with a taste and style, but there are also a storehouse of handmade souvenirs and a teahouse called "Ko-Yuraku", so the threshold is not high.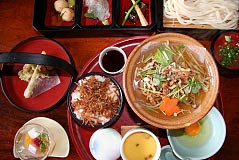 As you pass through the vestibule and rise to the magnificent entrance, expectations for food will increase. There are many rooms with mats and chairs, and you can use a private room if you make a reservation. You can taste Sanuki's gastronomy slowly at authentic kaiseki and udon suki, and you can also enjoy a variety of cheap menu items. There is also a banquet for lunch at lunch, and the "Hayagi" (2 yen), which changes the menu every two months, is limited to 1800 meals a day, and comes with sashimi, boiled dishes, grilled dishes, rice dishes, desserts. In addition, you can taste the fried rice or zaru udon for an additional 20 yen. If you want to enjoy the seasonal season, we recommend the "Kai Kaiseki" (from 200 yen).
"Goyashiki" also appeared on the JR Full Moon poster. Mure no Sato, a proud and tasty residence.
This summer, a new Road Station opens
The roadside station "Genpei no Sato Mure", which is scheduled to open in early August, is located along Fuzaza along Route 8. Since this is a place where pilgrimage roads pass, there is also a pilgrimage rest area where visitors can enjoy monuments made of Kotoden trains and Aji stone. There will be lots of local specialties and specialties from Mure, so please drop by.