In the spring of Sanuki, the sound of the pilgrimage to the pilgrimage can be heard happily somewhere. After the cherry blossoms, a walk in the countryside follows the path where the lark sings and lotus and dandelions bloom. In May, you can see a tea picking girl in the tea plantation, relax with delicious fresh tea and sweets, and enjoy the spring of Kagawa. The perfect place for such a peaceful spring scene is the Mino and Takase area of ​​Mitoyo City which is introduced here. A lot of delicious things will appear, so please relax and enjoy yourself.
Let's visit the mountain of Buddha `` Mino area ''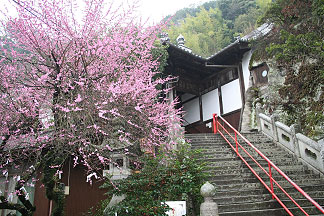 Mitoyo is the third most populous city in the western part of Kagawa prefecture. Seven towns were merged on January 3, 2006. From among them, this time we will explore the Takase and Mino areas located at the eastern end of Mitoyo City.
The Mino area is famous for its "Miyaji" temple, the 71st place of the Shikoku Sacred Ground. It is said that Kobo Daishi Kukai was a mountain where he trained when he was seven years old. In the old days, religions were gathered as "Buddha Mountains" where spirits returned, so there are Jizo and stone masonry beside the stone steps. The stone steps were steep slopes and were considered to be quite difficult places, but now the roads have been improved to near Honbo, and applicants can use them for a fee. However, where you walk on the stone steps one by one, there is the goodness of visiting Yatani, and you will feel even more grateful for the Buddha's cliff Buddha carved on the rock surface and the cave for the master training. Ameyu and grass mochi are also excellent, so you can visit the teahouse at the foot of the temple after worship. Heading to the sea, there is Tsushima Shrine, the child's guardian deity, and a spectacular summer festival is held on August 7-8.
See the cherry blossoms at the mountain in the morning sun "Takase area"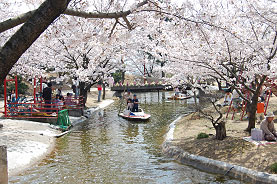 On the other hand, the Takase area is known as the best tea spot in Kagawa prefecture. Green tea fields spread in the Ninomiya district, and on April 4 this year, the "Takase Ninomiya Furusato Festival (inquiries: Takase Ninomiya Furusato Festival Executive Committee telephone 29-090-3186)" is scheduled to be held.
The spring cherry blossom viewing spot is Asahiyama Forest Park. A park that was once handmade by the Takase townspeople, about 2000 cherry blossoms are in full glory, and the night is dimly lit and you can enjoy cherry blossoms at night. Last year (2008) was in full bloom on April 4, and the "Cherry Blossom Festival" was held on that day. This area is also known as a grape-growing area that will begin shipping in June, and "Takase no Pione" is a delicious grape brand. In addition, "Hemp Momo" is also famous, and there are many birthrights handling such fruits and fresh vegetables, and there are as many as seven in the Takase area.
Roadside station and hot spring "Fureai Park Mino" full of special products
Michi-no-Eki "Fureai Park Mino" is a stop that is almost always visited by pilgrims visiting the valley. There are local specialty products here, such as Taiji Minge's papier tiger and Mabuchi footwear shop's clogs, which will be introduced later. Pesticide ", handicrafts using herbs from the local" Nostalgic Ladies ", bamboo vinegar and charcoal figurines in Takase-cho, Sanuki canning with a factory nearby (headquartered in Saita-cho, Mitoyo-shi) There are also "ama sake", "sanuki no mushroom delicacy" and canned soy beans. The cafe (closed on Wednesdays 1st, XNUMXrd and XNUMXth) is also famous for delicious lunches such as udon set meals and beef bowls, and is full of lunch time on weekdays.
There is a natural hot spring, Daishi no Yu, right next to it, and you can enjoy the hot spring and the heated pool. The local product hall here also has local items, such as "Ochirasy candy" made by "Processing Group Mino" and "Fururi Senbei Tate Temi-mi" with germinated brown rice. There are accommodations and parlors here, and you can enjoy your meal. A relaxing spa facility popular with pilgrims. The surrounding area is also maintained as a park, and there are also popular vehicles for children, "Lovely Mono Rider" and Cosmo Land, so it is recommended to play with the whole family in the spring.
Inquiry: Contact park Mino telephone 0875-72-2601
Handmade wooden clogs (geta) "Mabuchi footwear shop"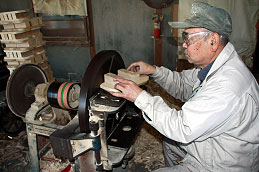 There is "Mabuchi Footwear Store" along the old road heading to the Mino branch south of Fureai Park Mino. When you enter the shop, you will find cute thong clogs. First of all, I asked for a description of the clogs, and they looked for a paulownia tree, cut it from the mountain, left it dry for about a year, and then made it into a clog. Burn the clogs with a burner, polish them with a special wax, and attach your favorite thongs. It is said that you can go along with your desired size, such as those with small feet and high-pitched people. In the past, the characteristic of clogs was the sound of a callan colon, but nowadays many people are worried about the sound, so there are many rubber-bottomed ones. Recently, everything is made in China, but clogs made with domestic materials are completely different in comfort and durability. In the coming season, freshness with bare feet is something you want to enjoy. The products are also available at roadside stations such as Fureai Park Mino, Takada no Sato, and Shikoku Village.
Contact: Mabuchi Footwear Store Phone 0875-72-4062
Sanuki Ramen "Hamando" with carefully selected ingredients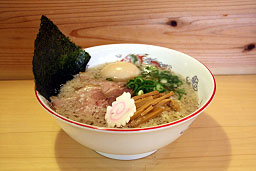 If you follow the road in front of the Mabuchi Footwear Store, you will find Sanuki Ramen Hama-Don nearby. In November 2007, a refurbishment opened right next to the previous store. The letter "Sheng" had a vivid goodwill. When I asked the owner, Toshiaki Mori, he said that he left the name, "Because the store started at a restaurant called" Ramen Sheng "in Toyonaka-cho, don't forget your beginnings." Over the course of that semester, after four years of repeated trial and error, we finally arrived at an original ramen worthy of being called "Sanuki ramen." That's why we focus on local ingredients, such as "Chinese Soba" and "Sanuki Soba", using Iriko from Hiuchi Nada and small fish from Seto for soup, and soy sauce for local brewing. The soy sauce menu uses "Kanago soy sauce" from Kagawa, one of Japan's three largest fish soy sauces. Also, "New Hamand" is noodles made with wheat for udon, and is exactly Sanuki ramen. It is said that "shio" uses sun-dried salt that is full of minerals, and the eggs are even better than local specialties. There are also hot and chilly "Tsukesoba," and here you can also feel the unique taste of Sanuki. The rice is also grown in-house, and you can also enjoy Sanuki's rice in the recommended rice of Kagawa Prefecture called "Hinohikari". There are also ramen for souvenirs.
Inquiries: Sanuki Ramen Hamand Phone 0875-72-1985 (closed on Wednesdays the next day if it is a holiday)
Japan's only first shoe factory "Maruei"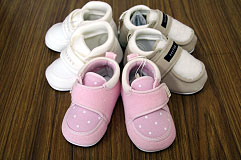 From HAMANDO, proceed further toward the Mino branch, and you will find Maruei Corporation near JR Mino Station. I was surprised to hear from President Ryoji Kamei. Various things have been made in China, and now they are the only company in the country that can make first shoes for babies to wear first. Of course, in Japan, there are strict rules in accordance with the law on the manufacture of socks that use bare skin, such as the use of chemicals, but in China it is not regulated. I was surprised if there was such a current situation for the most important and important baby products. Here, OEMs, or other companies' requests, are manufactured, and various baby shoes of famous brands are also made here. He said he had made a certain brand of expensive leather. "It's still better or tighter than wearing big shoes, and the soles are a bit harder and heavier than just soft, and on the other hand it's easier to walk with more toes." I was told. When I visited the factory, the craftsmen carefully went to work. Since small shoes require advanced technology, domestic production is higher than that of China, but I thought that important first shoes would be domestically produced. Maruei also manufactures a patent-pending shoe called "Jive Junior" that can be used by people with reduced mobility while wearing orthotics.
Inquiries: Maruei Corporation Phone 0875-72-4105
"Tai folk art" from strap to wooden horse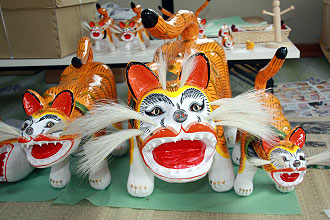 Furthermore, if you head for the Mino branch from Mino Station, you will find Takanagayama Motoyama Honmonji, which is also famous in Daibo in November. Take a tour of the precincts where you can feel the history, then pass the front of the Mino branch office, before exiting prefectural road 11, on the left side of the road, in the residential area (entering the alley), there is "Tai folk art". Here, mache tigers are made. "Mino's Hariko Tiger" has a history of more than 23 years, and his father, Kiyomi, his father, was certified as the first traditional craftsman in Kagawa Prefecture, and is now made by the second generation (as a craftsman) Taiko Taiko. I am. After nearly 2 years of work experience that she learned after coming to her bride, Tsuyuko was certified as a Kagawa Traditional Craftsman in 40. In this region, the boys were always decorated with papier-mache tigers when the boys were born during the festival of the Dango and the summer. Nowadays, customs of the Chinese New Year are gradually obsolete, and there are many homes that decorate the Chinese New Year. Papier tigers are popular because they are light and durable, and larger ones can be played by children. In addition, the swaying neck is humorous, and the tiger made by Tsukiko looks somehow lovely. Among them, there was only one tiger with a different face, so I heard that Tsurutaro Kataoka, a famous painter, visited and wrote it with a brush. Of course, this was not for sale and was carefully decorated.
"Mino's Hariko Tiger" is an old Japanese paper that is hard to get now, and is painted and dried repeatedly, and it takes about 20 days on average to make it. Shaking heads range in size from 12cm to 20mXNUMXcm, and recently started to make small types that can be used as strap decorations. It is located at the roadside station "Fureai Park Mino", a doll shop in the prefecture, and the Kuribayashi Park Commerce and Industry Promotion Hall.
Inquiry: Tai folk art telephone 0875-72-4978
Enjoy sweets from Takase "Shimizu Confectionery"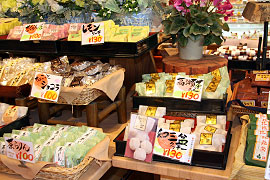 This time, take the prefectural road Route 23 and head toward Takase. On the road heading for Takase Station from the prefectural road, there is a "Shimizu Confectionery" at the intersection about 150m east of the station. The store, which was renewed 5 years ago and renewed little by little every year, is a little classic and nice building. In the shop, there are many nicer sweets.
Currently, the third generation Hiroyuki succeeds, and works from Japanese confectionery to Western confectionery and baked confectionery. In the days of the second generation Kazuo, he had already worked on both Japanese and Western confectionery, and he studied sweets in Kobe and refined his taste in two European trips. From generation to generation, various sweets are catching people's hearts. Western sweets such as the popular "happiness cheese" and "apple pie", "Togami", a 3-year-old local mountain theme-honored gold prize, and beautiful Japanese sweets full of seasonality. Are lined up. Among them, baked goods such as "Chalarin", which uses Takase tea, which is unique to tea, "Wasanbon cookie", which uses Sanuki's specialty, "Wasanbon cookie", and "Wasanbon Takase cookie," a combination of both, are preserved. It is also recommended for souvenirs.
Inquiries: Shimizu Confectionery Phone 0875-72-5225 (closed on Thursdays and holidays)
Takase bread full of seasonal feeling "Ishii bread"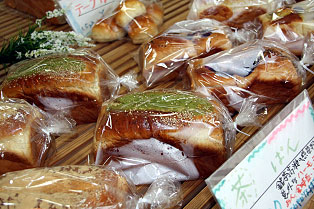 As soon as you pass by Takase Station and head west, you will find a shop called "Ishii Bread" on the left side of the road. I heard that there was also sweets related to Takase tea, and when I entered the shop, it was full of fresh smell of fresh bread. That should be it, and there is a factory in the immediate vicinity across Furukawa. This was a company organization in 42, but a local famous bakery that has been making bread since then. We also supply school lunches, high school sales, and hospitals. Here is a bread made with Takase tea, whose name is "Chapan". It is a luxurious product that uses Sencha powder from Meisecha Takase for bread, and contains kinto beans and sesame seeds. This place is also famous for bread that emphasizes the sense of the season. In spring, using local ingredients, pink cream using strawberries is cute, "strawberry field", "Yuzu bread" containing yuzujam and white bean, spinach And bread with carrots. It was a bakery, but there was also a Japanese sweet related to Takase at the store. Their names are "Takase" and "Chatsumiodori". Two delicious dishes that hometown is fragrant are the specialty tastes since the company was founded. By the way, bread is also available in "Takase, a conscience city", "Takase natural hot spring", and "Takase Fureai Sannada".
Inquiries: Ishii Bread Phone 0875-72-5056 Regular holiday Saturdays, Sundays and holidays
Aya button, a very active button in the medical field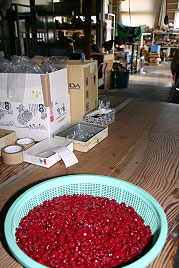 Kaya Nishi High School is located along the road in front of Takase Station. This is a pioneer in Japan in the production of urea (urea) resin buttons. It was founded in 7 and opened in Osaka as a former store. In 13, it manufactured urea resin buttons, and in 21 it built a Shikoku factory. Then, in XNUMX, we started manufacturing tortoiseshell buttons. Since we started manufacturing resin buttons very early, we all developed our own molds and machinery for molding, and there are more than a thousand dies. "That is the pride and property of Aya Button," said Chairman Aya Okay.
This resin button is milky translucent and easy to color. Even when molded, the color is beautiful, the price is low, and it has outstanding strength compared to other plastic buttons. In particular, Aya Button's is durable and is often used in medical lab coats. For medical use, cleanliness is the first priority, and we will send it to the laundry many times. If it could not withstand the cleaning and was cracked or chipped, it would be a serious problem in the medical field. Aya button products have high reliability. Most SDF buttons are here. Some small buttons have a logo mark on them, but this seems to be printed while checking the direction with a special camera. It also produces go stones, making it a hidden production area with a large share of the domestic market.
Contact: Aya Button Industry Co., Ltd. Phone 0875-72-5057
A joyous festival "Oriyama Yamashita Honpo"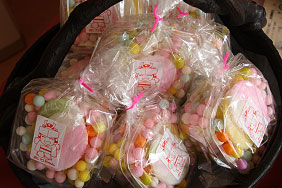 Then, follow Aya Button's eastern road in the opposite direction to the station, turn left at the intersection of National Highway No. 11, and enter "Yamashita Oiri Honpo" located on the left side of the road (from Torisaka IC Then on the right side of the road). Here, we make sweets for Nishi Sanuki's wedding custom, "Oiri". "Ori" started about 420 years ago. Tensho 15 (1587), the first Chikamasa Ikoma has been appointed to the head of Marugame Castle Sanuki Kuni. When the princess was decided to invite, the peasants of the castle presented the five-colored hail that they roasted for celebration. Then, the lord loved it very much and seemed to be rewarded. Since then, it has become widely known as a great roast for weddings. Even now, in Nishisan, it is handed out to neighbors as a souvenir for the bride, or set as a dinner table. It is also used as a gift of joy in various occasions, such as birth, the first festival (Hina Matsuri), birthdays, housewarming, and longevity celebration. It is also a popular souvenir that is beautiful and easy to eat.
This "oiri" is made by mixing sugar with steamed glutinous rice and carefully stretching it. The udon is made by using a rolling pin, but Mr. Mitsunobu Yamashita devised a method that uses two sticks. This means that evenly thin fabrics can be made. However, this is a skill that requires skill. Mr. Yamashita spread the dough steadily, and finally went up to the roof with it. It is said that the dough is dried slowly in the sunlight, cut into square grains, dried again, and finally cooked on the fifth day. It takes about a week to complete a beautiful round iris. "Ori", which is good in color, taste and melts in the mouth, is still loved by many people.
Inquiries: Oiri Yamashita Honpo Phone 0875-72-5438
"Takase Fureai Sannokuichi" with famous tea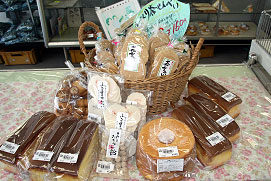 Next, go further east on National Route 11 and immediately stop at Takase Fureai Sannadaichi on the right side of the road. Known as a local birthplace with fresh vegetables and fruits, there are also green broccoli, red tomatoes, crunchy cucumbers and legumes on the storefront in the spring. From mid-June season, there are a lot of popular peaches and grapes without seeds (New Pione). There is also a row of Takase teas here, and it is also known as a direct birthplace where neighbors buy tea. There are also a variety of sweets made with Takase tea, and the handmade "Ocha-senbei", which makes use of the flavor of tea, has a pleasantly crunchy texture and you can eat as many as you like. Sometimes, chiffon cakes made with tea are sometimes available. There are also sweets made by local processing groups introduced in "Daishi no Yu" and bread made by Ishii Bread, and freshly baked grape bread will appear on the store on Tuesday and Thursday. In May, the fresh tea section will also be available, making the perfect souvenir selection. You can also apply for home delivery of fruits etc., so it is also recommended for tourists.
Inquiry: Takase contact nasanada phone 0875-72-3192
Maboroshi's famous tea "Takase Tea Industry Association"
This time, return to the intersection of the road leading from JR Takase Station and National Route 11, and turn left. If you proceed steadily, you will hit Prefectural Road 24 in front of Ninomiya Elementary School. Turn right there and turn left at the corner of the Ninomiya branch office, which is right on the hill on the right. It is said that this area used to be a tea garden dedicated to the Marugame feudal lord in the old days, and it seems that the field still remains. The name is not well-known because the production volume is very small from the nation's perspective, but the name is not very well known. It has been donated and boasts a taste that is worthy of being called Mecha. In addition, since the cultivation area is small and cultivation is conducted under the guidance of the tea industry association, it can be said that tea is well managed and safe to drink. For example, with original fertilizers that contain plenty of organic fertilizers, growers grow tea, and tea factories produce products with a clean automation system. There is no doubt that Takase tea is 100% local tea leaf. Please enjoy Takase tea, which is called "Maboroshi Mecha" because of its low production volume.
Inquiries: Takase Tea Industry Association Phone 0875-74-6011
"Torisaka Manju" where you can eat as many as you like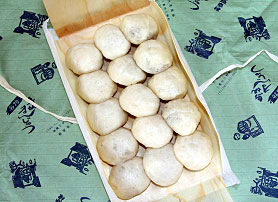 The last stop to visit is Torisaka Manju, located on the Torisaka Pass near the border between Mitoyo and Zentsuji along National Route 11. In the old days, the slope was steep and resembled a bird, so it is said that it was named after this slope. It is said that this store was established about 160 years ago, and it seems that it will be the fourth generation of the present master. In the back of the shop, steam for steaming steamed buns is rising, and you can often find fresh steamed steamed steamed buns. The skin contains homemade amazake, and this is so-called amazake manju. The taste that does not change with the traditional recipe is irresistible.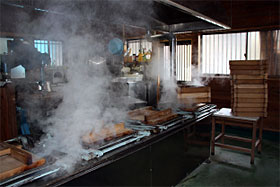 You can carry any number of small buns into your mouth. In the old days of Edo, it is said that the main shrine of Iyo was relaxing at a teahouse during the commuting shift, and it is a small steamed bun that has been loved by many travelers and fosters. Until recently, the walking pilgrimage road passed through the mountain behind, but now it seems that it is difficult to pass, and most pilgrims seem to pass in front of the store. "Torisaka Manju" wants to stop at "Shichika-no-Mari", which starts at Mt. Even after the slope has become gentle, it is recommended for a break.
Inquiry: Manju Torisaka Telephone 0875-73-5607 Regular Tuesday
Please spend your time leisurely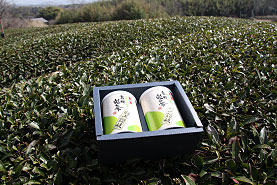 In addition to the introduction of the spring of Mino and Takase, there are also events such as Mayaya City in the spring equinox, fresh tea picking in mid-April, and Yoshizu flower festival on April 4, and the relaxing spring scenery is spreading. You. By all means, please spend a leisurely time here. Use the Torisaka IC from the Takamatsu area and the Sanuki Toyonaka IC from the Ehime prefecture area. The nearest stations of JR are Minose and Takase stations.
Tourism Inquiries: Mitoyo City Commerce and Tourism Division Phone 0875-62-1129