Winter has passed, with snow falling on Sanuki Road, and spring has arrived. Flowers are coming and coming, and festivals and events are held on the theme of greenery and flowers. At Tamamo Park in Takamatsu City, this spring is scheduled for mid-March to April 3 this year, "Spring Ueki City". At Manno-cho's Sanuki Mannou Park, from April 4 to May 10, "Spring Ranman" Festa ", cherry blossom festivals will be held in various places on the first Sunday of April, and cherry blossom festivals will be held on April 4 at Kotohira Shrine.
At Kotohira, "Shikoku Konpira Kabuki Oshibai" will be held from April 4 to 9. Therefore, this time is Kozendaira, Monzenmachi.
Japan's best sea god and hot spring village in Monzen-cho
Kotohira town is located in the middle of Kagawa prefecture. As a monumental town of Kotohira-gu Shrine, famous for "Konpira-san of Sanuki", it has been full of Edo since ancient times. Various rituals and events are held every season, attracting 300 million tourists a year. In 9, hot springs emerged and became known as a hot spring village in Monzen-machi, a rare place in Japan. Then, before going to the hot spring, climb the long stone steps and visit Kotohira Shrine. About 5 to 10 minutes on foot from JR Kotohira Station and Kotohira Station of Kotoden Train, you will enter a busy street. As you pass the souvenir shops along the road, you will find stone steps in front of you. This stone staircase is a specialty of Kompira-gu Shrine. There are 785 steps to the main shrine (1,368 steps to Okusha), where the great lord and emperor Sotoku are enshrined, and fulfill various wishes such as maritime security, national prosperity, agriculture and fishing, medical care, etc. It is said to give.
"Five people" selling candy with an umbrella spread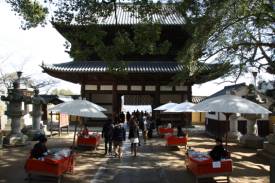 The only one who is allowed to do business within the precincts of Kotohiragu Shrine is the "Five People Family". The Zouganshan Gods Festival diary states that five people were ordered to do rituals on a special mission in the third year of Kangen (3). The Kotohiragu Shrine has been specially licensed for business several hundred years ago, assuming its achievements. It is said that the grounds are on the top of the mountain, where there are many large trees, and that there is more rain than at the foot. By the way, it means that you can sell big umbrellas and sell candy. The "Kamiyo candy" is a golden transparent candy with a slightly yuzu scent. It has a cute tongue, so you can split it into small pieces and put it in your mouth. It is a specialty of Konpira who has a gentle and nostalgic taste.
Boat Senbei / Ishimatsu Manju "Kinokuniya"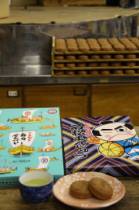 Let's visit Kotohira Shrine and go down the stone steps. If you go down the gate again, you will be invited for a delicious smell. The name of the Hatagoya in the Edo period became the name of the store, and the Kinokuniya was founded in 15. A manufacturer of Ishimatsu Manju, an egg-flavored "Funa Senbei" that has been loved as a specialty of Konpira wandering since ancient times, and an elegant sweetness of Koshian in a castella imitating Mikasa. And you can only taste it here. This is a product that a grandmother at a store commercialized what he was making for his grandson's snack, and was reputed to be delicious. It is a fast food specialty of stone steps fried with "Ishimatsu manju". Sweetness that is nostalgic and captivating somewhere. Loved for generations.
Inquiry telephone: 0877-75-2474
Sanuki Itou Sculpture "Yamanaka Shodo"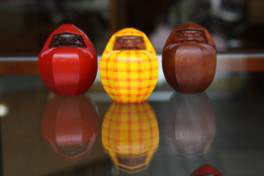 Then, on the 38th stage, is the long-established one-sword carving "Yamanaka Shodo". "Sanki Ito Sculpture" is said to be the only traditional craft born and raised in Kotohira. In 1837 (Tempo 8), Asahi-no-Yashiro was established by Konpira-Daigong, and the best carpenters from all over the country came together. There is a folk tale that one of the carpenters carved a daruma with the message of his dream, and that a magnificent shrine was completed. The roots of this daruma are sword carvings. At the end of the Meiji era, Atsushi Yamanaka (the first Shodo) created "Sanki Ito sculpture" in a unique style that makes use of the fleas after finishing. Currently, the second-generation traditional craftsman, Yamanaka Shodo, and his sons, Takeshi and craftsmen, are creating wonderful works. In addition, Takeshi's daughter, who is still in training, colors it and a new pop Daruma is born.
Purchase of the Imperial Palace `` Nomura Funedo ''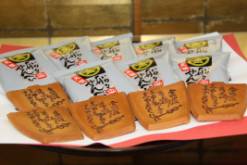 The next stop was Nomura Funagado on the 22nd stage. Founded in Meiji 42, a venerable store where the palace was dropped in during the Taisho era. Deliver unchanging tastes, such as `` Shusen Senbei '' which is baked in the shape of a sailing boat with plenty of fresh eggs and `` Katame no Boss '' that sandwiches grains in a cracker made of dough using only yolk You. There is also a demonstration sales of baking rice crackers, and a wonderful scent stands around. You can have a cup of tea and rice cracker in the shop, so please drop in.
Turn right on the road just below this store (left when going up) and go up the hill to find the Old Kampira Odaibai (Kanmaruza).
Texture of nature "Sagayama"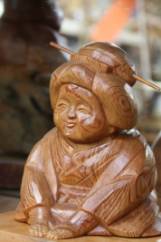 Next to the stone steps is Sagayama, a one-sword sculpture. This is a specialty store specializing in sword carving made mainly of red pine. Toshio Sagayama, a traditional craftsman from Kagawa Prefecture, has a technique that has been carved for over 40 years. Toshio liked sculptures since he was a child, but at that time tools were not easily available, and he picked up rebar and sharpened it with stones to make fleas himself. Now, both his wife and son have become one-sword carving sculptors, and they are working together. After all, your wife's work is kind and lovable, and your son's work is masculine and heroic, and each personality appears in the work. A one-sword sculpture with the natural wood texture and personality. Looking at it makes you feel warm.
Contact Phone 0877-75-2640
Sweet moxibustion "Moxibustion Man Honpo stone steps"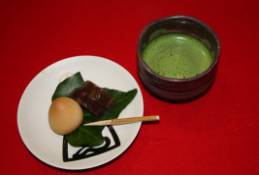 Furthermore, there is "Moxibustion Honpo Stone Step and Head Office (Konpura-do Co., Ltd.)" on the approach. It was the longest-established store in Konpira, and in the past in Edo, it was a ryokan called Asahaya Kuhachi. This inn had a grandmother who was good at using moxibustion to heal the tiredness of the trip, and became well-reputed for sweet moxibustion that worked well, and the inn flourished well. After that, after the era, the moxibustion bun was born, "Moxibustion Man", which heals the fatigue of traveling. As well as souvenirs, you can also taste matcha at a tasteful shop. In addition, the "Moxibustion Man Udon", a self-made udon, and the "Moxibustion Man Museum" exhibiting the works of Kunbo Wada and ceramic artist Terumari Omori are located along National Route 319, which leads to Zentsuji IC. For souvenirs, don't forget the soy udon.
Handmade udon "konpura udon"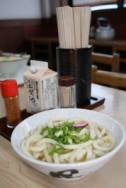 Next, you can see the Konpura Udon Honten along the approach. It is said that the predecessor started making udon from around 25 and has reached the present. "At the time, when food was scarce after the war, I made a living by bartering rather than doing business with udon," said Mr. Arimoto Narimoto, the representative. From that time, udon was cheap, delicious, and helped the struggling ordinary people. Mr. Narimoto has been playing udon since he was a child, and has seen the transition of sanuki udon. The Omotesando branch of the main store is a tasteful building where tourists mainly enjoy stepping, handmade and knife-cut Sanuki udon. On the other hand, the shop with the factory is located near the entrance of Urasando, and locals sip umami udon early in the morning.
Udon school and topical software "Nakanoya group"
Along the approach, there are Nakano Udon School and Nakanoya. This is a school where you can experience udon noodles. Mr. Makchan (Matsunaga-san), who has been recognized as a master of sightseeing Kagawa performances, will dance and sing and teach the secrets of udon making. Nakano Udon School has many fans among celebrities. At the end, you can enjoy your own delicious udon, and receive a secret book and rolling pin, a diploma and an old map. Unforgettable memories of Sanuki's journey will remain. In "Tentekomamai", you can enjoy not only Sanuki udon but also meals, as well as souvenirs such as "Sanuki maki udon". And there is also a "Wasanbon Soft" with the topical foods topped. Along the approach, there are Nakano Udon School and Nakanoya. This is a school where you can experience udon noodles. Mr. Makchan (Matsunaga-san), who has been recognized as a master of sightseeing Kagawa performances, will dance and sing and teach the secrets of udon making. Nakano Udon School has many fans among celebrities. At the end, you can enjoy your own delicious udon, and receive a secret book and rolling pin, a diploma and an old map. Unforgettable memories of Sanuki's journey will remain. In "Tentekomamai", you can enjoy not only Sanuki udon but also meals, as well as souvenirs such as "Sanuki maki udon". And there is also a "Wasanbon Soft" with the topical foods topped.
Kinryo no Sato, a brewery that brews the sake of Kotohiragu Shrine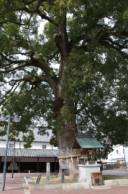 There is also "Kinryo no Sato" in Omotesando. Nishino Kinryo is a brewery that started brewing in Kotohira in the first year of Kansei and has been brewing the sacred sake of Kompira Shrine. There are Kusunoki Square where the camphor tree of the sacred tree soars, and the "History Museum" that tells the history of sake brewing.
Where is the flower storm? "Kinmaruza"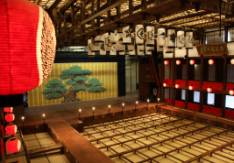 Immediately after climbing the stone steps of the approach, you will find the Old Kampira Odaibai (Kanamaruza) on the slope that turns left toward Daimon. This is the oldest existing playhouse in Japan built in 6. Every spring, the "Shikoku Konpira Kabuki Odaibai" is held. On days when there is no performance, it is possible to tour every corner of the playhouse. You can see many interesting tricks.
Former Konpira Odaiba Management Office Phone 0877-73-3846 (9: 17-XNUMX: XNUMX)
"Yoshinoya", a play with a spring breeze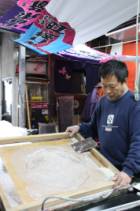 At "Shikoku Konpira Kabuki Odaibai" and the like, colorful banners are set up, making the play more exciting. I heard that there is a dye shop that dyes the banner, so I visited Yoshinoya, a 5-minute walk from JR Kotohira Station. Founded 120 years ago, Yoshinoya dyes glue made with glutinous rice and salt and dyes plays, festival banners, udon-ya noren, large fishing flags and happi. The Konpra Oshibai plays 130-2 banners in one performance, so it's busy in February and March. The difficulty is dyeing each color so that they do not overlap. I feel the history of the technique in its stylish beauty. The miniature banners are also sold as souvenirs. In addition, from order, we make only one goodwill or banner in the world.
Yoshinoya telephone 0877-75-2628
Kotohira Shrine Warrant `` Dokugiri Box Store ''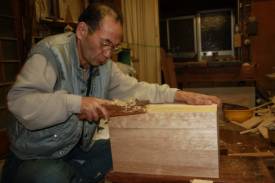 Following a traditional technique, I visited "Michikugi Hakoten" near Genryuji Temple in Enoi. Tsuneo Michihisa is a traditional craftsman from Kagawa prefecture who manufactures various paulownia boxes. He has been on this road since the age of 18 and has a 43-year career. In the past, the wallet that resembled the main shrine of Kotohiragu Shrine was sold like flying, but since it became your own, many orders for boxes containing one-sword carvings have been heard. "Now, I've been pushed by a paulownia box coming in from China, and now it's more a hobby than a job," says Michihisa. Imported products are not properly applied to the canna, are not straightened, and are not bonded together, so they are easily broken by hand. However, Michihisa's work was demonstrated by repeatedly hitting the canna over and over, carefully crafting the surface, and sticking together. The only paulownia box making technique in Nakasan Nishisan. I just pray that the paulownia box of the Kotohiragu Shrine is not lost.
Contact Phone 0877-75-3767
What is sweets debuting this spring? "Hori Confectionery"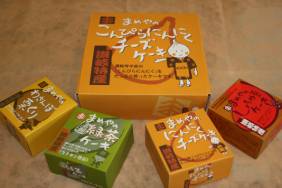 "Hori Seika Co., Ltd." is about 2 minutes on foot from JR Kotohira Station. This is a long-established store that has branches in Uchimachi of the approach to the shrine, and is famous for famous confections such as "konpira buns" and "fishing girls". As you can see from the brand name, "Mameya", she used to sell bean confectionery before. It was founded in Zentsuji in the early Showa era, and at that time it was supplying beans to the army. After the war, Kompira began making "Konpira buns" for tea sweets at inns. After that, "Shikoku Konpira Daikabuki" began, and after that performance, "Fishing Woman" was also released. Monzen-cho is changing, but homemade bean paste cooked from red beans and tebo beans, which has been around since its inception, remains the same. However, following the master who is challenging to create new confectionery, "Soy Sauce Bean Cake" and "Green Tea Cake", he is currently producing "Konpran Garlic Cheese Cake". Cheesecake made with local garlic chips will be released in March.
Cheerful secret is garlic "JA Zougo Branch"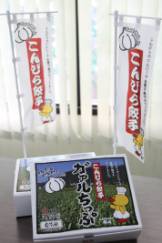 By the way, the garlic is a popular product in Kotohira. In fact, Kagawa Prefecture has the second highest garlic production in Japan following Aomori Prefecture. The power of garlic has been talked about locally. Elderly people who grow garlic are youthful. The secret is that they eat garlic all day long. "Garlic, which is typified by the words odor and toughness, is the best vegetable to be eaten by humans, and has been published with official research data. However, it cannot be eaten in large quantities. We need products, "said Mikio Morii, Chief of JA Zougo Branch. "Well, there is a story about making processed products through agriculture, commerce and industry cooperation, but Kotohira is wonderful because an unprecedented group or group worked together." Among them, the garlic gyoza "Gaalchipp" is the garlic dumpling that the JA Women's Department "Elephant Village Processing Group" is in charge of preparing such as peeling. Punched gyoza made from whole garlic and crushed konpira garlic. One box contains two types of dumplings, large dumplings and dumplings. This is the specialty of garlic dumplings.
Kotohira Social Welfare Council Phone 0877-75-1371
Garrick Musume "Kotohira Town Social Welfare Council"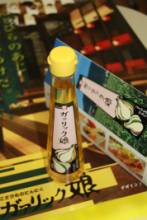 Garlic oil "Garlic Musume" is a product filled with garlic, 100% olive oil, and many people's compassion. "The unique name" Garlic "is something that I want you to feel particular about," said Ochi, Kotohira Town Social Welfare Council's general manager. This oil was born from the thoughts of garlic growers who pray for their health, Mr. Takahashi who makes olive oil, people with disabilities preparing garlic, and many who support their independence. The design department of Zentsuji Daiichi High School was in charge of the naming, packaging, and poster design. It was the Kotohira Social Welfare Council who took over the seller. And part of this sales goes to social welfare. Also, in response to that thought, souvenir shops in the town lined up at the store. "Garlic Musume" with the wish of raising your daughter, "I want you to be healthy! I want you to be happy!" Please patronize us.
Kotohira Social Welfare Council Phone 0877-75-1371
Garlic samurai "Kotohira Town Chamber of Commerce"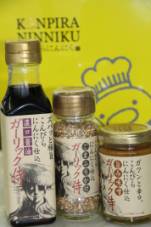 Meanwhile, Samurai with the hot soul of Kotohira-cho stood up and was born "Garlic Samurai". This is a product developed by members of Kotohira Town Chamber of Commerce and Industry. There has been debate over selling not only udon but also specialty products unique to Kotohira-cho, and the popular Garlic Musume that was released the previous year has decided to launch a garlic product. There are three kinds of products: konpera garlic, "Zuba to Goku-no-Koku Soy Sauce", "Gatsun to Dry Umami Miso", and "Sakutto Umami Sesame Sprinkle". "I want souvenirs to be memorable products so that you can leave good memories of your trip," said Nishimura, chairman of the Commerce and Industry Association Youth Department Specialties Subcommittee. Therefore, the product name has become impressive "Garlic Samurai". Soy sauce is a popular choice in inns and restaurants in the town, as well as at home, as well as bonito scallops and okazumi miso pots. Recommended for salads, udon and pasta. Why don't you enjoy your dining table with Garlic Samurai?
Kotohira Town Chamber of Commerce Tel 0877-73-5525
Hokuhoku's "soy sauce beans" "Nishikiya"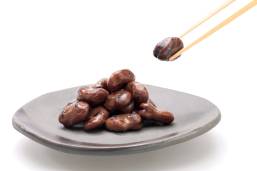 Next, we visited Nishikiya, the store of Nishimura, who was involved in the development of Garlic Samurai. Of course, "Garlic Samurai" is also lined up at the stores. By the way, the specialty here is soy sauce. In the past, Nishikiya, which used to run the inn business, became a corporation in 23 and started as a "drive-in". So, soy sauce beans were sold as souvenirs, but when I sampled them, I heard voices saying "It's hard" and "It's spicy."
So, I decided to make soy sauce beans that are loved by people all over the country. It is soy sauce that is soft and easy to eat. Reputation is also good! Nishikiya has a branch near the stone steps, where you can also experience the making of Wasanbon. It is a must check for Kotohira sightseeing.
Monde Selection Award "Oshoya"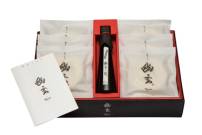 This time, we will leave the approach and visit Oshoya along National Route 377 from Kotohira toward Kannonji. This is a Sanuki udon spot where you can make a tour of the factory and experience the beating experience if you book. Of course, there are udon shops, and group buses come every day. Here, the udon "Yuugen Premium", which is very popular for souvenirs and gifts, is attracting attention. This is the ultimate sanuki udon noodles made from carefully polished flour that has been carefully polished to the softest part of wheat, like the refined sake of Ginjo sake. It won the highest gold medal for four years in a row at the global food fair "Monde Selection". Sanshu Naka-gun, which has won the Sanuki Udon Skills Grand Prix for the third consecutive year, is also a genuine product. A new udon world expands. Oshoya also has a approach store at Kotohira Rest Plaza.
Koto Musume's scent "Kami Tsubaki"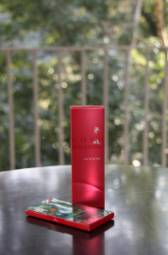 Lastly, we will visit Shiseido Parlor "Kami Tsubaki" which opened in the fall of 2007 on the grounds of Kotohira Shrine. The first floor is the cafe floor. You can enjoy a stylish cafe time while enjoying the rich green forest and murals of camellia. The basement floor is the restaurant floor. In addition to being available at lunchtime, you can also enjoy authentic French dinner by reservation. And the stylish item that can only be found here is Koto Musume. Aud Parfum and oil-absorbing paper with a lovely but refreshing scent of the lovely camellia "Kotomusume" that blooms in the back approach to Kotohiragu Shrine. Be sure to check out the beautiful souvenirs limited to "Kami Tsubaki" as well.
Shintsubaki Telephone 0877-73-0202 HP
http://kamitsubaki.com
Cafe floor 9: 17-11: 30 / restaurant floor 14: 30-17: 21, XNUMX: XNUMX-XNUMX: XNUMX
(Dinner must be reserved by 15:XNUMX the day before)