Winter has passed, with snow falling on Sanuki Road, and spring has arrived. Flowers are coming and coming, and festivals and events are held on the theme of greenery and flowers. At Tamamo Park in Takamatsu City, this spring is scheduled for mid-March to April 3 this year, "Spring Ueki City". At Manno-cho's Sanuki Mannou Park, from April 4 to May 10, "Spring Ranman" Festa ", cherry blossom festivals will be held in various places on the first Sunday of April, and cherry blossom festivals will be held on April 4 at Kotohira Shrine.
At Kotohira, "Shikoku Konpira Kabuki Oshibai" will be held from April 4 to 9. Therefore, this time is Kozendaira, Monzenmachi.
Japan's best sea god and hot spring village in Monzen-cho
Kotohira town is located in the middle of Kagawa prefecture. As a monumental town of Kotohira-gu Shrine, famous for "Konpira-san of Sanuki", it has been full of Edo since ancient times. Various rituals and events are held every season, attracting 300 million tourists a year. In 9, hot springs emerged and became known as a hot spring village in Monzen-machi, a rare place in Japan. Then, before going to the hot spring, climb the long stone steps and visit Kotohira Shrine. About 5 to 10 minutes on foot from JR Kotohira Station and Kotohira Station of Kotoden Train, you will enter a busy street. As you pass the souvenir shops along the road, you will find stone steps in front of you. This stone staircase is a specialty of Kompira-gu Shrine. There are 785 steps to the main shrine (1,368 steps to Okusha), where the great lord and emperor Sotoku are enshrined, and fulfill various wishes such as maritime security, national prosperity, agriculture and fishing, medical care, etc. It is said to give.
"Five people" selling candy with an umbrella spread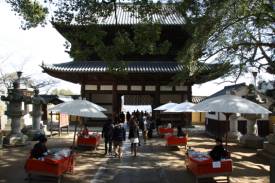 The only one who is allowed to do business within the precincts of Kotohiragu Shrine is the "Five People Family". The Zouganshan Gods Festival diary states that five people were ordered to do rituals on a special mission in the third year of Kangen (3). The Kotohiragu Shrine has been specially licensed for business several hundred years ago, assuming its achievements. It is said that the grounds are on the top of the mountain, where there are many large trees, and that there is more rain than at the foot. By the way, it means that you can sell big umbrellas and sell candy. The "Kamiyo candy" is a golden transparent candy with a slightly yuzu scent. It has a cute tongue, so you can split it into small pieces and put it in your mouth. It is a specialty of Konpira who has a gentle and nostalgic taste.
Boat Senbei / Ishimatsu Manju "Kinokuniya"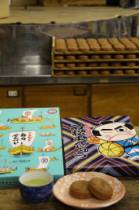 Let's visit Kotohira Shrine and go down the stone steps. If you go down the gate again, you will be invited for a delicious smell. The name of the Hatagoya in the Edo period became the name of the store, and the Kinokuniya was founded in 15. A manufacturer of Ishimatsu Manju, an egg-flavored "Funa Senbei" that has been loved as a specialty of Konpira wandering since ancient times, and an elegant sweetness of Koshian in a castella imitating Mikasa. And you can only taste it here. This is a product that a grandmother at a store commercialized what he was making for his grandson's snack, and was reputed to be delicious. It is a fast food specialty of stone steps fried with "Ishimatsu manju". Sweetness that is nostalgic and captivating somewhere. Loved for generations.
Inquiry telephone: 0877-75-2474