LOVE Sanuki's report
8th Sawara
One of the major projects of Yoshimoto, "A project to live in your town", to make Japan feel good from the area. Entertainer "Kaji Tsuyoshi" who lives in Kagawa reports on local products.
reporter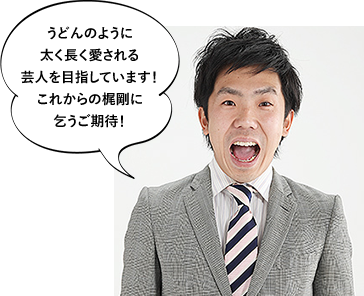 KAJI Tsuyoshi
NSC Osaka school 22nd grade
2005 Formed "Katsuyama Kaji" with Moody Katsuyama
2008 ABC Comedy Newcomer Grand Prix Newcomer Award
2010 Active as a pin entertainer
Birthplace: Mitoyo City, Kagawa Prefecture Born March 1981, 3
Check your activities!
It is spring and writes "Sawara". As the name implies, Setouchi is an important fish that tells spring.
Also in Kagawa prefecture, when a bride went home before planting rice,
It is a fish that is rooted in daily life, so that it is said that you have always brought back sowara.
Since the first auction will be held, Mr. Kaji goes to Takamatsu Central Wholesale Market in the early morning!
A large collection of seasonal fish! Takamatsu Central Fish Market

Takamatsu Central Wholesale Market, when the sky finally began to brighten after 5 o'clock in the morning.
A lot of news gathered from newspaper companies and TV stations that sawara fishing in Kagawa Prefecture was lifted and the first auction was held.
Kaji is also excited about the first wholesale market. "It's so lively!"
Here, you can find not only local fish but also seafood from all over Japan.
And many people surround the first sawara lined with the slurry.
Apparently the first auction is about to begin.

Sawara fishing ban! Report on first auction

As the auctioneer's voice begins to resonate throughout the market with a unique rhythm, the big sawara will be knocked down more and more.
Kaji's stunned by too much speed. According to the fish market, during the heyday, more than a thousand sawaras can be auctioned in a single day.
"I don't eat Sawara with sashimi only in Kagawa Prefecture."
Mr. Kaji learned how to eat delicious local food.
This time, we headed to the Sanuki Dining certified store "Fuku" in Takamatsu City.

Enjoy Sawara at Sanuki Dining

I came to a Japanese restaurant called "Seasonal Cuisine / Lunch Box Fuku" in Fujitsuka-cho, Takamatsu City.
The shop had just arrived in the first auction, sowala had arrived.
According to her husband, Sawara is best eaten until June.
"I definitely want to eat!"
Kaji-san's expectation heats up to the wonderful sowara!

Enjoying with sashimi is unique to Kagawa Prefecture

Mr. Kimura cooked the dish, in addition to the standard sashimi, pottery made with Kagawa prefecture vegetables and Iriko soup.
Mr. Kaji, who is the first sashimi of Sawara, is surprised by its unique texture! "It's soft."
Sashimi, which cannot be made without freshness, is a local taste.
Kaji-san enjoyed the potatoes and sawara that had the perfect mix of spring vegetables and Iriko-flavored potatoes.
Past reports