LOVE Sanuki's report
The 14th visit
One of the major projects of Yoshimoto, "A project to live in your town", to make Japan feel good from the area. Entertainer "Kaji Tsuyoshi" who lives in Kagawa reports on local products.
reporter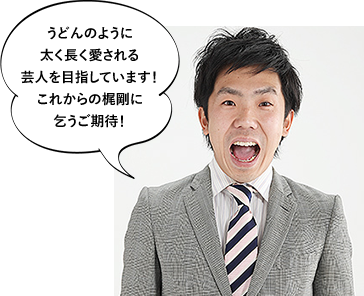 KAJI Tsuyoshi
NSC Osaka school 22nd grade
2005 Formed "Katsuyama Kaji" with Moody Katsuyama
2008 ABC Comedy Newcomer Grand Prix Newcomer Award
2010 Active as a pin entertainer
Birthplace: Mitoyo City, Kagawa Prefecture Born March 1981, 3
Check your activities!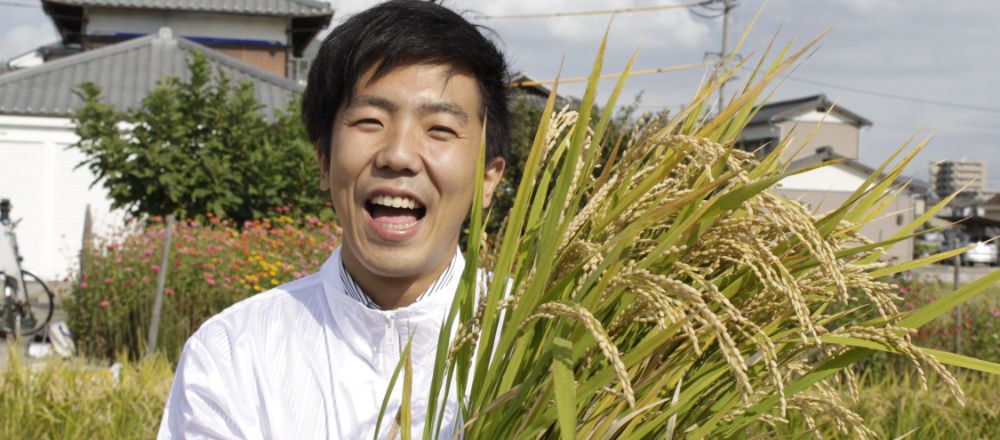 "Oidemai" is an original rice that was born according to the climate of Kagawa prefecture.
But Mr. Kaji doesn't know, "Come on, is there such rice?"
That is supposed to be the case, but it is still in trial sale and full-scale sales will begin next year.
This time we report on such newly born rice. It is a big success when eating and harvesting rice!
Just before the real debut! "Oidemai"

Kaji-san, a suburb overlooking Marugame Castle, visited a rice field where he is growing Oidemai.
Mr. Matsuura, Chairman of the Oidemai Producer Department, and Mr. Takahachi, Nakasan Agricultural Improvement Center, Kagawa Prefecture, responded to the interview.
"Oidemai" is a variety that matches the climate of Kagawa, where summer is hot, and is easy to grow.
It is said that when the rice is further polished, it becomes a beautiful rice without becoming cloudy.
In the middle of the explanation, how to eat "Oidemai"!

The grains are shiny! Good

Farmhouses in the immediate vicinity are full of "Oidemai" cultivation farmers.
There are also pickles and side dishes bought at the nearby direct market. "It doesn't have a special taste, so it goes well with any dish," says Matsuura.
"Oidemai is characterized by the uniform size of the grains. Because the grains are uniform, they look delicious when cooked," said Takahachi.
It is said that this year's new rice will be sold at some supermarkets in the prefecture in late November.
And finally, the appearance of "Oidemai", just harvested and cooked!

The chopsticks don't stop!

"No, Homma has a sense of transparency in the rice, and it looks shiny and shiny.
When I eat a bite ... It's sticky and ugly! "It looks and tastes good!" Kaji is also pleased.
"To keep the size of these grains, growers use larger sieves than regular rice.
In addition to breeding, we are also trying to devise on-site cultivation. "
"I see." Kaji-san's chopsticks do not stop even though I am interested in the story.

Harvest "Oidemai" with the children!

After eating a full stomach, the children are experiencing the rice harvesting experience at the Marugame Municipal Jokun Elementary School, where they experience rice harvesting.
Mr. Takahachi learned how to harvest rice, and Mr. Kaji experienced rice harvesting with the children.
"Grow and grow rice in your hometown by yourself. It will be a good memory for your childhood."
We want children to like more local products, and want them to know more.
Kaji had such an impression
Past reports