LOVE Sanuki's report
The 16th prefecture product contest
One of the major projects of Yoshimoto, "A project to live in your town", to make Japan feel good from the area. Entertainer "Kaji Tsuyoshi" who lives in Kagawa reports on local products.
reporter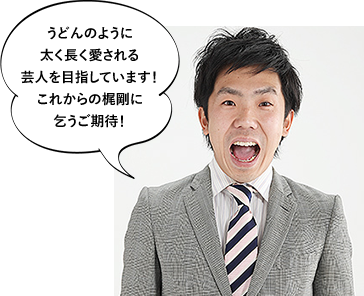 KAJI Tsuyoshi
NSC Osaka school 22nd grade
2005 Formed "Katsuyama Kaji" with Moody Katsuyama
2008 ABC Comedy Newcomer Grand Prix Newcomer Award
2010 Active as a pin entertainer
Birthplace: Mitoyo City, Kagawa Prefecture Born March 1981, 3
Check your activities!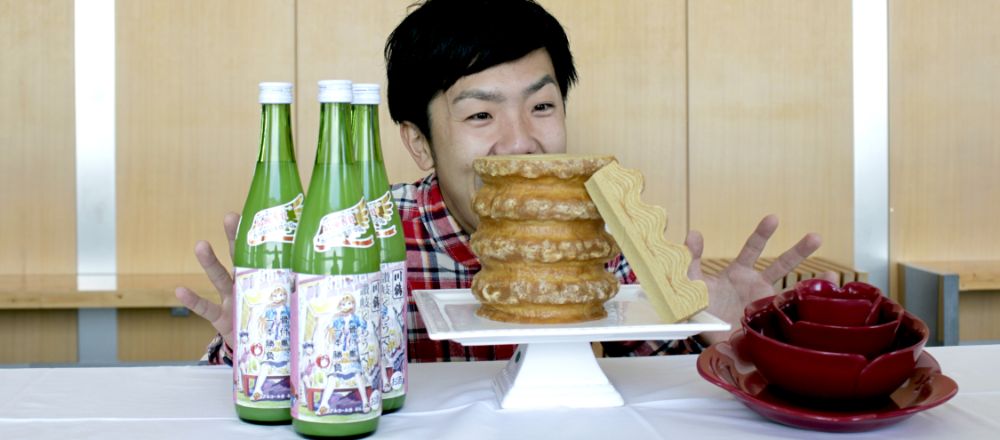 For the purpose of promoting the development of attractive local products and excavating local products that represent the prefecture,
The "Kagawa Prefectural Goods Competition" started in 15.
In 10, the 24th anniversary, there were more exhibitions than usual.
This time, "Udon Prefecture. Not only that, the Kagawa Prefecture Governor's Award" 3 points,
Mr. Kaji reports on three points in "Udon prefecture. Not only that, Kagawa prefecture, Excellence Award" and one "Judge special prize".
Please see future big hit product with Kaji.
Fits boned birds! New genre sake

Kaji came to the prefectural office observation room. Interview with the governor prize winners here! First of all, Mr. Fujioka, Kawazuru Sake Brewery of the Food Category Governor's Award.
The award-winning prefecture product is Sake "Sanuki Kurude 付 き Boned Bird, One Game" which is refreshingly finished to match Kagawa's Class B gourmet "Bone with bone".
"It's made with three times the koji. It's fruity and easy for women to drink." It seems to suit not only birds with bones but also various dishes.

Baumkuchen in Kagawa Prefecture, in both material and form

After enjoying the places I want to drink more, I interviewed La Famille and Chikiriya of the Confectionery Governor's Award.
The award-winning prefectural products are "Sanuki Wasanbon Baumkuchen" Gokenyama "" made of selected materials such as Wasanbon, Egg spawn, Prefectural honey and Prefectural wheat "Sanuki no Yume 2000".
The shape of the rugged shape is inspired by the mountain "Gokenyama" in Anji-cho, Takamatsu City.
Mr. Kaji is very satisfied with the taste for the first time, "Wow!

Rose lacquer ware that blooms with traditional techniques

The last speaker I heard was Mr. Asano, Ichiwado Crafts, General Governor's Award. The award-winning product "Rose vessel" is a set of teacups, bowls, bowls, and dishes. When layered, it looks like a rose.
"In order to match the colors, apply one set at a time. Just like Kagawa's traditional technique," Goto Nuri ", you paint over and over again, dozens of times." .
Somehow Kaji-san seems happy.

10th anniversary this year! What is Kagawa prefecture product contest?

In addition to the Governor's Prize, the prefectural products contest also has an excellence award (Food category "Zotoyama konpura salt black garlic", Confectionery section "Sanuki dorayaki island stage", General section "Temari strap"), Jury special prize ( General section "Sanuki Anji Stone Glass").
Mr. Kaji who listened to each characteristic seemed to be increasingly interested in Kagawa's local products.
"Kagawa Prefecture still has some wonderful local products. Then we'll go to the next report!" Mr. Kaji, who ran cheerfully as usual, seems to be able to expect the next report.
Past reports