LOVE Sanuki's report
23rd Somen
One of the major projects of Yoshimoto, "A project to live in your town", to make Japan feel good from the area. Entertainer "Kaji Tsuyoshi" who lives in Kagawa reports on local products.
reporter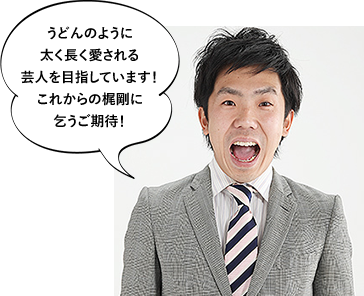 KAJI Tsuyoshi
NSC Osaka school 22nd grade
2005 Formed "Katsuyama Kaji" with Moody Katsuyama
2008 ABC Comedy Newcomer Grand Prix Newcomer Award
2010 Active as a pin entertainer
Birthplace: Mitoyo City, Kagawa Prefecture Born March 1981, 3
Check your activities!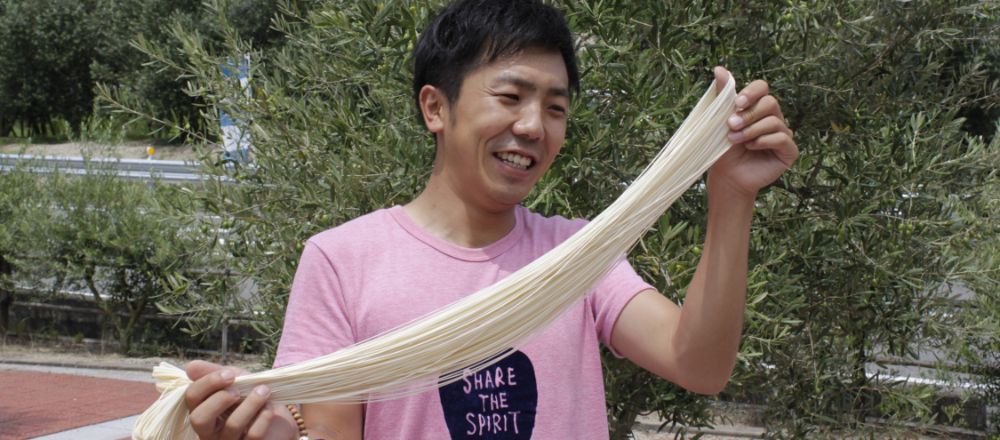 Together with Nara Prefecture "Miwa Somen" and Hyogo Prefecture "Ibo Noito"
Count on the island light of Shodoshima. Characterized by a smooth texture and firmness, comparable to Sanuki udon.
This time, Kaji reports on Shodoshima Tebebe Somen, a specialty of Kagawa Prefecture.
You will also experience making somen
Shodoshima Somen with a history of over 400 years

Speaking of summer, somen! So Kaji came to Shodoshima.
I visited "Shodoshima Tenobu Somen Museum" where you can observe the work.
Mr. Nishiyama, the representative, guided me. "It's been over 400 years since Shodoshima started making tenomen.
100 years have passed since the island light brand was created. " Kaji-san is surprised at the length of history beyond imagination.
In addition, only products from Shodoshima that have been strictly checked by product inspectors are said to be shipped as "lights on the island".

Making somen from early morning to evening!

Kaji arrived at Shodoshima Temen Somen Museum just after 10 am.
From this time, we were able to observe "Kobiki work" and "Kadoboshi work".
"I knead the flour around 4-5 am. Starting in the early morning, after a lot of work, I can finally dry it after noon."
Beautiful dried noodles often seen in tourist photographs. It takes so much time and effort to get there!
Mr. Kaji is taking off his hat because he is particular about the secrets of somen that he ate casually.

Experience a little noodle making.

The specialty of Shodoshima Somen is that it uses genuine sesame oil when it is rolled and sun-dried.
Sesame oil, a specialty of Shodoshima, and the climate of low sunshine and long sunshine support the production of delicious noodles.
Here, Mr. Kaji experienced "mon-dashi", where noodles caught on two dried trees were sorted using wooden chopsticks. It is surprisingly good.
"The noodles passed to the upper and lower dry trees are connected to one and are 1 to 400 meters long."
Surprise point that came out again! "Is this all connected! Skills and skills?"

Sample freshly made! There is stiffness,

After experiencing, it is a taste of Omachikane. I had cold noodles made with freshly made noodles two or three days ago.
"Even though it's as thin as a needle, there's a great body and it's slippery!" As you can see, the shiny noodles are even better than throat. The chewy texture is unique to Shodoshima Tebebe Somen.
"The people of Shodoshima spend a lot of time making them, so don't eat them."
Mr. Kaji has changed his perspective on somen so far.
Past reports