LOVE Sanuki's report
The 26th Sanuki Angel Suite
One of the major projects of Yoshimoto, "A project to live in your town", to make Japan feel good from the area. Entertainer "Kaji Tsuyoshi" who lives in Kagawa reports on local products.
reporter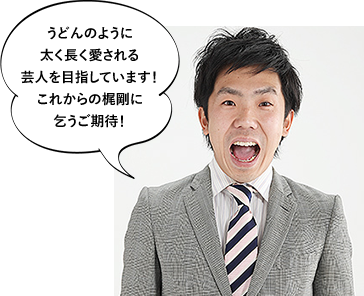 KAJI Tsuyoshi
NSC Osaka school 22nd grade
2005 Formed "Katsuyama Kaji" with Moody Katsuyama
2008 ABC Comedy Newcomer Grand Prix Newcomer Award
2010 Active as a pin entertainer
Birthplace: Mitoyo City, Kagawa Prefecture Born March 1981, 3
Check your activities!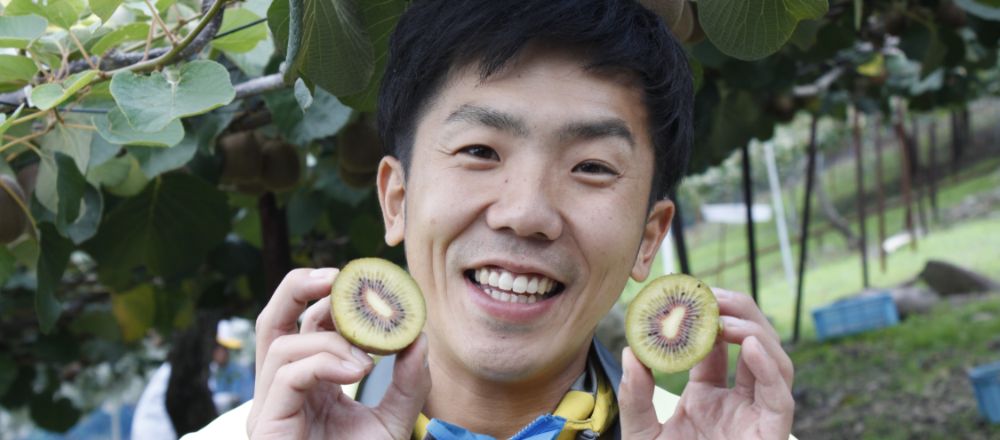 The high quality original kiwis that Kagawa Prefecture is proud of, such as "Koroku", "Koriki", "Sanroku" and "Sanuki Gold"
A new kiwi debuts this fall! The name is "Sanuki Angel Suite".
In search of this new kiwi, this time Kaji made a charge report on a steeply sloping field.
What exactly is an "angel" and what is a "suite" ... Kaji-san, I'll ask for a report!
New kiwi grown on steep slopes.

Kaji came to a mountain on the outskirts of Takamatsu City, overlooking the Seto Inland Sea. There is a field of rumored new kiwi, "Sanuki Angel Suite".
"But it's a steep slope." As you ascend while saying Fuufu, a kiwi field on the whole surface. Mr. Minamihara, who is just harvesting, welcomed me. "The Sanuki Angel Suite is seasonal in November, and it's just its heyday."
Kiwis of a size larger than expected are growing here and there.

Sugar content average 19 degrees! Sweet!

"It is the fifth original kiwi varieties developed by Kagawa Prefecture. It was just registered in July this year." The feature is that the sugar content is very high.
Kiwi harvested this year in Mr. Minamihara's field has an average sugar content of 19 degrees! "" Sanuki Angel Suite "has more branches than other kiwis and grows more and more. This vitality may be the secret of sweetness."
Also, I feel that they are very suitable for the climate of Kagawa prefecture, as grown up. "As expected, Kiwi was born in Kagawa."

When cut, a red angel ring is inside!

Even though the sweetness is high, the mystery of "Angel" still remains. "That is, the area around the seeds is red."
When I cut "Sanuki Angel Suite", there was a red ring in the center! "This is a ring of angels." Aside from the beauty of the appearance, the fragrance is just as good when cut.
"It's amazing! It smells so fresh. It smells fresh!" You can borrow a spoon and taste it on the spot.

Sweet and juicy. Do not squid!

Scoop with a spoon and you'll get plenty of juice. If you eat a bite ... "Oh!" Besides, it is sweet to eat anywhere from the center to the side of the skin!
"Isn't the sourness too much ... are you? In fact, "Sanuki Angel Suite" has less enzymes that cause mussel, so unlike other kiwis, it does not mussel when eaten. "This is something that kids will love too."
Mr. Kaji was impressed by the large fresh rookie from Kagawa Prefecture.
Past reports