LOVE Sanuki's report
The 27th New Year Udon
One of the major projects of Yoshimoto, "A project to live in your town", to make Japan feel good from the area. Entertainer "Kaji Tsuyoshi" who lives in Kagawa reports on local products.
reporter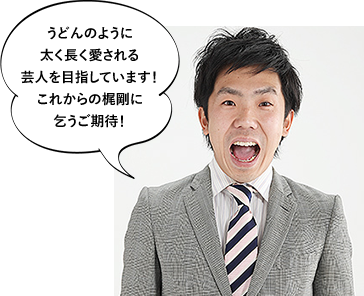 KAJI Tsuyoshi
NSC Osaka school 22nd grade
2005 Formed "Katsuyama Kaji" with Moody Katsuyama
2008 ABC Comedy Newcomer Grand Prix Newcomer Award
2010 Active as a pin entertainer
Birthplace: Mitoyo City, Kagawa Prefecture Born March 1981, 3
Check your activities!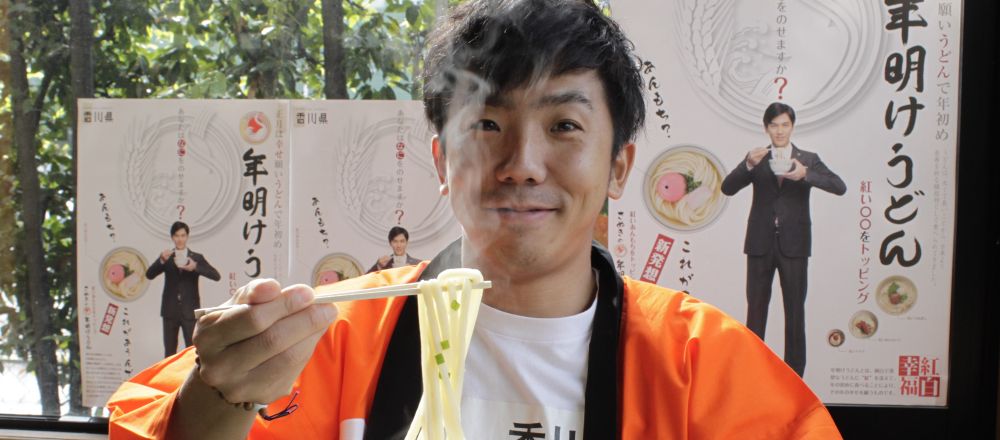 "New Year Udon(Toshiake Udon)" has become a New Year's tradition at udon shops nationwide, supermarkets and convenience stores.
Information that a new menu has appeared in this "noodles unique to the New Year"!
And it's a noodle only in Kagawa prefecture ...
This is Kaji's turn! I would like a report immediately ~
Food culture from Kagawa, New Year udon.

Mr. Kaji came to a udon shop on the outskirts of Takamatsu City. The welcome was Mr. Omine, President of Sanuki Udon Co-operative, and Mr. Kagawa, President of Sanuki Noodle Industry.
When asked about the origin of the new year udon, it was invented by the Sanuki Udon Promotion Council in 2008. "Yeah! Is the new year udon started in Kagawa!"
Mr. Kaji, who eats udon during the New Year, seems to be surprised to know that it started in Kagawa and now spreads all over the country.

Congratulations on the red one.

"It is a rule of the New Year udon(Toshiake Udon) to put red ingredients from various places on pure white udon and make it red and white.
As a result, various new year udon noodles such as mentaiko, salmon and salmon, octopus, dried plums, and tomatoes are born. " Also, because udon is thick and long, it has been eaten in various places as a lucky charm for longevity since ancient times.
It seems that such a history and red and white visuals were able to penetrate so quickly as "happy food". And a new announcement to reach the sixth New Year in the next year after starting the spread activity!

Finally appeared! "Sanuki's New Year Udon"

"For the first time, Kagawa's unique new year udon(Toshiake Udon)," Sanuki's New Year Udon(Toshiake Udon) "will be born." It's a udon with red Ann-mochi! The zoni of Kagawa prefecture is made with white miso-style anmochi.
With such local cuisine as a hint, it is exactly the beginning of the year that is unique to Kagawa.
"What? What's the taste of Ann Mochi on Udon?" Kaji-san's begging request is to make it immediately.
If it is true, it will be released at the store next year.

Anko and Iriko are great!

If you look at the "Sanuki's New Year Udon(Toshiake Udon)", you'll find a big red rice cake. "Simple burns, but really beautiful."
While admiring the visuals, Kaji first gaburi ann mochi! "Delicious!". Iriko dashi and Anko go well together and taste betray your imagination. In fact, the ingenuity has been devised, such as reducing the sweetness of the Anko to match the udon.
"Sanuki's New Year Udon(Toshiake Udon), which makes you happy, I want everyone to eat it." Kaji was also very satisfied.
Past reports