LOVE Sanuki's report
The 30th Sanuki One Sculpture
One of the major projects of Yoshimoto, "A project to live in your town", to make Japan feel good from the area. Entertainer "Kaji Tsuyoshi" who lives in Kagawa reports on local products.
reporter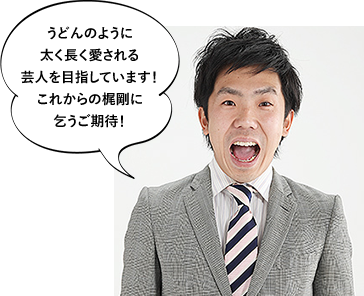 KAJI Tsuyoshi
NSC Osaka school 22nd grade
2005 Formed "Katsuyama Kaji" with Moody Katsuyama
2008 ABC Comedy Newcomer Grand Prix Newcomer Award
2010 Active as a pin entertainer
Birthplace: Mitoyo City, Kagawa Prefecture Born March 1981, 3
Check your activities!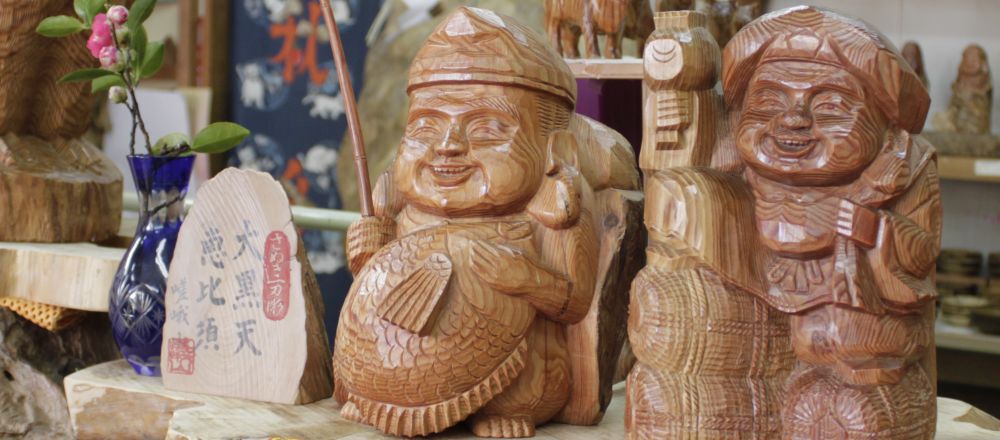 Kotohiragu Shrine in Kotohira-cho, Kagawa Prefecture, has been attracting people's worship since ancient times.
This report is "Sanki Ito sculpture" which has a deep connection with Kotohira Shrine.
Mr. Kaji, who thought he was a "lucky souvenir that he often sees," was surprised by his long history and unique skills!
This is the third traditional craft report following "Uchiwa" and "Kagawa lacquerware"!
A traditional craft representing Kagawa Prefecture that began in Tempo 8

Kaji came to the Sanuki Ito sculpture shop on the approach to Kotohira Shrine. When you enter, the seven deities of good fortune and Jizo are in the store. The guide is from Sagayama, a traditional craftsman from Kagawa Prefecture. "It is said that Sanki Ito sculpture was started around 8 by Tendai Miyagi carpenters from around the country to build Asahi-sha (*) in Kompira-miya. He said that he used a boasted camphor tree and handed out a wooden statue carved and fried with his proud technique to worshipers. " Sanki Ito sculpture that began with a trial of the skills of the Miya carpenters. In addition to traditional motifs such as the Seven Lucky Gods and Buddha statues, animals and character objects have recently been created. * Asahisha / important cultural property. Historic structure of two-story house building with all cypress and copper-plated roof)

No drafts or blueprints! Only with intuition for many years!

Mr. Kaji is guided to Sagayama's workshop, and there is a log of Himatsu (Akamatsu) with the bark attached. "I don't have any drafts or blueprints. I'll cut this log as it is." When Sagayama fleas, the face part is gradually completed. "In this way, the first step is rough carving (roughing) to make the approximate shape and cut the fine parts." If you show them arranged in the order of work, it's true that the logs just look cute Daikoku! In the finishing, finer carving is applied, and the work is finally completed.

Mr. Kaji challenges Sanuki one sword carving!

This time, Mr. Kaji challenges Sanuki Ichibori! I had a special draft for the log. "This is easy," and as soon as you shake the chisel ... "Stiff! Wow! In fact, Himatsu (Akamatsu), which is often used for Sanuki one-sword carving, is very hard. It is difficult to carve, but as the texture gets better over time, it is preferred as a material. "I was shaving off such a hard tree." The greatness of craftsmanship that you can actually see. Mr. Kaji was deeply impressed with the depth of crafts handed down to Kagawa Prefecture.
Past reports