LOVE Sanuki's report
The 32nd Sanuki Samon
One of the major projects of Yoshimoto, "A project to live in your town", to make Japan feel good from the area. Entertainer "Kaji Tsuyoshi" who lives in Kagawa reports on local products.
reporter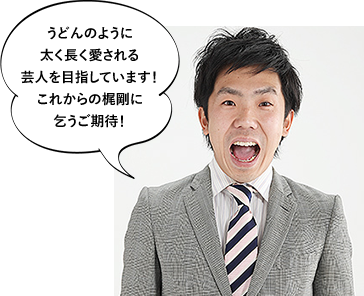 KAJI Tsuyoshi
NSC Osaka school 22nd grade
2005 Formed "Katsuyama Kaji" with Moody Katsuyama
2008 ABC Comedy Newcomer Grand Prix Newcomer Award
2010 Active as a pin entertainer
Birthplace: Mitoyo City, Kagawa Prefecture Born March 1981, 3
Check your activities!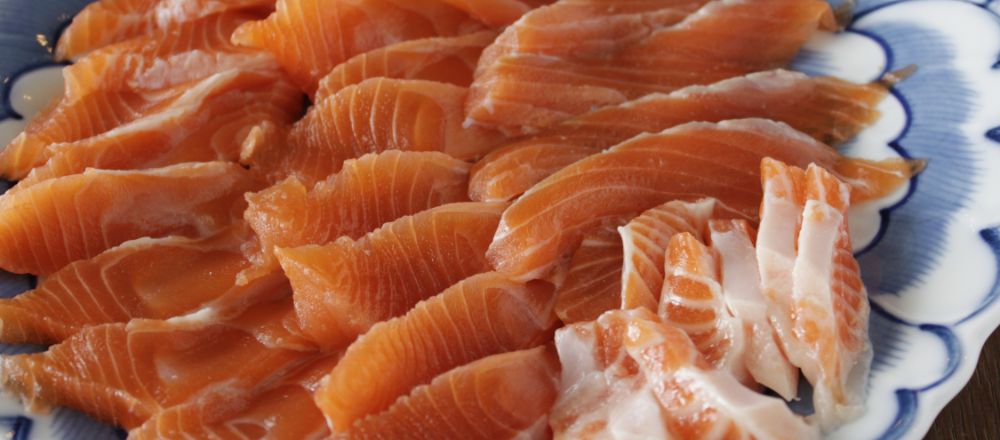 The only sea-cultured trout salmon in the Seto Inland Sea, Sanuki Salmon.
But why is salmon farming in Kagawa Prefecture? In addition, it is surprising goodness beyond common sense.
Mr. Kaji reports on this new "Sanuki no Shun"!
Farm trout salmon in the Seto Inland Sea

Kaji came to Ogoshi-cho, Sakaide-shi, where the Sanuki Samon farm is located. It is a very peaceful place where the archipelago of the Seto Inland Sea spreads in front of you. A vibrant salmon is on the aquaculture cage headed by boat! Mr. Asami, President of Kansai Bussan, and Mr. Ito of Kagawa Prefectural Fisheries Sales Division. "The start of salmon farming in Kagawa Prefecture was triggered by the Great East Japan Earthquake," said Asami. Salmon farming and fishing grounds along the Tohoku coast were hit hard by the Great East Japan Earthquake, and fisheries officials in Kagawa Prefecture learned that inland fry producers were having difficulty shipping fry, and fry with the meaning of supporting disaster-stricken areas. Buy. That salmon farming has begun. However, when you try aquaculture, you will be surprised!

Immediately after landing, "Sanuki Samon" is sashimi!

"Sanuki Samon", which was caught in front of Kaji's eyes, was immediately used. When he returned to the port, President Asami himself made the sashimi. Even in actual shipment, "Sanuki Samon" has been devised so that it can be delivered to consumers with high freshness in a short period of time, such as by shutting down immediately after landing. "It's completely different from imported salmon, which takes several days from landing to consumption," said President Asami. Due to the high freshness, the sashimi brought in is very bright salmon pink. "It's so beautiful!" When Kaji eats a bite at once ... "Wow! What is this!" The aroma and texture were different from the salmon I usually eat!

Preeminent freshness, so the body is pre-priced

"I thought salmon was soft, but the texture was completely different!" Yes, Sanuki Samon, which has a high degree of freshness, has a responsiveness that makes it hard to imagine salmon if you eat it blindfolded and blindfolded. In addition, the unique smell of salmon is not felt much. Next, recommended by President Asami, she picks up the harassed part with fat. The texture and the fat paste are like a big toro! Moreover, "Sanuki Samon" is not persistent with fat, and sweetness spreads in the mouth. "This is Umai Wow ~". Mr. Kaji has more chopsticks than usual. It seems that they enjoyed limited time shipment, new Sanuki season, and "Sanuki Samon".
Past reports