LOVE Sanuki's report
34th pear
One of the major projects of Yoshimoto, "A project to live in your town", to make Japan feel good from the area. Entertainer "Kaji Tsuyoshi" who lives in Kagawa reports on local products.
reporter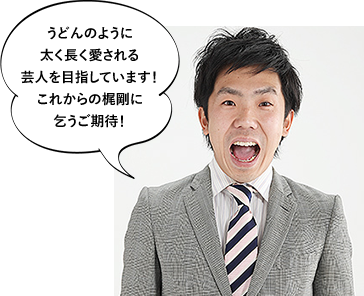 KAJI Tsuyoshi
NSC Osaka school 22nd grade
2005 Formed "Katsuyama Kaji" with Moody Katsuyama
2008 ABC Comedy Newcomer Grand Prix Newcomer Award
2010 Active as a pin entertainer
Birthplace: Mitoyo City, Kagawa Prefecture Born March 1981, 3
Check your activities!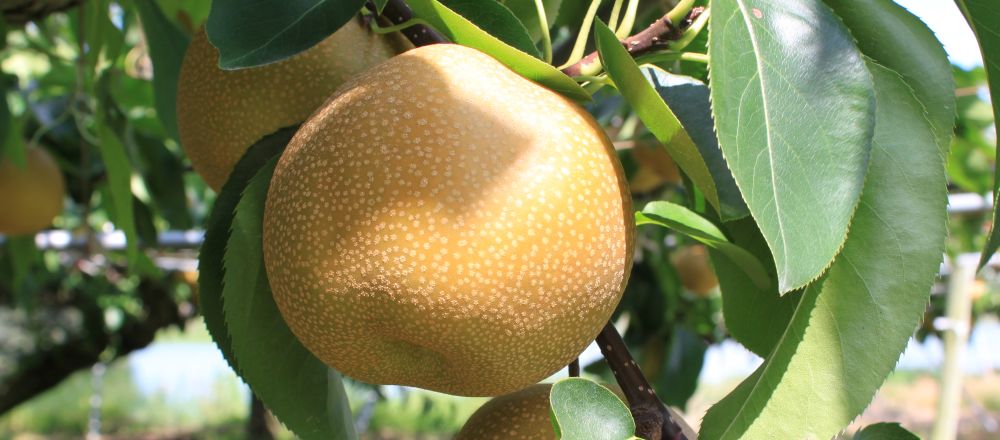 Kagawa Prefecture's pears, which are known for their good quality, are a fruit that Kaji loves.
Among them, the two varieties of Kosui and Hosui are excellent products and those with a sugar content of 2 degrees or more are selected as "Sanuki Sansan Fruit".
This time, "Sanuki Sanri Ambassador" also appeared!
Kaji-san is reporting more than usual!
Warm and well drained, suitable for pear making.

Kanonji is one of the oldest pear producing areas in Kagawa prefecture. In particular, the Hounan district boasts a 105-year history of cultivation this year. Mr. Kaji, who came to the pear report with Mr. Kawashima and Mr. Fukui of the Sanuki San Fruit Ambassador, first interviewed Mr. Kawakami, chairman of the pear in the Honan district.
"This is a warm, well-drained area with great pear making, so I am confident of its high sugar content."
The pear garden that spreads out on the slope facing the Seto Inland Sea is very sunny, and even if it rains, it seems that water will quickly drain.
In addition, producers who inherit the tradition of pear making support the high quality of pears from Kagawa Prefecture.

The producer code is printed one by one.

Large and splendid pears lined up at the collection site. In fact, the pear also has a secret. "Each one has a number that represents the producer."
Prefectural pears are cultivated with a lot of ingenuity, such as using organic pesticides with low pesticides, and the producer code is printed with edible ink to make them eat more safely and safely. When you visit the fruit sorting place, after checking with severe human eyes, sensors such as ripeness, sugar content, weight, size, etc. are determined.
Only selected products will be shipped. "I guess I've been working so far." Mr. Kaji seems to be unable to hide his surprise because of the secrets of the familiar fruits.

Tasting sweet and juicy pears at a direct sale!

Kagawa Prefecture pears are shipped not only to the prefecture, but also to Osaka and Ehime. And you can buy pears collected in the morning at the direct sales place next to the pickup area. At the collection site, Mr. Goda of JA Kagawa Prefecture Fruit Tree Promotion Center guided us.
Mr. Kaji and Mr. Sanuki's ambassador of fruit, who tasted the pears immediately, said, "It's so refreshing and crisp!"
The Sanuki Sansan Ambassador also seemed to enjoy sweet and juicy pears from the prefecture. "The feature is that the sweetness pulls in your mouth and only the flavor remains."
Everyone understands Goda's explanation!

The pears in Kagawa Prefecture are also exquisitely processed.

In addition to pears, the direct sale shop sells processed pears developed by locals. "Canning, juice, grilled meat sauce, jam, and candy are all popular. They sell well and sometimes run out of stock."
One of the most popular products is the pear soft serve, which can be eaten only here. All three are impressed by the taste of soft cream containing pear juice and grains of fruit! "Much crazy horse."
The pears were cultivated with great care in the land that inherited the tradition, and the pears were made with great care.
Past reports