LOVE Sanuki's report
The 35th Ajiishi
One of the major projects of Yoshimoto, "A project to live in your town", to make Japan feel good from the area. Entertainer "Kaji Tsuyoshi" who lives in Kagawa reports on local products.
reporter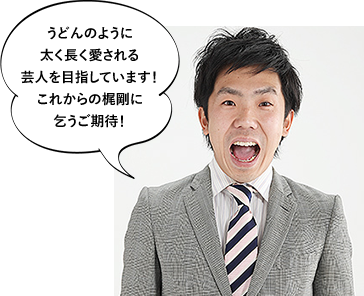 KAJI Tsuyoshi
NSC Osaka school 22nd grade
2005 Formed "Katsuyama Kaji" with Moody Katsuyama
2008 ABC Comedy Newcomer Grand Prix Newcomer Award
2010 Active as a pin entertainer
Birthplace: Mitoyo City, Kagawa Prefecture Born March 1981, 3
Check your activities!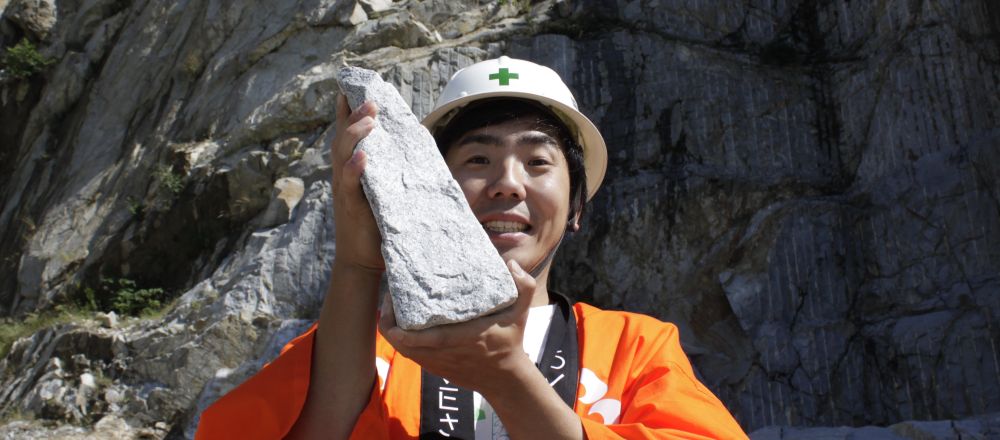 "Aji stone" is a granite produced in Aji in Mure Town, Takamatsu City, Kagawa Prefecture.
It features a beautiful pattern that emerges on the surface when polished and hardened comparable to quartz,
It is known all over the world as a luxury stone.
Kaji-san reports on a stone from Kagawa Prefecture, which is said to have been mined about 1000 years ago!
"Aji stone" that can be harvested only in very small areas

Mr. Kaji visited a huge open-pit quarry called "Ochoba", which is a part of "Gokenyama" towering in Mure-cho and Aji-cho.
At first, Kaji is surprised at the magnificent view! "It looks like a movie scene." Mr. Okaya, president of the cooperative Ajiishi Promotion Association, guided me here. "Aji stone can be quarried only in a very small area of ​​this mountain. From the stones that have been produced, select those that are free of scratches and dirt, and use them for products such as tombstones, lanterns, stone Buddhas, etc." When it comes to the finest products, it is only a few percent of the output. This is why Aji stone is also called "granite diamond".

It is also popular as an interior material because of its beauty.

Next, Mr. Kaji, who was guided to the exhibition hall, saw a unique pattern "spot" appearing on the surface when polishing Aji stone. "It looks three-dimensional!" The pattern with depth is also called "Seto Ripples". Also, the carved letters have a hardness that does not collapse or discolor even after more than 200 years. "The highest grade Aji stone is a few percent, but the remaining Aji stone is also used for various purposes." It is also used for furniture, such as interior materials for world-class luxury hotels and restaurants, tables and counters. In addition, it seems that small Aji stone can be used as aggregate when building.
"I don't know what Ajiishi is when you throw it away."

Mure-cho and Aji-cho have craftsmanship that makes use of Aji stone.

The history of processing Aji stones in the prefecture is old, and processing began about 650 years ago, and it began full-scale about 200 years ago when Yajima Toshogu Shrine was built. Mr. Kaji goes to a processing plant where traditional craftsmanship can be seen. Mr. Shirai from Fumio Shirai Stone Store gave us the guide. Just Mr. Shirai's father was working on a large lantern umbrella. Only hammer and chisel use! There is no blueprint, and the line drawn on the surface of the stone is carved with a mark. If you have tools, it will be very heavy. "It's such a heavy thing, and it's carving by hand ... it's a craftsmanship." Because it is a rare anji stone, the skill that supports it is also at a high level.

To town, to dining table. The world of Aji stone spreads greatly.

The last Yamada stone shop I visited was a processing plant mainly producing stone Buddhas. Mr. Yamada, the representative, guided me. Here, in addition to the stone Buddha, they also showed the lighting and tableware of Aji stone that Mr. Yamada created. "We also have an event where participants can eat dishes made from local products on this plate and have participants eat it." "Ishiku" in Mure-cho and Aji-cho are using their skills to create products of a completely new genre one after another. "Interior materials, furniture, lighting, tableware ..., Ajiishi is spreading more and more in the world." It was Mr. Kaji who discovered another wonderful aspect of local products.
Past reports