LOVE Sanuki's report
The 36th Sanuki Kiwikko
One of the major projects of Yoshimoto, "A project to live in your town", to make Japan feel good from the area. Entertainer "Kaji Tsuyoshi" who lives in Kagawa reports on local products.
reporter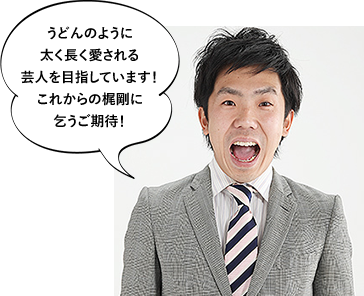 KAJI Tsuyoshi
NSC Osaka school 22nd grade
2005 Formed "Katsuyama Kaji" with Moody Katsuyama
2008 ABC Comedy Newcomer Grand Prix Newcomer Award
2010 Active as a pin entertainer
Birthplace: Mitoyo City, Kagawa Prefecture Born March 1981, 3
Check your activities!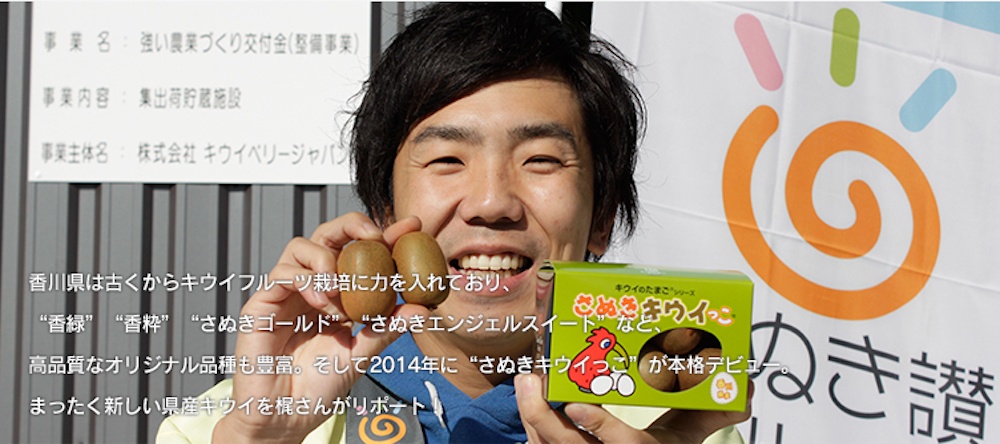 Kagawa Prefecture has been focusing on kiwi fruit cultivation for a long time,
"Scent green" "Scent" "Sanuki gold" "Sanuki angel suite"
Abundant high quality original varieties. And in 2014, "Sanuki Kiwikko" made its real debut.
A completely new prefecture kiwi report from Kaji!
First shipment in 2014! New face of expectation.

Mr. Kaji, who has reported on "Sanuki Gold" and "Sanuki Angel Suite", has been motivated to share the latest kiwi fruit from the prefecture. "What kind of taste is kiwi?" We visited Kiwiberry Japan Co., Ltd. Nogami, Iwamoto, Fukai, and Yamada of the company guided us. "" Sanuki Kiwikko "is a new kiwi that was born through joint research between Kagawa Prefecture and Kagawa University, and just shipped for the first time in January 2014." And it was only sold last month (December). "What a really new kiwi."

Introduced a special fruit sorting machine for "Sanuki Kiwikko".

"Sanuki Kiwikko" has begun full-scale sales and is expanding its growing area. Here, Kiwiberry Japan has introduced a special fruit sorting machine because its size is different from general varieties. The refrigerators that are stored before shipment are huge. "At its peak, this refrigerator fills up and you rent it elsewhere." Currently, other than in Kagawa Prefecture, shipments are mainly to department stores and high-end fruit stores in Tokyo and Osaka, but this year and next year, shipments will increase rapidly, and it will be seen at supermarkets nearby. "I want everyone to eat Kagawa's new kiwi!"

Small and sweet! May it change the common sense of kiwi?

"Sanuki Sansui Fruits" can only be called those that have passed strict quality standards. "Most of the" Sanuki Kiwikko "harvested this time lightly meet standards such as sugar content." In other words, proof that it is of high quality. The typical variety "Hayward" has a sugar content of about 12 to 13 degrees, while "Sanuki Kiwikko" has a sugar level of 17 to 20 degrees. "It's really sweet!" Conversely, the weight per fruit is about half. There is no hair growth on the surface and it is smooth. This makes eating unique to Sanuki Kiwikko possible.

Split it in half, pinch it, churun, pak!

Mr. Noguchi taught me, and Mr. Kaji challenged how to eat only in "Sanuki Kiwikko". First, make a cut with your nails, divide it into half and cut it in half. And when I pinch outside ... "Wow! The contents came out of Churun!" Sweet flesh and plenty of juice go straight to Kaji's mouth! "Sweetness is not persistent, and this is easy to eat." Moreover, there is no mussel feeling when eating kiwi. Mr. Kaji was proficient in the newest of the original kiwis in Kagawa Prefecture, Sanuki Kiwikko.
Past reports