LOVE Sanuki's report
The 38th Garlic
One of the major projects of Yoshimoto, "A project to live in your town", to make Japan feel good from the area. Entertainer "Kaji Tsuyoshi" who lives in Kagawa reports on local products.
reporter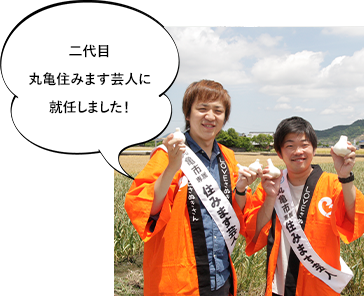 Marugame Jango
NSC Osaka school 36nd grade
April 2014 Formed Kamogawa Jango
2014 Activities based in Osaka
April 2015 Became an entertainer living in the second generation Marugame
Everyday, "hospitality" activities in Marugame
Check your activities!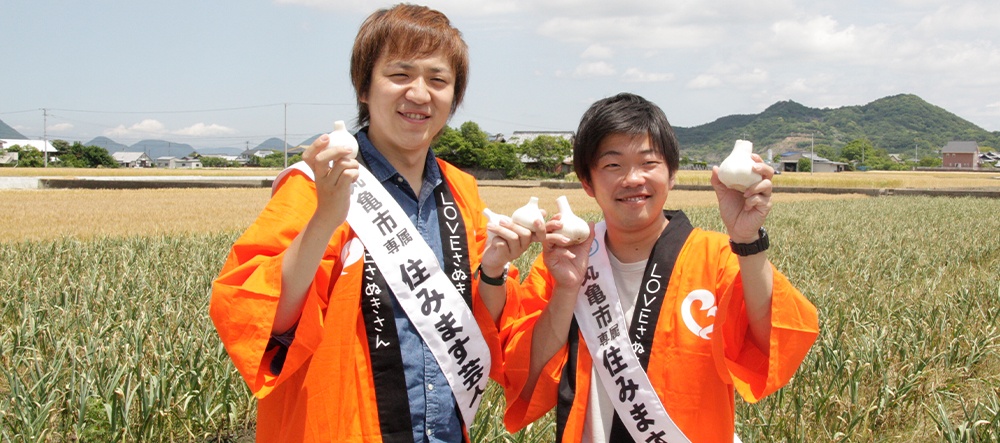 Mr. Kitamura and Mr. Yasu of Marugame Jango are surprised.
Kagawa Prefecture is the third largest garlic producer in Japan after Aomori Prefecture!
Garlic from Kagawa Prefecture is characterized by its thick, rich taste and appetizing aroma.
Marugame Jango approaches the charm!
Popular and high quality garlic.

Marugame Jango came to Kotohira-cho, Nakatado-gun. It is the most active area in the prefecture. Cultivation started around 40 and now has become one of the special products of the town. When two people come to the collection place, the scent of garlic is all around! Mr. Morii, a producer of garlic, guided me. "Shipments are from mid-April to the end of June, and Kagawa Prefecture is the earliest in the country. It has a safer, deeper taste and fragrance than the overseas products that are available all year round. Because Kagawa Prefecture has a small farmland area, we are trying to differentiate ourselves not with large quantities but with good quality. "

Fresh products are shipped by the original cultivation method.

Growing garlic requires a lot of time and effort. The seeds are fixed up and down, so they are hand-planted one by one so that the buds emerge in the upward direction, and are grown while maintaining a moist, soft soil. Marugame Jango, who was looking at the field, wondered, "I think the vinyl sheets covered are different." "This is called mulch, which has various effects such as heat retention and moisture retention. Transparent mulch and purple mulch have different heat retention effects, so the harvest time can be shifted, and freshly caught fresh one after another. And Morii-san. " This staggered cultivation method called crop dispersal seems to be one of the characteristics of agriculture in Kagawa Prefecture.

How to choose and preserve garlic.

Then move to Morii's house. I was taught how to choose delicious garlic. "Choose the one with clear ridges and clear roots as a whole." "Excess garlic can be stored in a refrigerator at a chilled temperature of less than -1 degree or frozen for long-term storage. "And advice on how to save! ! In Kagawa Prefecture, many garlic products are also being developed. On the table, related products of garlic are slippery. Various products such as "black garlic", which has plenty of polyphenols and taste like dried fruits, garlic oil and sprinkle, are made.

Enjoy the food, addictive taste!

By the way, it is garlic dish that two people of Marugame Jango longed for. Morii's wife cooked the garlic foil! ! Season the garlic with salt, soak in olive oil, and stir in a microwave. Open the foil for a good scent. Immediately, when I try to eat, Kitamura-san smiles involuntarily, saying, "It's delicious and delicious!" One dish that collaborated with Ogawa oil, a specialty product from Kagawa Prefecture, goes well with beer, and Mr. Yasuba says, "Best for snacks!" Garlic is used in a variety of dishes to enhance the flavor and flavor of dishes. Just an all-round player of ingredients. Garlic also contains an ingredient called allicin, which helps to recover from fatigue. It has a good aroma and taste and can be used in various dishes and is good for your body. Marugame Jango, who was full of energy, was able to experience such charm.
Past reports