LOVE Sanuki's report
39th local fish
One of the major projects of Yoshimoto, "A project to live in your town", to make Japan feel good from the area. Entertainer "Kaji Tsuyoshi" who lives in Kagawa reports on local products.
reporter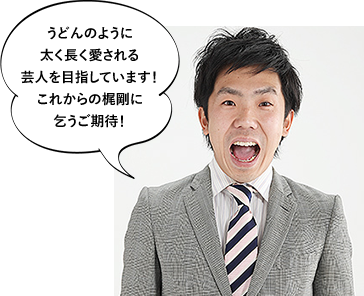 KAJI Tsuyoshi
NSC Osaka school 22nd grade
2005 Formed "Katsuyama Kaji" with Moody Katsuyama
2008 ABC Comedy Newcomer Grand Prix Newcomer Award
2010 Active as a pin entertainer
Birthplace: Mitoyo City, Kagawa Prefecture Born March 1981, 3
Check your activities!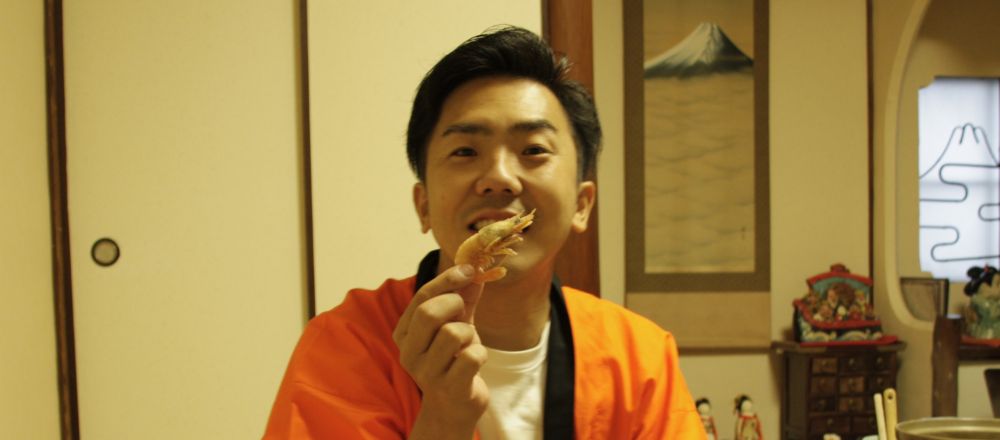 Enjoy the blessings of Setouchi!
Three kinds of freshly caught local fish appear!
Takamatsu Central Wholesale Market with fresh fish.

Kaji came to Takamatsu Central Wholesale Market in the early morning in search of delicious local fish. Many seafood are lined up. The guide was Mr. Yamamoto, president of Kagawa Fish Market Co., Ltd. "The appeal of the Takamatsu Central Wholesale Market is that fish are better than other fish because the fishing port is located near the fish ground. They can be landed without losing freshness." While listening to Mr. Yamamoto's story, Kaji looks at various local fish with interest. Auction starts at 5:XNUMX in the morning. Here, we adopt a method of lowering auction which is rare in Japan. While the Seri people are lowering the price of the goods, the person who raised their hand first won the bid. Due to the large amount and variety of fish, this method is used to increase the speed of selling.

Seasonal shrimp, we will have a crunch from the head.

Delicious seafood is lined up, but one of the best is shrimp, which is in season from summer to autumn. Shrimp that grow only up to about 10 cm are called shrimp, and are caught in western Japan, especially in the Seto Inland Sea, rather than in the Kanto region. This time, we have this shrimp and fried chicken. Good fragrance from freshly fried shrimp. Kaji-san wears it from the head. "Sweet and soft!" The miso in the red part of the head seems particularly sweet. The recipe is very simple. Sprinkle lightly and season with salt and pepper. Add the potato starch and fry quickly. After fried, sprinkle with roasted salt.

Speaking of hamo, not Kansai but Kagawa prefecture?

Next is a hamo with a characteristic elongated shape. "Isn't a hamo a Kansai fish?" Kaji seems strange. Mr. Yamamoto told me, "I can catch it well in the Seto Inland Sea. There are many cases where the fish caught here are shipped to Kansai." In order to maintain freshness, the seaweed is processed at the market, and the bone is cut by cutting the body to a width of 2 to 3 mm. Please have this shabu-shabu. Shabu-shabu with dashi taken from spider bones, add plum meat and pakuri. "It's elastic and delicious!" Said Kaji. Spiderfish is a fish that is difficult for ordinary people to cook, but its taste is highly regarded and it is treated as a fine fish.

The tongue flatfish (shishirame) that has become cool and has increased its umami.

The flat, tongue-fin, tongue-fin, and tongue-fin are characteristically connected, and are locally called "geta". They can be caught all year round, but when the heat passes, they become fat and greasy. The characteristic feature of the Seto Inland Sea is its large size. The price is high in the Kanto region, but one of the attractions of Kagawa prefecture is that it is cheap. The boiled tongue is in front of Kaji. When you relax with chopsticks, you will be surprised at how easy it is to leave. If you put it in your mouth as it is, it looks delicious, "It's thick enough to eat." Shitoname is a white fish with an elegant taste that can be used in a wide range of dishes. Aside from boiling, fries and meuniere are recommended.

The Seto Inland Sea is a natural farm. Abundant seafood.

This time, Mr. Tomozawa, who runs a restaurant "Hyatora" in Takamatsu, cooked the local fish. We asked Tomozawa about the charm of local fish in Kagawa Prefecture. "The variety is so attractive that you can eat seasonal fish in each season. The water temperature in the Seto Inland Sea is as cold as in Aomori Prefecture in winter and as warm as in Okinawa in summer. Back and forth between the Seto Inland Sea and the Pacific Ocean, so many types of fish are caught throughout the year in Kagawa Prefecture. " "What are the points you are paying attention to when cooking?" "To keep the quality of the ingredients, we try to make it simple and thin," says Tomozawa. Three dishes are exactly what the word says. Mr. Kaji was very satisfied with the local fish in Kagawa Prefecture.
Past reports