LOVE Sanuki's report
The 40th glove
One of the major projects of Yoshimoto, "A project to live in your town", to make Japan feel good from the area. Entertainer "Kaji Tsuyoshi" who lives in Kagawa reports on local products.
reporter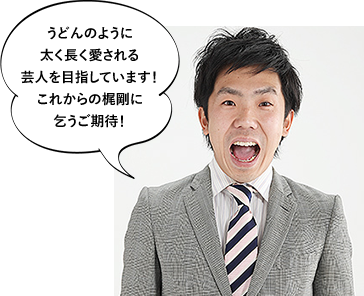 KAJI Tsuyoshi
NSC Osaka school 22nd grade
2005 Formed "Katsuyama Kaji" with Moody Katsuyama
2008 ABC Comedy Newcomer Grand Prix Newcomer Award
2010 Active as a pin entertainer
Birthplace: Mitoyo City, Kagawa Prefecture Born March 1981, 3
Check your activities!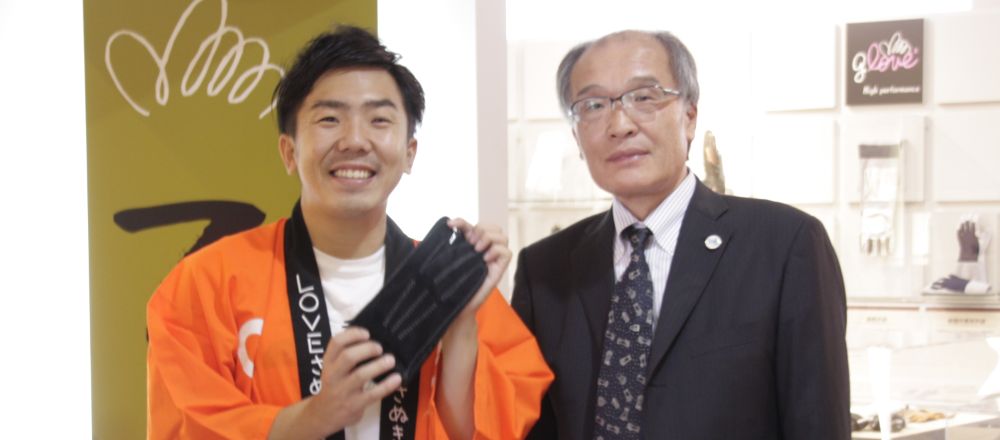 Higashikagawa City has prospered as a glove town since the Meiji era.
Production in this region accounts for about 90% of national production.
This time, I visited Higashikagawa City and reported on the history of gloves and the manufacturing process.
Kaji-san, the gloves are presented and the tension is up!
The appeal of Higashi Kagawa is its excellent quality.

Mr. Kaji came to the Glove Museum of the Japan Glove Industry Association. Located about 10 minutes on foot from JR Sanuki Shiratori Station, it is very close to Higashi-Kagawa City Hall. Ohara was the secretary-general of the Glove Museum. When you enter the museum, various gloves are on display. Mr. Kaji immediately asked, "There are many types, are you making them all in Higashi-Kagawa?" "Yes. We make almost everything we call gloves for cold weather, fashion, and sports. Domestic production is the highest in Japan. The feature of Higashi-Kagawa is, of course, excellent quality, "says Ohara. Kaji, I'm curious about its appeal.

Also produces gloves of many famous athletes.

"Eh! Are you making this too?" Kaji-san was surprised by gazes from famous athletes. Gloves such as Ota, a gold medalist of the World Federation Championship, and Motomoto Kanemoto, a professional baseball player, are on display. Mr. Ohara told me, "This is just a part. We also make products such as major leaguers and professional golfers." It is a proof that the technology of glove manufacturing in Higashikagawa is supported. It is said that the beginning of the development of Higashi-Kagawa City as a glove kingdom was the production of knitted gloves by Futago Shunrei in 1888. Later, a glove company was established, and the industrial base was established with the special demand of World War I. Thanks to the efforts of many predecessors, we continue to maintain a nationwide market share.

Leather products, beware of water anyway.

The Glove Museum also has an outlet store. Utilizing sewing techniques cultivated in the production of gloves, we also make bags and purses, and sell not only gloves but also various leather goods. "It's popular because we offer high quality products at a low price. Mr. Kaji, please choose your favorite glove. I will give you a gift!" A wide smile. "Because it's a leather product, be careful with water. If it gets wet, immediately drain it and shade it. The point is to drain the water before shaping. You can use it for as long as it's important." Also gave us advice on handling.

Manufactured by hand with attention to detail.

Next, he visited the Tumugu workshop in Shikoku, Japan, and toured the manufacturing site. The process is divided into cutting, sewing and finishing. Each point was taught by Mr. Okada, the guide. "Since the material expands and contracts differently, it is cut in accordance with it. In sewing, sewing is performed by combining the cut molds. Mass production is not performed, and the work is done by hand. I can't do it. For sewing, I use a high performance Japanese sewing machine. " And finally the finish. "We make something like makeup that is delivered to our customers in a beautiful condition. It's also hand-shaping and putting it in a bag," says Okada. Mr. Kaji was completely fascinated by the depth of the gloves he carefully made.
Past reports