LOVE Sanuki's report
The 42nd oyster
One of the major projects of Yoshimoto, "A project to live in your town", to make Japan feel good from the area. Entertainer "Kaji Tsuyoshi" who lives in Kagawa reports on local products.
reporter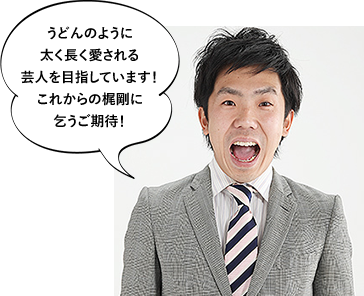 KAJI Tsuyoshi
NSC Osaka school 22nd grade
2005 Formed "Katsuyama Kaji" with Moody Katsuyama
2008 ABC Comedy Newcomer Grand Prix Newcomer Award
2010 Active as a pin entertainer
Birthplace: Mitoyo City, Kagawa Prefecture Born March 1981, 3
Check your activities!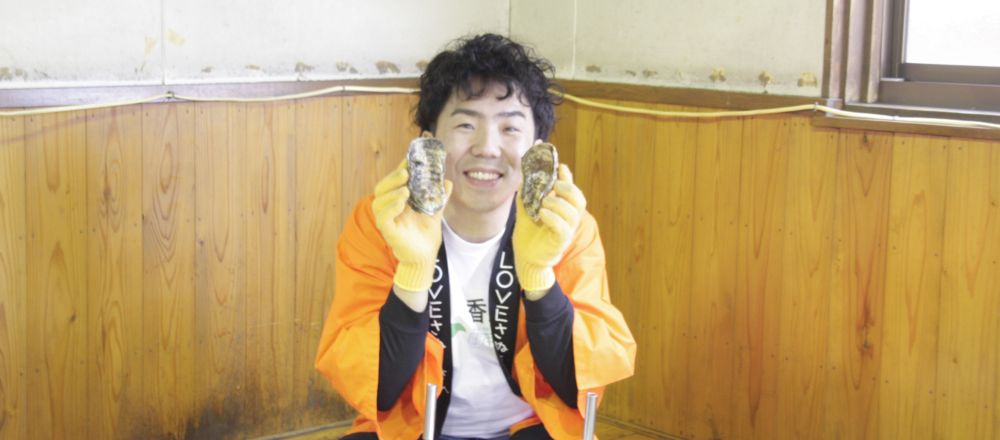 Speaking of Kagawa Prefecture, oyster dishes are oysters. The shelled product is baked on the net.
When you open the shell, you'll be excited! Kaji: How about the taste?
Shido Bay is a famous oyster production area in Kagawa Prefecture.

In Shido Bay, eastern Kagawa Prefecture, there are several rafts that raise oysters. This bay is less susceptible to waves and is suitable for growing oysters. Oysters are nutritious because they are called "sea milk". It contains nutrients such as zinc, glycogen, iron and taurine in a well-balanced manner, and is said to be effective in strengthening immunity and liver. In addition, low fat and low calorie. How are such oysters farmed? This time, I visited Kakiyaki Kamakura, a oyster cultivation and oyster bakery specialty store in Mure Town, Takamatsu City. Kaji rides on a boat owned by Kakiyaki Kamakura to an offshore aquaculture site.

Landed daily and served as oysters the next day.

For "Kakiyaki Kamakura", seeds are cultivated from Hiroshima Prefecture. A scallop shell with small oysters attached is connected with a rope and hung on an offshore raft. Then, at the time of harvest, the crane on the ship raises the rope with the large oysters. Kaji-san, breathtaking involuntarily in the power of the work. After landing, I will go to land soon. The shells are washed with a washing machine to remove mud and mussels. After cleaning the oysters one by one in the hut by hand, place them in clean seawater and serve as oysters the next day. This allows you to eat fresh foods with confidence.

Mure-cho, Takamatsu is the birthplace of oysters.

After visiting the aquaculture site, we interviewed Mr. Kamakura, the shop owner, inside the shop. "When my son was in elementary school, he belonged to the Little League, and I started baking oysters at the Parents' Association," says Kamakura. Mure-cho is the birthplace of oysters. This restaurant was the birthplace of oysters, and the oyster porcelain started with pleasure and accumulated several years of experience, and in 1980 it became a sophisticated oyster bakery. In the store, there are tables with nets on the iron plate. Put oysters with shells roughly on this net, spread them out, cover, and bake at once. This equipment was originally designed by Kakiyaki Kamakura so that customers can eat well-baked foods with peace of mind and pursue deliciousness. After a while, steam from the hole in the lid. Kaji-san, I'm waiting for you.

You can taste the plump oysters as much as you want.

Mr. Kaji removes the hot oyster with his gloved hands and opens the shell for a nice scent of the beach. When I tried it, I was acclaimed that it was "soft! You can enjoy it with ponzu or soy sauce, but you can also enjoy the original taste! All-you-can-eat at the restaurant with a time limit. The shaved rice, miso soup and rice are coming out on the sushi and this is also delicious and full. There are six oyster shops in this area alone, each of which is devised. Now, oysters have spread to other parts of the prefecture and beyond. "Shiwan Bay products use only young oysters and have a strong taste. Many people come from inside and outside the prefecture to eat," says Kamakura. It was a day when I listened to Kamakura, a horse lover and a cowboy, and enjoyed the blessings of the Seto Inland Sea.
Past reports