LOVE Sanuki's report
The 43rd Olive Dream Pig
One of the major projects of Yoshimoto, "A project to live in your town", to make Japan feel good from the area. Entertainer "Kaji Tsuyoshi" who lives in Kagawa reports on local products.
reporter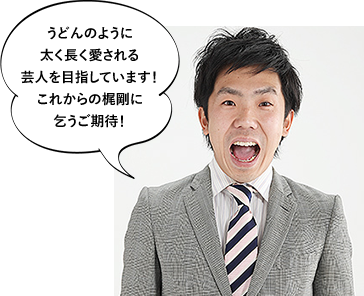 KAJI Tsuyoshi
NSC Osaka school 22nd grade
2005 Formed "Katsuyama Kaji" with Moody Katsuyama
2008 ABC Comedy Newcomer Grand Prix Newcomer Award
2010 Active as a pin entertainer
Birthplace: Mitoyo City, Kagawa Prefecture Born March 1981, 3
Check your activities!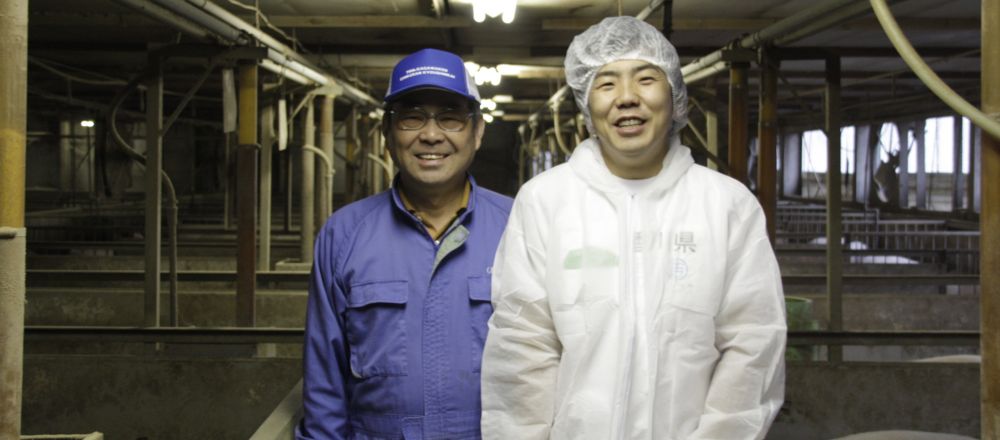 Olives are a tree in Hana prefecture in Kagawa prefecture and boast a history of more than XNUMX years.
Olive dream pigs and olive pigs grew on feed mixed with the fruits after oiling.
By the way, what is the difference in taste between pigs grown on feed without olives?
Kaji, who loves meat, approaches the charm!
An original brand in Kagawa prefecture created by the encounter between pigs and olives.

The theme this time is Olive Dream Pig and Olive Pig. Both are livestock products grown by mixing fruit after olive oiling with feed.Olive dream pigs are from Sanuki dream pigs developed based on the Berkshire breed in the UK, which is said to have good meat quality, and olive pigs are from Kagawa prefecture It is a brand born from domestic pigs. Kaji came to the breeding farm. We visited the "Yamato Livestock Association", which operates the livestock industry in Ayagawa-cho, Ayaka-gun. Mr. Masuda, the union president of the "Yamato Livestock Association" and the vice chairman of the "Kagawa Prefectural Olive Pig Promotion Association", guided Mr. Kaji into the pighouse.

Delicious and safe because it is a healthy pig.

In the pig house, pigs ate their feed. "Olives contain a lot of antioxidants such as oleic acid, which is said to be good for the prevention of lifestyle-related diseases, and polyphenols, which are said to be useful for the prevention of cancer. It will be richer, "said Masuda. It is said that health care is particularly important in breeding. "For example, the floor is kept flat, so that pigs can flow under the floor even if they spill. Of course, we are also careful about cleaning. We maintain a sanitary environment and grow healthy." I gave you "That's why pigs are beautiful and skin gloss is good," said Kaji, convinced.

It can be used widely as an ingredient.

After leaving the breeding farm, go to a shop where you can taste the dishes of Olive Dream Pig and Olive Pig. I came to "Cantonese Cuisine Chinese Sake House". The shop owner Seki made two dishes. "Asparagus and peach meat stir-fry" is a gem made by blanching vegetables such as asparagus "Sanuki no Awake", a product from Kagawa Prefecture, and fried with olive dream pork. It seems that fry quickly is the trick to finish deliciously. Another dish is "Rabbit Shabu-Shabu". I will have spicy garlic sauce. Mr. Kaji brings freshly prepared dishes to his mouth. Now, what is the taste?

Juicy gravy that spreads in your mouth.

"Sweet! And light!" Said Kaji, who was chewy with meat, and was pleased with the taste. Olive dream pigs and olive pigs are said to have about 1.5 times higher fruity sweet fructose than popularly sold pork. The chopsticks are so refreshing that you can enjoy the sweet taste that melts in your mouth. "I don't think there's any peculiarity of pork, so I use olive dream pigs and olive pigs a lot in our shop," says Seki. Mr. Kaji is also fascinated by the charm of professional cooks. Please enjoy it by all means.
Past reports