LOVE Sanuki's report
The 44th honey
One of the major projects of Yoshimoto, "A project to live in your town", to make Japan feel good from the area. Entertainer "Kaji Tsuyoshi" who lives in Kagawa reports on local products.
reporter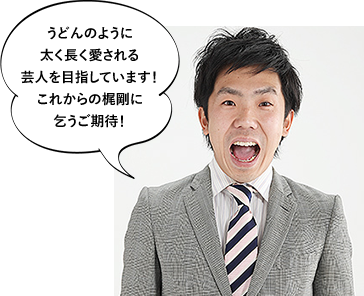 KAJI Tsuyoshi
NSC Osaka school 22nd grade
2005 Formed "Katsuyama Kaji" with Moody Katsuyama
2008 ABC Comedy Newcomer Grand Prix Newcomer Award
2010 Active as a pin entertainer
Birthplace: Mitoyo City, Kagawa Prefecture Born March 1981, 3
Check your activities!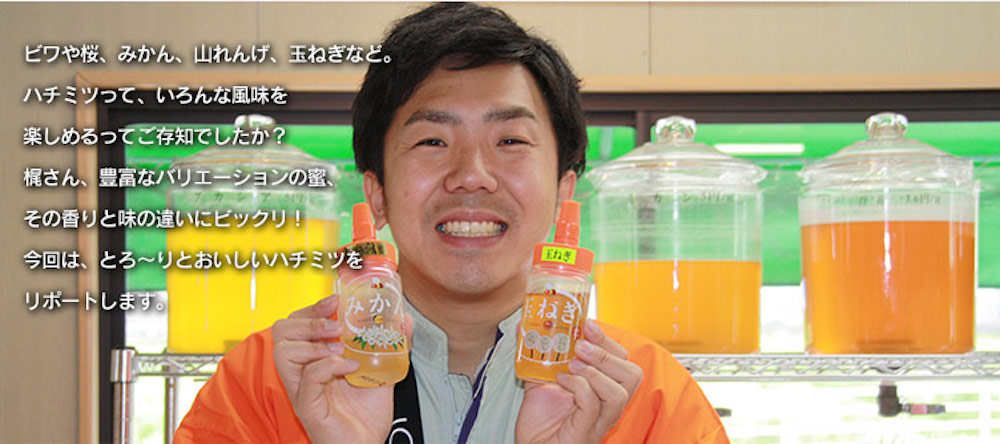 Loquats, cherry blossoms, tangerines, renge, onions, etc.
Did you know that honey can enjoy various flavors?
Mr. Kaji, a rich variety of honey, surprised by the difference in flavor and taste!
This time I will report the delicious honey.
The taste and aroma that changes depending on the environment where the apiary is located.

Goshikidai is known as one of the prefecture's leading orchards. This time, I visited "Nakada Beekeeping", which runs a beekeeping business at the foot of the beekeeping business. Mr. Tanaka, the third generation of "Nakada Beekeeping", welcomed us. I was guided to the apiary, which was close to the shop. "It's a place rich in nature. Is there a loquat field around?" Kaji asked. "The taste and aroma of honey changes depending on the environment in which the apiary is located. One of the features is that there are many loquat fields and loquat honey can be picked up." Loquat is a winter fruit, but bees are not good at being cold. But thanks to the warm climate of Kagawa Prefecture, high quality products can be obtained. Loquat honey seems to be rare in the whole country.

Delicious honey born from careful management.

Birdhouses arranged in apiaries. When you take out the nest board from it, bees are full. "There are about 2 to 3 birds in a birdhouse. If you add all the birdhouses, you have more than the population of Kagawa prefecture," says Tanaka. By the way, there is only one animal in the group, the queen bee, which lays eggs almost every day. Many swarms are worker bees, which collect nectar and transfer pollen. Worker bees have a lifespan of about one month. "It's kind of transient," Kaji gives. "No, the whole group is a single life form." In order to keep this one living creature, the birdhouse is inspected many times a day to check the condition of honey and to repel foreign enemies such as hornets, and delicious honey is born.

A nutritious honey for recovery from fatigue.

"Is there a white part of the nest plate? This part is honey. Slip it with your fingers and try to eat it." When Tanaka recommends it, he puts honey in his mouth and says, "It is rich and delicious! And it smells good! "Said Kaji. "The cherry blossoms were blooming until recently. If you leave the birdhouse at this time, the honey of the cherry blossoms will accumulate. You can enjoy various flavors every season and every region," says Tanaka. Speaking of honey, it is also attractive that it is excellent in nutrition. Honey has sugars that are easily absorbed by the body. Because it is quickly converted into energy, it seems to be good when you are tired or supplemented during sports.

Select your favorite honey from a wide variety by tasting.

Then return to the shop to taste other honey besides cherry blossoms. First, oranges. When I was pleased, "Oh, it tastes citrus," the next thing that came out was onion honey. "The sweet scent doesn't accumulate," said Kaji. It is an unusual flavor that can only be tasted in Kagawa Prefecture, which is the number one producer of onion seeds in Japan. In addition, tasting mountain Renge and haze. "Honey has a wide variety of varieties and tastes vary from year to year. Please try it and choose the one that suits you or your application. Personally, there are many types of cheese and various types I like how to eat different kinds of honey, "says Tanaka. In a day, Mr. Kaji has spread the honey world.
Past reports