LOVE Sanuki's report
The 45th Mitoyo eggplant
One of the major projects of Yoshimoto, "A project to live in your town", to make Japan feel good from the area. Entertainer "Kaji Tsuyoshi" who lives in Kagawa reports on local products.
reporter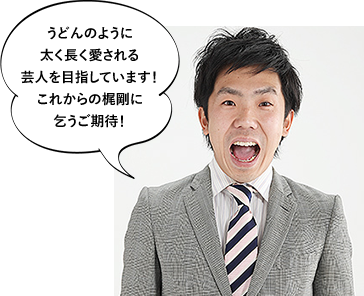 KAJI Tsuyoshi
NSC Osaka school 22nd grade
2005 Formed "Katsuyama Kaji" with Moody Katsuyama
2008 ABC Comedy Newcomer Grand Prix Newcomer Award
2010 Active as a pin entertainer
Birthplace: Mitoyo City, Kagawa Prefecture Born March 1981, 3
Check your activities!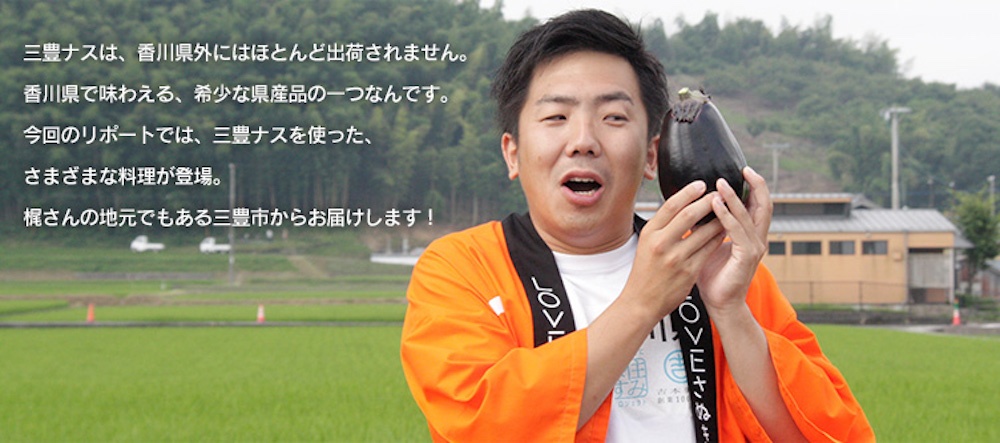 Mitoyo eggplant is hardly shipped outside Kagawa Prefecture. It is one of the rare prefecture products that you can taste in Kagawa.
In this report, various dishes using Mitoyo eggplant will appear.
From Kato's hometown, Mitoyo!
A special product of Nishisan coming from the Korean Peninsula.

In July, when the weather became very hot, Mitoyo eggplant celebrates the harvest season. Kaji-san came to the harvest site in search of seasonal deliciousness. Mr. Horie, Vice Chairman of Mitoho eggplant research group, gave us a guide. Mr. Kaji immediately asks a question, "What led you to make a different kind of eggplant in Mitoyo City?" "It is the beginning of a farmhouse in Mitoyo City who went to the Korean Peninsula in the early Showa era to find delicious eggplant and bring back the seeds," says Horie. The skin is soft and easily scratched, and the shelf life is short, so there were not many people to raise and the shipment did not reach a wide area. As a result, it became a specialty in the Sansan area, including Mitoyo City.

A plump and large Mitoyo eggplant that grew over time.

"It's still big!" Said Mr. Kaji, who picked up the Mitoyo eggplant that grew in the field and rounded his eyes. It weighs about 300-600 g, and is about three times the size of mizu eggplant and Senjo eggplant that are sold well all over Japan. However, it takes time and effort to grow up to this point. For example, to improve the sunshine and ventilation, the old branches and leaves are plucked, but the work is difficult because the bigger the fruit, the bigger the branches and leaves. "I'm confident that this year's delicious food was made this year. I hope you'll find it if you can enjoy it," said Horie.

Melting texture and juicy taste are attractive.

The culinary staff is the Mitoyo eggplant research group and women's department. Thick sliced ​​Mitoyo eggplant is baked in a frying pan covered with oil. When baked savory, season with ponzu and ginger to make eggplant steak. Kaji-san, when asked immediately, praised, "It's thick but soft! It has a juicy taste!" It is a dish that makes full use of the charm of Mitoyo eggplant, which has a thin and melting texture and a high sugar content. In addition, the ones seasoned with grilled meat sauce appear. When you put it in your mouth, you will see a smile saying, "There is a body and this is also delicious!"

Eliminate summer batter with Mitoyo eggplant.

Next is the popular dish, pickled eggplant. It was pickled for about 3 hours. "It's nice to be refreshing and hot!" Shime is eggplant sweets seasoned with lemon juice. "It's like fruit! If you don't say eggplant, you might not know what food!" Eggplant also has the effect of cooling the body, and is said to be useful for eliminating summer batter. Seasonal things are good for your body. "We, the producers, love Mitoyo eggplant. I want many people to have it," said the Women's Department. Kaji-san who became completely trico was able to taste the charm of Mitoho eggplant which I did not know until now.
Past reports