LOVE Sanuki's report
The 48th Tailagi
One of the major projects of Yoshimoto, "A project to live in your town", to make Japan feel good from the area. Entertainer "Kaji Tsuyoshi" who lives in Kagawa reports on local products.
reporter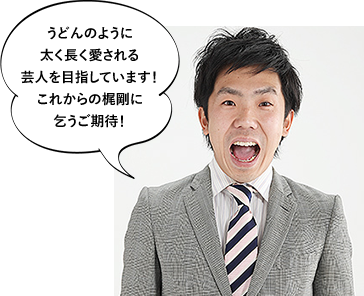 KAJI Tsuyoshi
NSC Osaka school 22nd grade
2005 Formed "Katsuyama Kaji" with Moody Katsuyama
2008 ABC Comedy Newcomer Grand Prix Newcomer Award
2010 Active as a pin entertainer
Birthplace: Mitoyo City, Kagawa Prefecture Born March 1981, 3
Check your activities!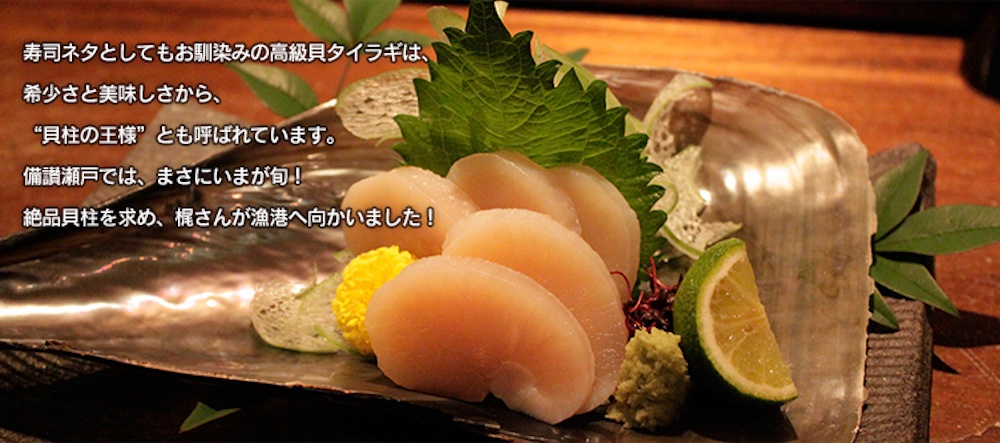 High-quality shellfish Tairagi, which is also familiar as a sushi story,
Because of its rarity and taste, it is also called the "king of the scallop."
In Bisan Seto, now is the best season! Kaji headed for a fishing port in search of exquisite clams!
Bisan Seto is one of the leading fishing spots for Tairagi!

In the past, the Ariake Sea was famous for its tiger, but now Bisan Seto off Kagawa Prefecture is one of the leading fishing grounds nationwide due to a decrease in catch. This time, we visited a tiger lagoon fishing expert, Shioda, at the Kamano fishing port in Anji-cho, Takamatsu City. "Tiragi is buried in the sand on the seabed, and my head is only a little peeped out of the sand," Mr. Shioda said, and even in the dark seabed, not a detector like a radar, but a dark seabed Or looking at it with eyes! Tairagi fishing is exactly what professionals can do.

The power of fishermen to support rare ingredients

The diving clothes used by Shiota for tiger clam fishing are all heavyweight, including weighted shoes and metal helmets. Kaji-san, who gave me a test, was surprised, "What are you doing? Moreover, the fisherman alone dives into the frigid waters and manually catches shells. Also, after fishing, she floated slowly from the sea floor to the boat for as long as tens of minutes to prevent sickness. When you return to the ship, you will enter a small capsule called a decompression chamber and decompress for a longer time. "After diving in the sea for 5 to 6 hours, you have to spend about 6 hours in the decompression chamber," says Shioda. Mr. Kaji was very interested in the harshness, "No, I can't do it."

Anyway, shell and body are big!

Mr. Kaji, who saw the landed Tiragi after such a hard time, was impressed with "It's huge, and some places are rainbow-colored and beautiful." I had Shiota open the shellfish at once. Mr. Kaji thinks "Oh! From the inside, a large and thick body emerged that was as big as it looks. Among them, only some of the scallops are valuable. Because Kagawa is close to fishing grounds, you can see not only markets and shops, but also supermarkets. Kaji, who knew that, said, "It's hard to catch and the number is decreasing ... this is very precious!" It is also convinced that Tairagi is called the "king of the scallop".

The more you chew, the more the sweetness increases!

To enjoy the "king of the scallop," Izakaya "Kofu-Kochi-" located in Yasaka-machi, Takamatsu City, introduced by Mr. Shioda. The owner, Mr. Hanada, prepared sashimi and grilled salt. A sip of tai-ragi beautifully served on a large seashell. "Wow, it's soft! The more you bite, the more sweet it gets!" Next is salt-grilling, "The baking is lighter, the chew is increased, and the flavor is richer!", You can feel the king's dignity with his eyes and tongue. Mr. Kaji says, "Tiragi, which is harvested in Kagawa Prefecture, is large and very easy to cook. Fishermen who continue to fish hard in the frigid winter sea support this deliciousness. Recalling that, Mr. Kaji promoted the chopsticks, saying, "I want everyone to taste such a precious tairagi."
Past reports